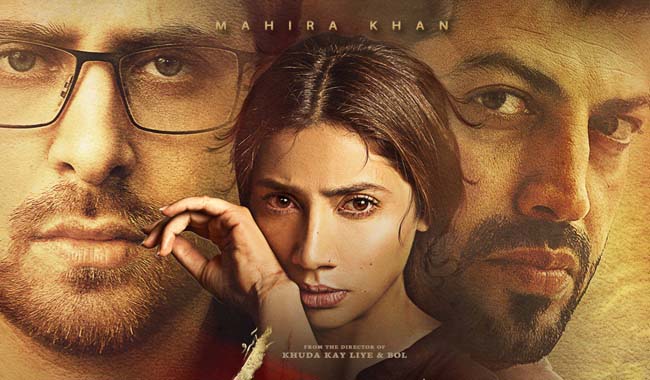 KARACHI: The wait is over as fans can watch Mahira Khan starrer, Verna, on the big screen as it finally graced cinemas across the country on Friday.
The excitement spread across the country on the release of Mahira Khan starrer, Verna is euphoric as fans poured in huge numbers to watch Verna on the first day of its screening in Karachi.
After having been revisited and reviewed by the Central Board of Film Censors (CBFC) after a temporary ban, the film has been released without slashing any scene.

Chairman Central Board of Film Censors Mubashir Hasan confirmed that the CBFC has passed Verna "without any cuts or mutes".
Though the film is about violation of women's bodies and their right to its ownership, yet it was temporarily banned on the basis of 'mature content' and presenting politicians of the country in a 'negative light'.
The movie crew is thankful that despite of all the hurdles, the movie is being premiered in all cinemas without any censored scenes.
Movie-goers seemed satisfied, with smiles plastered over their faces as they walked out of the first Verna screening in Karachi.
"Mahira, Haroon and Zarar, all the actors were amazing and the storyline was very gripping."
"It's important for such issues to be highlighted and brought to screens for people to get aware about them."
"Shoaib Mansoor has effectively used the medium to tell a great story with intense emotions."
The film seems to be living up to audience's expectations and is expected to receive rave reviews from movie critics as well.
The star cast includes Mahira Khan, Haroon Shahid and Zarar Khan.
Zarar khan, in an exclusive interview revealed that the cast and crew of Verna have heaved a sigh of relief after it is released without any cuts nationwide. "I am excited to see how fans will react to my first debut movie."
When asked how the entire of experience of working with Verna was, he said " Mahira is extremely sweet to work with and we had a great on-set chemistry which made work easy. "Shoaib Mansoor is an amazing director too. He lets you be flexible and encourages you to be comfortable in your own skin. I was nervous initially but his assurance and belief in me brought out the best in me."
Of course, this isn't the first time that Shoaib Mansoor has come up with a social issue theme for his movie and cinema-lovers are excited about what he has to offer this time in Verna. We are positively hoping for a movie that will leave long-lasting positive imprint on the minds of its audience as that influencing change is the job of art and it is exactly what Verna has aimed for.