KARACHI: Abida Parveen delivered as usual when her singing prowess mesmerized all and Asrar gave an electrifying performance to enthrall fans during their concert at DA Creek Club on Saturday night.
Creek Club was the place to be this Saturday night—if you happen to be a Sufi music enthusiast in Karachi. With scheduled performances from Asrar and the legendary Abida Parveen, the least concern on everyone's minds was getting their money's worth.
The stage was set in front of an array of chairs lined up for the attendees. Food stalls offering pizzas, burgers, shawarmas and soft drinks were being frequented by people who had been waiting for the two stars to show up, apparently on an empty stomach.
Two local bands warmed up the audience by playing a couple of songs (most of which included tunes by Ali Azmat, including Garaj Baras and Sayoni) before Asrar took to the stage. Amid thunderous applause, the Lahore-based musician with his rustic voice let loose a barrage of songs which instantly drove the audience insane.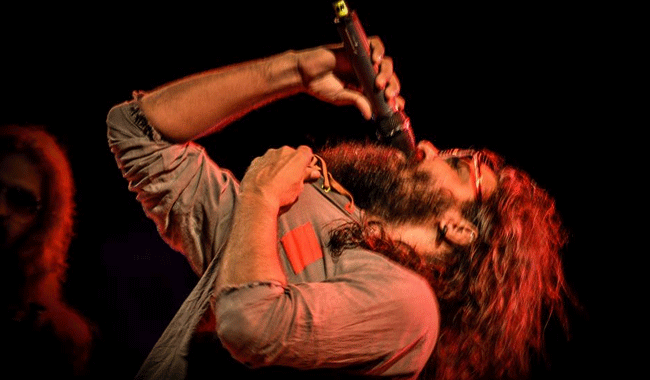 As Asrar swayed to and fro to the beat of his songs and the overhead dazzling dancing spotlights, he performed with renewed energy and vigour. Fans kept on demanding his three stellar hits, which include Sab Akho Ali, Shakar Wandaan and Afghan Jalebi, which he shrewdly saved for last.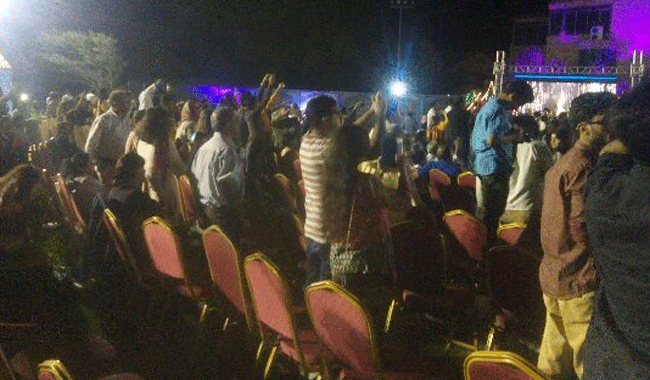 Of the three, Asrar began first with Afghan Jalebi, much to the delight of the audience and then moved on to Shakar Wandan. Shakar Wandan instigated audience members to dance throughout the song. Sab Akho Ali was also met with resounding cheers and feverish dances, as expected.
As Asrar took his leave and Abida Parveen made her way to the stage (amid stringent security measures), the deafening noise from fans' cheers and excited screams drowned out everything else. If there ever existed a crowd that knew how to pay homage to a legend, this was the one.
Needless to say, the attendees loved Abida Parveen's magical performance right from the start till the very end. The ghazal maestro and one of the foremost exponents of Sufi music in Pakistan and overseas, began with Man Kunto Maula. The audience loved every bit of it and Abida's melodious voice was met with chants of 'Ya Ali', long after the song had ended.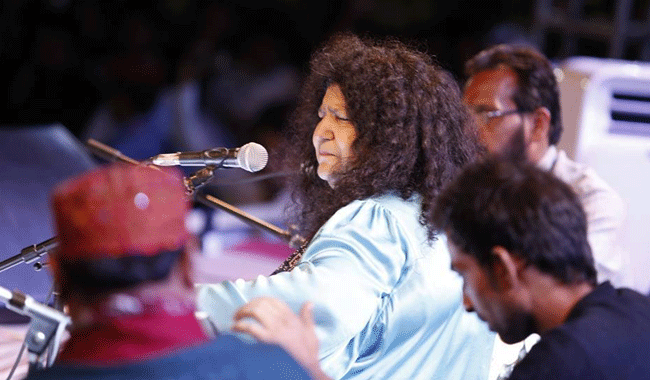 Abida Parveen's Arey Logon Tumhara Kya was another fan favourite and invigorated fans to respond with zeal and enthusiasm to her music. Just like Asrar, Abida had also saved the best for last; Dama Dum Mast Qalandar. The ode to Hazrat Lal Shahbaz Qalandar which has been immortalized over the years by Noor Jehan, Jagjit Singh, Runa Laila and Nusrat Fateh Ali Khan, has its own signature ring to it when performed by Abida Parveen. As Abida launched into the ghazal, attendees engrossed themselves in the wordings completely and started dancing enthusiastically.
It was finally well past midnight when the concert ended and exhausted fans made their way out of the venue to their parked cars. It's not quite often in Pakistan that fans get their money's worth from concerts. This occasion however, proved to be a rarity where people derived maximum enjoyment from melodies churned out by the two musical heavyweights.