Outgoing DG takes away crucially important twitter account having 3.05m followers; Twitter unable to migrate data from one account to another
ISLAMABAD: The outgoing DG Inter Services Public Relations (ISPR) has taken away crucially important twitter account having 3.05 million followers that remained in his use for many years instead of handing over the same to his successor Maj Gen Asif Ghafoor.
Maj Gen Ghafoor, who assumed the charge of his office on Sunday, had to start work on the social media with a new twitter account having zero followers. Though now it has few thousand followers.
The social media has become immensely important in the present age and twitter and Facebook accounts in use of the ISPR and DG ISPR have great significance for the Pakistan Army. Both accounts have their own distinct importance.
There are two twitter accounts associated with the public relations department of the armed forces. One is of ISPR and the other is of DG-ISPR.
ISPR twitter account is "@ISPR_Official" where the official twitter account of DG-ISPR that remained in use of ex-DG Lt Gen Asim Bajwa is "@AsimBajwaISPR".
Lt Gen Asim Bajwa wants to take twitter account "@AsimBajwaISPR" with him whereas same can be changed for the new occupant(s) of the office of DG-ISPR without losing any critically important information, followers and already posted tweets. This is important for the Pakistan Army in present situation and the ongoing war on terror.
The unique spellings of any twitter account (handle) can be changed with a new unique name without losing followers and the already posted important tweets (critically important in this case) and this is the pattern professionally followed across the world at the time of such transfers/postings.
Basically, the official accounts are often not created after the names of officers but if made can be changed with proper official and professional ones without any loss of data.
On its official website, Twitter responds to a Frequently Asked Question (FAQs) as follows; "We are unable to migrate data (Tweets, following, or followers) from one account to another."
As Lt Gen Asim Salim Bajwa used to share all important official news, official information and official and unofficial statements regarding Pak Army and Chief of Army Staff (COAS) from his twitter account "@AsimBajwaISPR", especially during 2014 sit-ins, so almost everyone, especially journalists from across the world, followed the account.
The account was verified by Twitter "as account of DG-ISPR of Pak Army" and has 3.05 million followers.
The new DG ISPR announced assumption of charge through a new Twitter account "@OfficialDGISPR".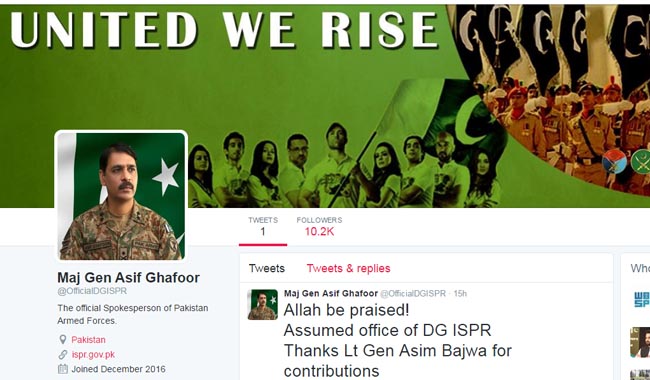 The fact that the new account has only few thousand followers will deprive the institution of Pak Army of global outreach, access to thousands of journalists across the world and millions of other people in Pakistan and those living in many countries of the world who must know about the Pak Army, its operations and most importantly the sacrifices of its jawans.
According to Twitter rules, not only name of account, but also the unique identity (called "handle" in Twitter terminology and followed by sign '@') can be changed with any other name without any problem.
This means the same account of DG ISPR that remained in use of Lt Gen Asim Bajwa ("@AsimBajwaISPR") can be renamed as ("@OfficialDGISPR") without losing followers or even the posted tweets. This will be the most professional way to remain in touch with whole world and feed the people globally about the Pak Army and its activities.
It is appreciable that the new twitter handle ("@OfficialDGISPR") created by the new DG-ISPR doesn't contain his name and is a professional account name.
If the same name is given to the previous official account of DG ISPR ("@AsimBajwaISPR") which has great number of following, this account will become an asset to the institution of Pak Army and ISPR. And the name can be changed easily and password can be exchanged with the new DG. There are usually no issues with such simple changes as professionals are more attached with their institutions and cause rather than any social media accounts or large number of followers.
Not only Twitter, Lt Gen Asim Bajwa also wants to carry a very important Facebook page in his name with him which he also used only for sharing official information about the institution of Pak Army and COAS and thus this FB page also has more than one million followers ('likes', as they describe it in Facebook terminology).
This "Facebook Page" should have also been handed over to the new DG ISPR. At times, the Twitter account of General Asim Bajwa only followed four or five accounts of his immediate family members including his sons. These accounts became centre of attention as the DG ISPR was following only them.
These accounts of family members of General Asim Bajwa used to post extremely offensive tweets against the government and constitutional office holders. This was widely criticized; however, General Bajwa never shared any such views with his followers.
Some of the important tweets posted by General Asim Bajwa and which earned big number following to this DG-ISPR twitter account are;
Tweet: #Army Chief General #Raheel Sharif's meeting with #Allama Tahir ul #Qadri begins (August 28, 2014)
Tweet: #Army Chief General Raheel Sharif's Meeting with #PTI Chairman #Imran Khan begins at Rawalpindi (August 28, 2014)
Tweet: #Army Chief will meet #PTI Chairman #Imran Khan and Chairman #PAT #
Allama Tahirul Qadri tonight in Islamabad (August 28, 2014)
Tweet: ISPR Release:#COAS was asked by the Govt to play facilitative role for resolution of current impasse, in yesterday's meeting, at #PM House (August 29, 2014)
(The making hashtags with sign # were criticized by analysts)
Tweet: ISPR Release 2/3:Situation requires patience,wisdom&sagacity from all stakeholders to resolve prevailing impasse (August 20, 2014)
Tweet: #ISPR Release 3/3: (Continues)through meaningful dialogue in larger national and public interest (August 20, 2014)
Tweet: Part Text COAS's conversation with Iran's President in today's mtng;"There is one concern that RAW is involved in Pak,spec Bln&sometimes-1
Tweet: ..also use the soil of our brother country,Iran.I request,they should be told to stop these activities &allow Pakistan to achieve stability"-2 (March 26, 2016)
Not only this many other important policy issues and almost 90% press releases of ISPR were released through the account remained in use of Lt Gen Asim Salim Bajwa. Even news about military court and about award of death penalty were issued through tweets from this account.