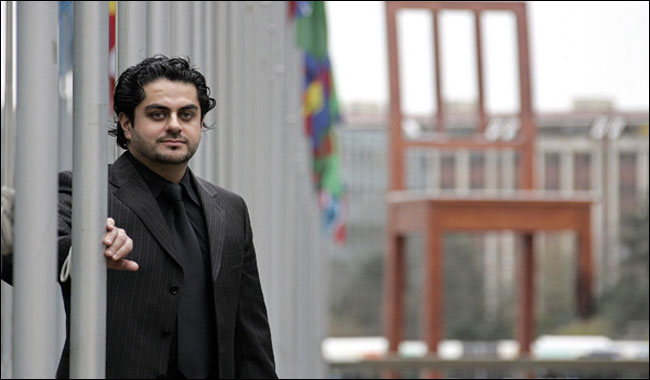 LONDON: Swiss government banned exiled Baloch leader Mehran Marri and his family from entering Switzerland on the basis that his presence could pose security risk to the country.
On Thursday, British national Mehran Baluch was detained at the Zurich airport for at least 12 hours and then deported by the Swiss authorities, informing the prominent Baloch leader that the Swiss government decided to place lifetime ban on him on 9th of November.
Documents obtained by The News show that the Swiss government told Mehran Baluch that he was being banned from entry for allegedly violating "Article 5 of Regulation (EC) No. 562/2006 (Schengen Borders Code) and Articles 5 and 65 of 16 December 2005 on foreigners".
A government spokesman told The News that this section relates to areas of risk to public order, internal security, public health, international relations of one or more of the Member States. He said that "international relations" were of concern in the case of Mehran Baluch.
On Thursday, a Swiss government source had told this scribe that action against Mehran Marri was being taken on Pakistani government's request which had handed over a "dossier" to the Swiss authorities.
"Fedpol [Swiss Federal Police] can issue entry bans when it believes that a person is a threat to the country's security," a spokesperson for the foreign affairs ministry said.
The ministry spokesman said that Mehran Baluch has the right to appeal against the decision by the Swiss government. Mehran Baluch has said that he didn't sign the papers where allegations were made by the Swiss authorities. Mehran Baluch was headed to Geneva for a conference when he was stopped at the airport. His four children and wife, younger sister of Brahumdagh Bugti, were also detained with him. Mehran Marri's wife was supposed to stay at his brother's house who lives in exile in Geneva with his family after fleeing Pakistan.
Papers show that Mehran Baluch has been given 30 days to file against ban on his entry with the Federal Administrative Court. He was deported on Thursday night and went to Stutgart, Germany. He announced that he will be taking the Swiss authorities to court.
The Swiss chargesheet, according to papers seen by this reporter, said Marri was "a Pakistani national of Great Britain" associated with militant groups. It claimed that that the UBA "collaborated with the terrorist movement Balochistan Republican Army (BRA) under Brahmadagh Bugti". The chargesheet pointed out that Mehran Marri was married to Bugti's sister and accused Marri of being in close contact with Bugti. "If Marri was able to enter Switzerland to work with Brahamdagh Bugti and coordinate terrorist operations, it could jeopardize the internal security of the country," the chargesheet said.
Mehran Marri, a prominent figure in Baloch diaspora nationalist movement, has insisted that he has never been involved in any kind of militancy and that the allegations against him are politically motivated. Marri has been attending UNHRC as unofficial representative of Balochistan for nearly two decades and has been a regular feature at the UNHRC annual sessions.
His brother Gazain recently returned to Pakistan after ending self-imposed exile and recently obtained bail in a murder case. His eldest brother Changez Marri is part of the Balochistan government and office bearer of PMLN. His brother Mehran Marri lives in London but they are not on talking terms.
A Pakistani official, privy to developments taking place in Europe, said that Pakistan respected freedom of expression and criticism but had the right to pass its concern to countries if anything was going on against Pakistan. The official said that Pakistan has been regularly communicating with various western governments and passing its concerns and will continue to do that.