ISLAMABAD: Britain's Department for Education has said that it doesn't recognize the Schiller International University (SIU), which issued a masters degree to Pakistan Tehreek-e-Insaaf (PTI) leader Muhammad Usman Dar in 1997 in London.

According to records of the Election Commission of Pakistan (ECP), the PTI leader from Sialkot has submitted before it an MBA degree from the Schiller International University bearing the address of "London Campus" -- obtained on 14 May in 1997 in London. Usman Dar used the same degree for the ECP when he stood in the

NA-110 Sialkot constituency against Khawaja Asif. UK's Department for Education said that it didn't recognize or evaluate the degrees issued by the SIU and had no partnership with any UK university at the time it issued the degrees till the Schiller shut itself down in 2011.

A study of the SIU shows that its Axact type educational institution which exist in their hundreds across the United States of America (UA) and issue degrees to students as long as right amount of fees is paid. The SIU has campuses in Florida and at least two European cities but obtaining a degree through online only enrolment or otherwise is an easy task, attending classes is not mandatory and any kind of degree can be obtained easily as long as fees is paid.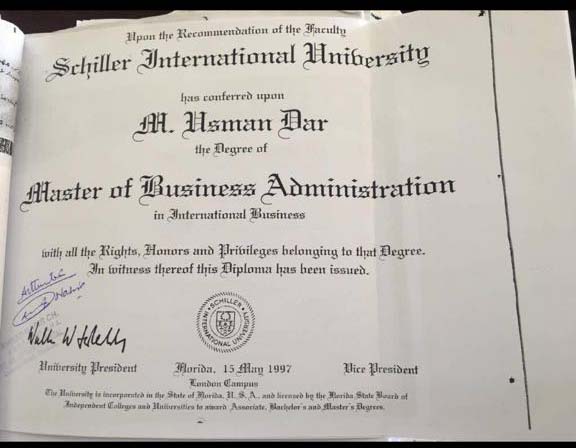 Usman Dar's degree certificate states that "Upon the Recommendation of the Faculty, Schiller International University has conferred upon M. Usman Dar Master of Business Administration in International Business with all the Rights, Honors and Privileges belonging to that Degree. In witness thereof this Diploma has been issued. It carries signature by "University President", Florida, and issued by the "London Campus". It says the University is incorporated in the State of Florida, USA.

Interestingly, the body that accredited SIU in the United States namely the Accrediting Council for Independent Colleges and Schools (ACICS) is no longer recognized by the US Department of Education owing to its low standards. ACICS is notorious in America for accrediting Axcat style institutions and visa mills.

A visa mill is an educational institution that profits from the tuition it receives after causing the issuance of student visas (F-1s). The school then, typically, hands out instant work permits, while providing the scantiest of education to these students. According to US experts, such places often have a student body that is 95 percent foreign.

In a statement, the British Accreditation Council (BAC) said that it had nothing to do with the accreditation of Schiller International University London in the year of 1997 and that it was never accredited to issue degrees and certificates.

"The accreditation was of Schiller International University – London campus - for period 2003 -2011. The accreditation did not include accreditation of their courses/programmes. During the accreditation period, I believe their programmes were validated by their US campus (which was recognised by the CHEA)," said the BAC spokesman.

An insider at the Schiller University confirmed that its degrees have no value in the UK and that its "London Campus" has served as nothing more than a post office where degrees and certificates were posted to students who paid hefty fees and didn't attend classes or attended only show-piece classes. The Schiller University, its understood, entered into an agreement with the Roehmapton University recently for partnership and both the Schiller and Roehampton gave conflicting versions about their partnership.

The Quality Assurance Agency for Higher Education (QAA) confirmed that it didn't recognise SIU and never knew about its existence in the UK.

Prospects UK, a UK government linked educational body, said that its records showed that the Schiller University was never listed in the UK as an educational institution. The spokesman said that the SIU was never part of the "listed bodies" or recognised educational institutions.

Papers seen by these correspondents show that in 2011, the university announced to shut down its UK presence completely, complaining that that 80-85% of its students originated from non-European Union countries and needed student visas to study but the UK government has placed tighter restrictions on student visas. After a gap of nearly 6 years, it has attempted to return to the UK through a formal partnership with the Roehampton University but these plans have not worked out quite well so far.

A SIU spokesman in its Schiller campus said that its "planning to reopen a London campus in 2018 but start date depends on the speed of UK regulations bodies".

A spokesman of Roehampton University said that the university "has had a relationship with Schiller International University since 2015. It is not possible to get a University of Roehampton award via an online route with Schiller".

When asked further questions, the Roehampton University said it couldn't answer questions about the University before 2015 and said Schiller in Fllorida shall be approached for queries.

Schiller University from Madrid, Spain, got in touch to respond to questions and accepted that the Schiller University had a campus in London from 1970 to 2010 but accepted that the London Campus was not accredited or acknowledged by any of Britain's accrediting bodies. He sent a PDF copy of the Uni's 1996-1997 Prospectus but didn't answer questions whether Usman Dar attended classes, where exactly and for how long to obtain the master's degrees.

A spokesman for UK's Department for Education said that back in 1997 in UK educational establishments student attended classes 3-5 days a week for around two years to be eligible to get masters degrees. The Schiller spokesman didn't confirm or deny whether Usman Dar attended the classes and whether the campus had active and running classes at all around that period. He said the Schiller International University didn't approval or permission of "the UK Department of Education" because "we do not give UK awards".

A spokesman of the US Education department said that it recognized "accrediting agencies for schools and colleges within the United states and not in foreign countries". The spokesman said the degrees issued by the Schiller in London and other countries were not its concern. He added that the accrediting agency ACICS lost its recognition on 12/12/2016 and the Schiller has 18 months to find accreditor by 06-12-2018.

When contacted, PTI's Sialkot leader Usman Dar acknowledged that he has recently developed "some doubts" about his degree and has asked Higher Education Commission to verify it.

"At the time of obtaining my degree, I did not know it was a dubious university as there were so many overseas students studying at this university but recently I have started to re-check my degree and I am sending it to HEC for verification," he said.

When asked whether he is aware of the fact that the degree he received in London from SIU is not valid in the UK and that the SIU was not accredited as a recognised educational body in the UK in 1997, Dar said he did not obtain the degree for securing a job. "I only wanted to get some exposure as I run my own business and I don't need any job."

He claimed that he attended classes five days a week and completed all the five semester for the degree. "I completed two semester in Germany and three in the United Kingdom".

Dar was aware of the fact that SIU had closed its campus in London in 2010 saying the immigration problems forced them to close campus as most of their students were from overseas.

"The British students preferred local UK universities so most of my fellow students in SIU were from Asia and Eastern Europe," he said, confirming that Schiller accommodated those who students from overseas who wanted degrees through easy route and cheaply.

When asked why he opted an American University while studying in England, he said: "I was in Germany and I wanted to study in an English institute so I registered with SIU as they promised to allow me study in England for my next semesters."

Home Office has confirmed that over 1200 sponsors (schools, colleges, universities) were shut down between 2007 to 2014. All these colleges and schools were accredited by the Home Office but the immigrations laws changed and almost 99% of the private colleges failed to meet the requirements demanded by the Home office, leading to closure of these sponsors which offered cheap courses. The scam of fake education sponsors was exposed in British media on numerous occasions establishing that these colleges didn't have teachers and didn't hold classes but issued degrees at glittering award ceremonies enabling thousands of international students to gain degrees. The SIU was not part of any of these bogus colleges – licensed by the Home Office – and operated completely on its own, without having anything to do with the UK regulators.