Shilpa, Monie and Somie wanted to pursue their dreams by following their desired career paths but belonging to the transgender community, they had to let go of their choices.
But on Monday afternoon, a group of Media Science students from the Shaheed Zulfikar Ali Bhutto Institute of Science and Technology (Szabist) decided to give life to the trio's buried aspirations by drawing them as the professionals they desired to be on their campus' wall.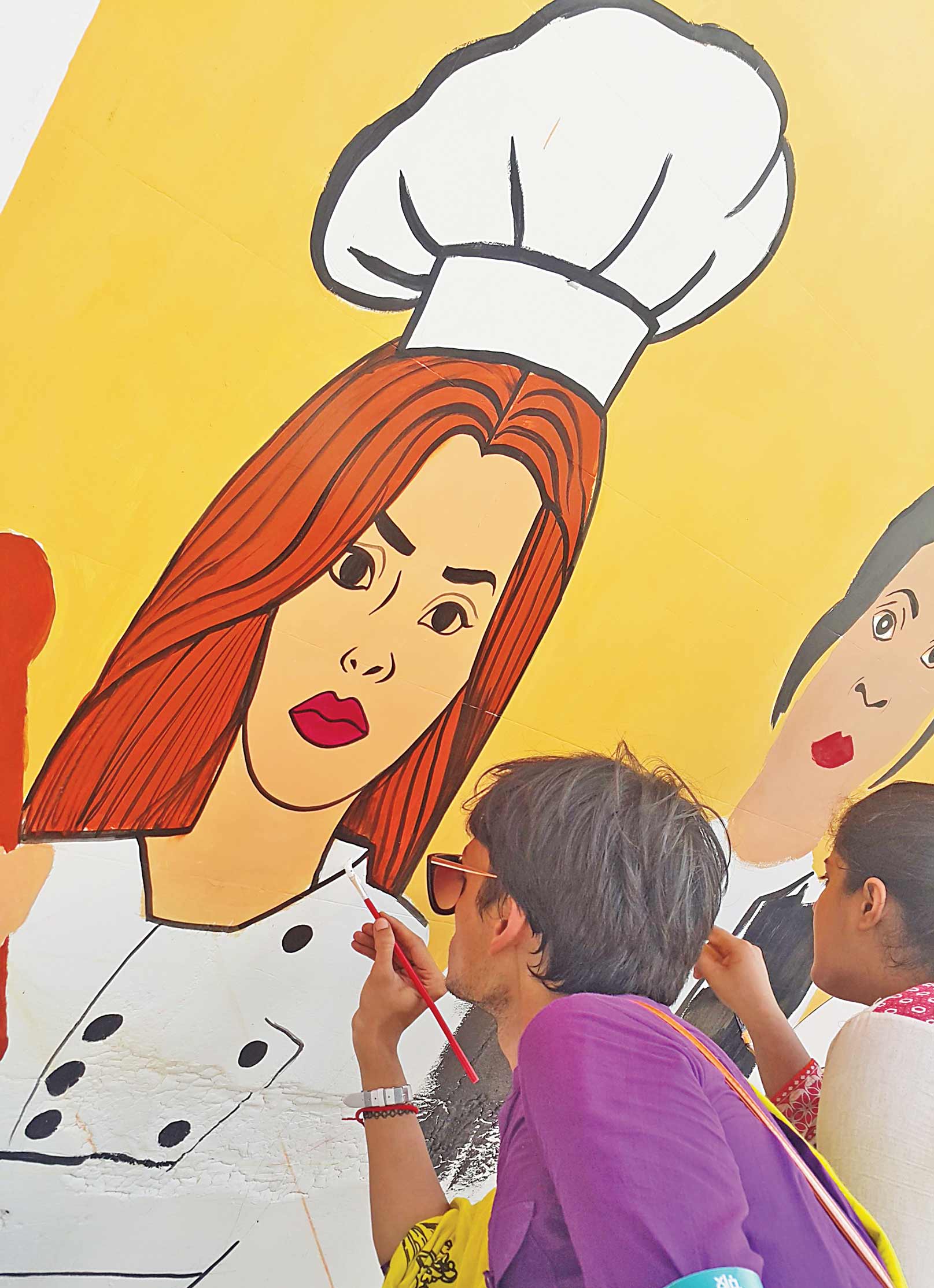 Representing Rafah which was an initiative for a course 'Design for Social Change', student Bakhtawar Ghafoor explained that along with three others, the group came up with the idea of painting the wall.
"Our main idea through this painting on wall is that labelling the transgender community for being involved in illicit dealings would only hold them back from pursuing their dreams. The members of the community can only come forward if they're provided with job opportunities which would help them support themselves," she said.
She added that the group including, Sahar Manzoor, Rajja and Miral also conducted a research involving both cisgender and transgender community members and concluded that there was an urgent need to remove misconceptions regarding them created by the society.
"I couldn't become a doctor because it was very difficult to acquire education and I had to abandon my aspirations. I used to see many women including my mother suffering from diseases and they couldn't access health facilities.
"I wanted to help them by stepping in the medicine field but I was unable to do so," said Shilpa, whose portrait as a doctor was the third from the left.
She shared that after her mother passed away she moved in with the members of her own community and fully embraced her identity: "Now I do visit my family but I reach their place after dark and try to return during that time so the people won't point fingers at them."
"This very idea that the members of transgender community can only be sex workers or dancers can only change if we are given a chance at different workplaces. And this would only happen if there we are provided with equal opportunities when it comes to learning any skills," she pointed out.
Monie Butt who wanted to be a chef shared that she takes pride in her association with the community: "I won't boast about my culinary skills because I am only learning, and how can one excel without committing a few mistakes?"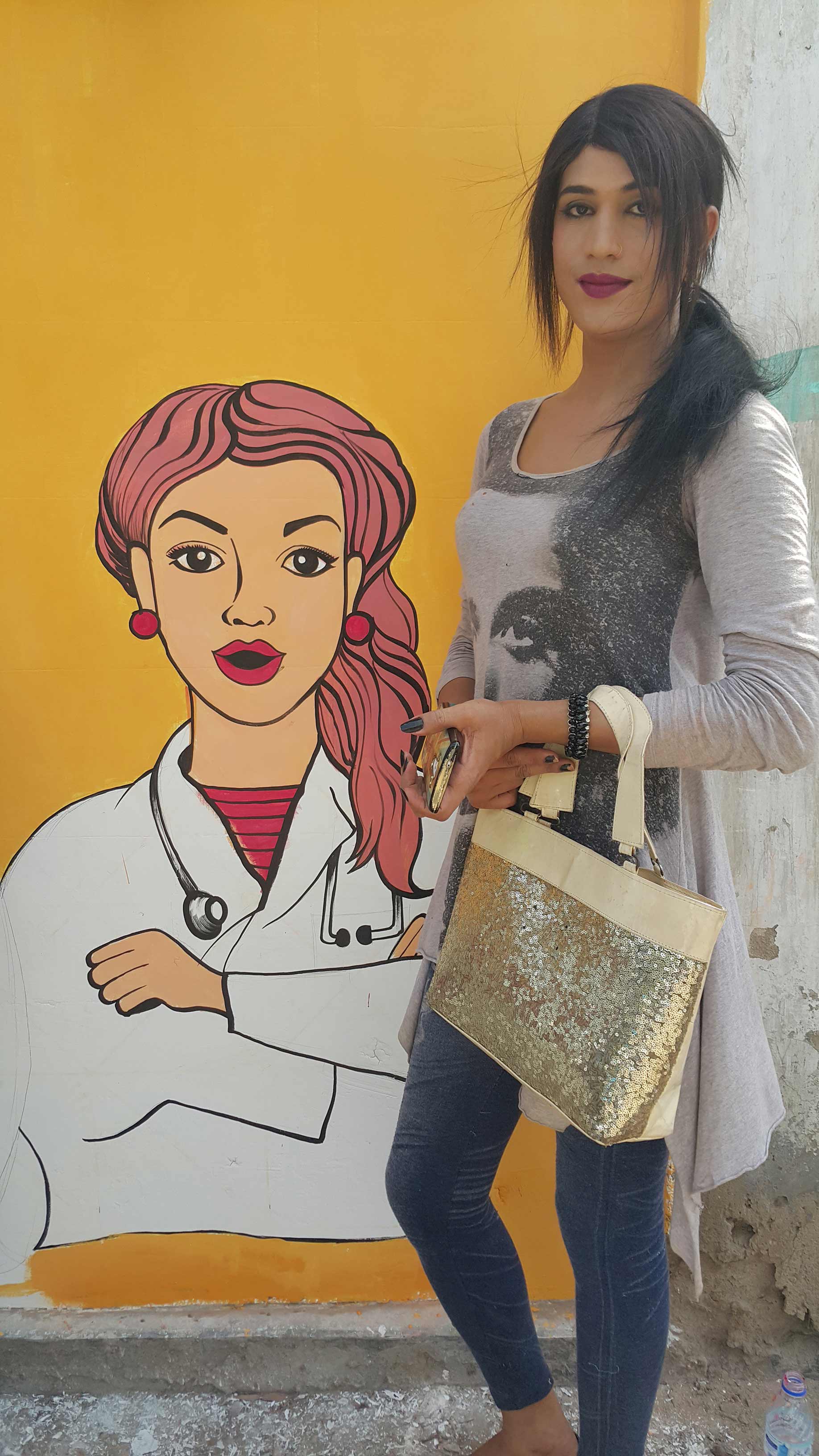 Although she was unable to follow the career path she had in mind, Monie wishes to seek training and try her hand with sugar and spices.
The painting in the middle was of Somie who wished to become a lawyer so she could fight for the rights of her own community.
"I was unable to study when I would go around as a boy, so how would I do it now when I have accepted my identity.
It's difficult to use public transport and when I went for admissions, I was told to go back because it was assumed that I came for merrymaking and wouldn't pay the dues," she recounted.
"I decided to come on board with these students because we need to start a dialogue on both cis and trans communities, and such form of art does that job," said actor, model and transgender rights activist Kami Sid, also associated with Sub Rung­ — an organisation working towards the rights of minorities based on genders and sexualities.
Haider Ali of Phool Patti was also present and had helped the students in replicating the design on wall.
"We go around helping people all over the world so it was mandatory to help students of my own country. Plus I also feel this is extremely important because we need to revive empathy," he said.
He added that he would be willing to take their campaign further and as far as the funds were concerned, Ali said that there would always be people present to support the cause.