This week You! talks exclusively to Pakistan's first and only qualified female scuba-diving instructor, Rosheen Khan, regarding her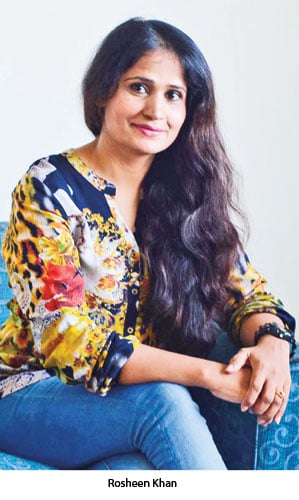 experience and the challenges she faced...
Quaid-e-Azam has rightly said, "I have always maintained that no nation can ever be worthy of its existence that cannot take its women along with men. No struggle can ever succeed without women participating side by side with men. There are two powers in the world. One is the sword and the other the pen. However there is a third power stronger than both, that of the women." The role, the contribution and importance of women cannot be denied. They have proved their mettle in every field. And Pakistan's first and only female scuba-diving instructor, Rosheen Khan is one such confident and strong willed woman, who chose to swim against the tide. This week You! talks exclusively to Rosheen Khan. Here are the excerpts...
You! Tell us about your journey? How did it all start?
Rosheen Khan: I stumbled into the field of scuba diving accidently more than a decade ago. I was on a job hunt and coming from a conservative background I did not have the necessary skills like the knowhow of running a PC or conversing in English, so getting a job was an uphill task for me. After a lot of struggle, I secured a desk job with Yousuf Ali, a master trainer in scuba diving and owner of Karachi Scuba Diving Centre (KSDC). Initially it did not occur to me that scuba diving can be taken as a profession. I used to observe people coming for theory classes, learning how to dive and swim in a swimming pool. It was in 2003 that Mr. Yousuf asked me to accompany him to the sea. That day, watching a group of excited university students collecting samples of marine life for their research, I felt curious and asked the instructor to take me underwater the next time round. He was extremely surprised but agreed to it. I was immediately given a lesson on what it entitles to be under the deep blue sea.
You! How was the experience of your first dive?
R.K: It was like surrendering to the sea. I just let myself go and stayed there for half an hour. Once I was done with it, Mr. Yousuf told me that I went more than 60 feet below which is no less than an accomplishment, since no debutant had ever achieved that status. I felt as if I was born to do this. The sea is another world in its own that simply mesmerizes you, making you forget about your monotonous life and allows for a refreshing experience altogether. My first diving experience changed my life completely. From here I started my journey to become a part of the sea and the first step was to learn swimming.
You! Where did you get your training from?
R.K: Initially, I did my training from Karachi Scuba Diving Centre in 2004. As I come from a conservative Balouch family, a female instructor was assigned to me. But that didn't seem to work out. So, I requested Mr. Yousuf to teach me swimming. From there it was no turning back. He is solely responsible for pushing and encouraging me to pursue it as career. After swimming, the next step was learning how to scuba dive.
You! Being a woman, did you face any challenges for pursuing a career like scuba diving?
R.K: I believe, everyone has to face some kind of challenges especially when you are opting for something that is considered to be a man's domain. But I was determined enough to overcome it all. Actually my first challenge came in the pursuit of education. My family was reluctant to let me study till 10th grade. They just wanted to get me married off but I stood my ground and convinced them somehow. Moving on to the professional front, scuba diving, I kept it secret for a while. But when my interview got printed in a local magazine, all hell broke loose and my family disowned me for six years. I wasn't surprised by their reaction. Actually our society, even the elite class, is not much aware of this field and wouldn't allow their children to take it up; and my family was no exception. They felt it was too dangerous and then working with men wearing a swimming costume was a big NO. For me, it was not an easy path to take but to move forward one has to take risks in life. My family tried every trick in the book to stop me from pursuing this career. However, I stood up to them and decided to keep walking on my path. I was taken under the wing of Mr. Yousuf Ali and his wife Mobina Ali, who is also a diving instructor. After being cut off from my family, they are the ones who stood by me and supported me. Mr. Yousuf has been a role model to me. And it makes really proud when people say that I am a ditto version of Mr. Yousuf, as I have the same determination and passion for this field.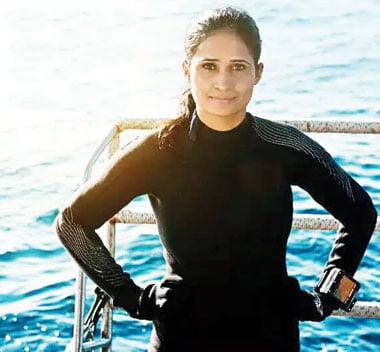 You! Have you done any advanced courses?
R.K: In 2009, I was sent to the renowned Professional Association of Diving Instructors (PADI) - the largest and number one organization for divers - training centre in Bangkok for courses in instructorship in open waters and a specialization six part course to become a Master Scuba Diving Trainer. I came back to Pakistan and became a diving instructor at KSDC. In 2013, I went to Thailand again to acquire a certification for Staff IDC (Instructor Development Course). So far I have certified 300 plus people as scuba divers.
You! Where are you working currently?
R.K: As a professional I started working at my mentor's Karachi Scuba Diving Centre. However, since the past two years I have been working at Atlantis Hotel, Dubai for their Scuba Diving Institute.
You! In your opinion do you see any future of scuba diving in Pakistan?
R.K: Having professional exposure in Pakistan and worldwide, I still feel that we have to go a long way when it comes to taking up Scuba Diving as a serious profession, both for men and women. Let me cite my own example here. Initially, men here were very apprehensive and not willing to learn from me even though, I am a professional scuba diving trainer. People just used to blurt it out on my face that a woman is not physically strong or this is not a woman's job, and scuba diving is a foreign profession/hobby. It has nothing to do with gender; foreigners are not from another planet, are they?
I'm quite sure that in future Scuba Diving will have its name in Pakistan. I started Scuba Diving when nobody even knew what it was. Not once did I think on the lines of what, why, how or securing myself financially. I did it for the love of it. There is a need to create awareness about this field, challenges aside. I may be working abroad today, but my eventual goal is to open my own institute here in Pakistan. At the end of the day this is where my roots are.
You! These days many excursions are being organised by scuba divers. What's your take on that?
R.K: In Pakistan people think that if you know how to scuba dive you can teach the craft - which is a wrong concept. Sadly every second person claims to be a scuba diver - giving training and taking people on excursions that too in low price. It's a dangerous field, as once in the water one simply cannot make mistakes. A slight slip can take your life as well as the one who is with you. In the sea, survival from an accident is almost zero hence being an ISO certified trainer is of utmost importance. And I request people to only go for scuba diving if the trainer is fully qualified.
You! What are your future plans?
R.K: For now, I plan to go for a final training course, which is like a PHD in Scuba Diving, conducted at Professional Association of Diving Instructors (PADI) in Sydney, Australia. After completing it, I will become the first ever top-notch certified Course Director in our region to have completed this course. What better way to represent my country worldwide? And as I said earlier, in the long run, I plan to open up my own training institute here in Pakistan.
—Photography by Atif Badar
What is Scuba Diving?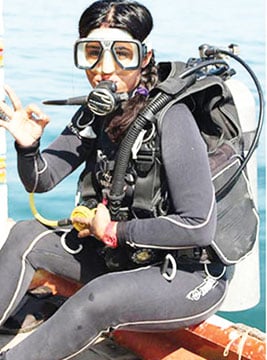 Ever wondered what the term SCUBA means? Well it is an abbreviation for Self Contained Underwater Breathing Apparatus. In other words, while scuba diving you need equipment that allows you to breathe underwater. The fact is that scuba diving is one of the fastest growing extreme sports in the world today. But many of us are unaware of what exactly is Scuba Diving. Basically, it is diving in the sea where you are immersed in the water for a longer period of time to enjoy the beautiful underwater world. It is mainly done for the attraction of the unattainable undersea world. Scuba Diving gives you the opportunity to enjoy the underwater beauty with exotic creatures and plants.
Some interesting facts
Did you know that for recreational divers, the depth limit is between 30 and 40 metres (equating to 100 to 133 feet). If you want to go deeper, special training or an especially trained buddy is required.
Nuno Gomes holds the world record for deepest scuba dive at 318 metres (or 1044 feet). He defeated John Bennet (deceased), who dove to 308 metres (or 1016 feet).
Water absorbs light rapidly, that's why scuba diving rookies might feel disappointed that the underwater world actually looks a little bit less colourful than in the TV documentaries. The colour that is absorbed the quickest is red.
'Finding Nemo' was without the doubt one of the most successful and memorable animated movie depicting underwater beauty. And the art team didn't leave anything to chance. To understand the underwater world better, they took scuba diving courses in oceanography, marine biology and more.