TVTalk
The upcoming mini-series, directed by Sarmad Khoosat, is the latest initiative by Kashf foundation after socially relevant drama serials, Rehaai and Udaari.
TV plays that work beyond just entertaining the masses and result in something worthwhile are quick to catch the viewers' attention. They not only provide a source of entertainment but also aim to educate and aware the audiences about their surroundings. And in today's time, when Pakistani television is dominated by clichéd plots and themes that mostly talk about love affairs, a narrative that's closer to reality is what the audience craves. It is important to highlight real issues (early marriages, abuse, depression, mental stability) that may seem unimportant but affect a woman's well-being to the extent that no one can imagine.
Considering this, Kashf Foundation – an organization that has been working for the welfare of women for years – has come forward to take these issues to a wider audience through television to help women improve their lives. They have already collaborated on two TV productions so far, tackling social issues that prevail in our part of the world. Drama serial Rehaai (2013) directed by Mehreen Jabbar spoke about child marriages while breakthrough drama serial, Udaari, aired last year, brought the taboo topic of child sexual abuse to attention. Directed by Ehteshamuddin, the play helped change many lives and led to several constructive initiatives to further the cause.
The most recent effort in this direction is upcoming mini TV series, tentatively titled Akhri Station, which stars Sanam Saeed, Mikaal Zulfiqar and Nimra Bucha in pivotal roles while it is being directed by one Sarmad Khoosat.
"What I'm striving to achieve with this series is an honest, socially relevant, hard hitting story that provokes thought and reaches a wider audience," the director noted in a press statement. "Even if it impacts one person, I will feel that the drama has accomplished its goal."
Based on the stories of seven women who meet on a train, the project has seven episodes that will tackle tough issues like HIV, drug addiction, depression and violence against women. Sanam Saeed essays the role of a woman fighting severe depression while other women in the series deal with other prevalent issues in our society. Though these women are unrelated to each other, once they meet they learn how relatable their stories are despite their different age groups and backgrounds. The producers claim that Akhri Station features strong women who aren't victimized but face hardships in life and rise above their circumstances.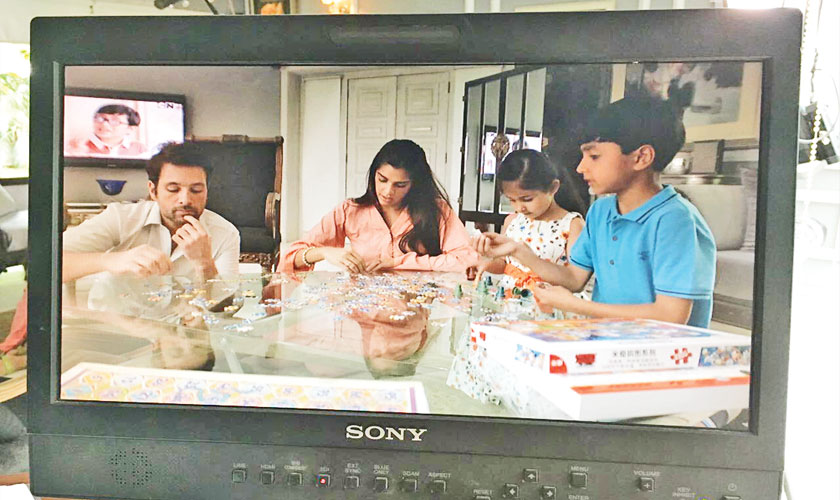 Sanam Saeed and Mikaal Zulfiqar in a still from the upcoming mini-series, Akhri Station in which Saeed plays the role of a woman battling with depression.
According to Roshaneh Zafar, Managing Director of Kashf Foundation, "The mini-series is about lending a voice to women so they can share their stories and inspire other women to change their lives, to provide hope to those women who lack agency or support. Ultimately it is about women coming together to help each other and where they can transcend their differences to build a new and better tomorrow. Aakhri station is also a tribute to the diversity of Pakistan as it showcases women from different stratas of society, undoubtedly there is beauty in diversity."
The writer of the series, Amina Mufti also shared her experience on the project that will revolve around taboo themes. She states, "Writing Aakhri Station was a profoundly moving and emotional experience for me. These are not just 7 stories but 7 harsh realities that the society itself must face. Kashf Foundation and I are merely reflecting these sad realities in the hope that the aggressors may someday realize the damage they have caused. If not today, then some day."
The project is under production these days and is expected to go on air in November this year. Meanwhile Kashf Foundation is also producing a radio campaign for Rehaai that will launch on August 21 on Radio Pakistan. Using radio as a tool, the organization wishes to reach a wider audience and be able to change society's perceptions.