In the South Asian Games 2016, held in India, our women boxers made history by participating for the first time in an international boxing event. You! takes a look...
Women's participation in sports has a long history, marked by major accomplishments. Sadly, gender discrimination has been a major issue, as women were often considered too weak for sports, particularly in endurance events such as marathon, weightlifting, cycling and most importantly boxing. But all this changed when women started participating in sports that were once considered a man's domain. Surely they have come a long way.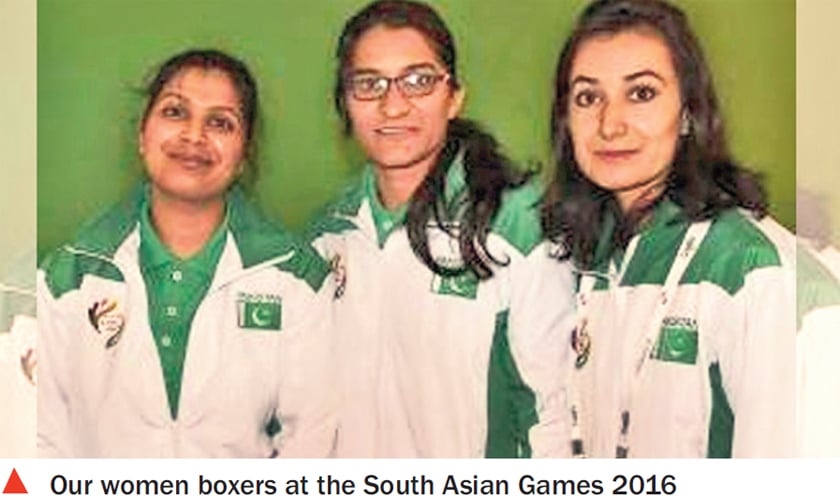 Our sportswomen are not lagging behind either! Even though, in our part of the world, female sports does not get the kind of finance, publicity and recognition that male athletes receive, our brilliant sportswomen have proved their mettle in their respective sport disciplines and made the nation proud, time and again. During the past several decades, our female athletes have successfully thwarted such discriminatory attitudes with their undying efforts in sports including Sprinter Naseem Hameed, Cricketer Sana Mir, Squash player Carla Khan, Swimmer Kiran Baluch, Hajra Khan and many others.
It was in the year 2015 that women boxing officially started in Pakistan. In Pakistan's boxing history never a female boxer has stepped into the international arena. All this changed in short span of time and our female boxers made it to the South Asian Games last year.
Like other international events, South Asian Games 2016 held in India, also saw a fair participation by Pakistani sportswomen. These athletic women competed with men to lap up a few surprise medals at the extravaganza. In the limelight, however, were our women boxers who made history by participating for the first time in an international boxing event.
Amid mounting opposition and least support from the government and private sector, the three women boxers, Sofia Javed, Khoushleem Bano and Rukhsana Parveen, were selected for the South Asian Games 2016. The most remarkable fact is, that this female boxing trio took up the sport in early 2015 and after training for a few months; they made it to the South Asian Games - earning them high praise from all quarters. This was in response to the conference of International Boxing Association (AIBA) two years ago in which the Pakistan Boxing Federation decided to promote the female boxers and asked the national associations for the representation of the female fighters in global events.
According to their coach Noman Karim, all three were trained together in Islamabad for months and followed a strict regimen under his supervision. "Khoushleem (Gilgit), Rukhsana (Multan) and Sofia (KP) were selected after a nationwide scouting programme, and participated in the 51, 60 and 75kg categories respectively. Two of the trio - Rukhsana and Sofia - appeared to be the first female boxers to bag medals on an international level at the 2016 South Asian Games in Shillong, India. Both won a bronze medal in that event," shares Karim.
"There is lack of official patronage and support for women boxers in the country. There is only one boxing ring at Qayum Sports Stadium in Peshawar which is 'males only'. Women are not even allowed to enter the ring let alone practice. They practice in the gymnasium hall at the Stadium in Peshawar which lacks facilities essential for boxers. It is about time that the government provides boxing infrastructure and facilities to women boxers so that they can also come at par with their male-counterparts," laments Sofia Javed, who is also the first woman boxer from Khyber Pakhtunkhwa province.
Regarding her inspiration, Javed states, "I am inspired by Indian boxer Mary Kom. She has become a source of inspiration for women boxers in Pakistan. Her biopic made in Bollywood, is also quite appealing which makes us watch it again and again."
Sindh province has been on the forefront for promoting female boxing at grass root level. In November 2015, Sindh Boxing Association (SBA) had the honour of organizing the first ever girls-only coaching camps at two different venues such as Shaheen Club in Lyari and North Karachi Gymkhana, in which around 43 female athletes participated. According to SBA secretary Asghar Baloch, "This was the first time since the inception of the Pakistan Boxing Federation in 1948 that women's boxing was taken up as a serious endeavour and that too along with the provincial government's support."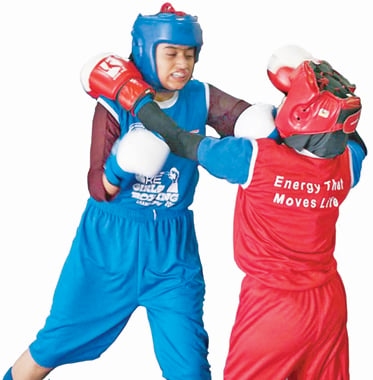 Pakistan's first separate women boxing ring
Under the name of its president, Hussain Qambrani, country's first women-only boxing ring in Lyari, Karachi was established last year. "Pak Shaheen boxing project was sponsored wholly by the textile giant, Gul Ahmed. Since it is commissioned on a small piece of land which is approximately 150 square yards, the club is catering to uplift boxing for young girls of the vicinity," explains Qambrani.
Camp commandant, Younus Qambrani, who is also the founding member of the institution, states, "This is just the beginning and will help in confidence building of girls of Karachi's one of the most down trodden areas. All the girls undergo training on a daily basis which includes punching the sand bags, targeting, sparring bouts, etc."
Qambrani further reveals that in Lyari alone, at least two clubs are providing training for women, while Kalyana Academy in New Karachi and New Karachi Gymkhana are also extremely active in promoting the female boxers.
Younus Qambrani recalls that there was a time when his fellow coaches and former boxers would make fun of his endeavours in promoting female boxing. "Earlier, women were not even allowed to study in schools, but that changed, and now I want to involve the schools too to come to our female boxing events and send their students for training as well," he adds.
Anum Qambrani, trainee at the club and daughter of Younus Qambrani, shares, "These girls from Lyari have also started inspiring young females from across the city, and now there is also a training activity in DHA as well. For me it is a dream come true to see a separate boxing ring for the female boxers. Even though the club still lacks many facilities, yet it is a platform to train our female boxers on professional standards and we hope that with the passage of time, things will become better and the boxing club will be further furnished and updated with latest equipments."
"Boxing is my passion, it is in my blood. My two uncles are international boxers, and my father is a coach. And it was only due to my family's support that I have opted for this game," she adds.
Anum, who is just 18 years old, wants the people to change their perception towards women's boxing and is currently training girls in Lyari and DHA.
Regarding the dress code, some trainees have also appealed to the Pakistan Olympic Association to approach International Boxing Association (AIBA) and other sports organizations in order to allow women boxers full dress during bouts. They also said the AIBA has recently allowed a Muslim American athlete Ibtihaj Muhammad, who became the first hijab-clad Muslim athlete from America to take part in last year's Rio Olympic Games.
A look into the history
Throughout boxing's history, women have fought in and out of the ring to gain respect in a sport traditionally considered for men alone. Records of modern female boxing date back to the early eighteenth century in London, and in the 1904 Olympics an exhibition bout between women was held. The rival competition was then pioneered by the Swedish Amateur Boxing Association where they sanctioned boxing events for women in 1988. In 1997, the British Amateur Boxing Association sanctioned its first boxing competition for women. Sadly, female boxing was not featured at the 2008 Olympics. Later it was announced on 14 August 2009 that the International Olympic Committee's Executive Board had approved the women's boxing event in the 2012 London Olympics, more than 100 years later.
Differences between guidelines
Men and women's boxing is very different when it comes to the specific
guidelines. Women's boxing has more rules that are female focused. According to the rules on abcboxing.com, women have to wear a breast guard and have no facial cosmetics. More female boxing specific rules include, female boxers, weighing less than 154 pounds, have to wear 8-ounce gloves and female boxers, weighing more than 154 pounds, have to wear 10-ounce gloves.
Men's boxing has male specific rules too. These include wearing protective cups and loose fitting trunks. More men's boxing specific rules include, male boxers in the lighter weight class must wear 10-ounce gloves and male boxers in the larger weight class must wear 12-ounce gloves. Women's boxing rules are directed to all women's boxing weight classes unlike men's boxing. For men's boxing, the rules differ for male boxers under and over the age of 17 years.