recipe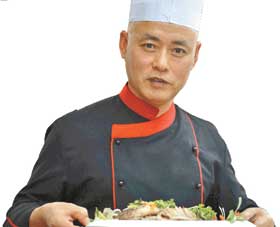 Admit it or not but nothing beats noodles prepared the authentic Chinese way. Well, this week You! in collaboration with Chef Yang Jia Vu of Lotus Court, Movenpick Hotel, Karachi, shares the recipe of 'Poached noodles with spicy beef sauce'. The chef has more than 30 years of working experience in various 5-star hotels across the world especially in China and India. Try this recipe and enjoy the true Chinese flavours at home. Happy cooking!
I N G R E D I E N T S
Dried noodles 150gms
Minced beef 140gms
Chopped ginger 60gms
Chopped scallion 5gms
Bokchoy - Chinese cabbage 10gms
Chilli powder 100gms
Chilli oil 5gms
Soya sauce 10ml
Zhenjiang vinegar 5ml
Yacai - Sichuan pickle 15gms
Fried peanuts crushed 10gms
Salt (to taste) 10gms
Oil 15ml
M E T H O D
Heat the wok and add oil, chopped ginger, scallion and minced beef.
Now cook till the beef is cooked and all the water has evaporated. Add yacai and cook for a few minutes.
Then add chopped chilli powder, chilli oil, chicken stock, soya sauce, vinegar and salt and stir till all flavours are mixed. Now take out the sauce in a bowl.
Blanch bokchoy till cooked and keep aside.
Boil the noodles and strain them out placing in a bowl.
Pour the with beef sauce over the noodles and garnish with bokchoy. Enjoy!