Coming Soon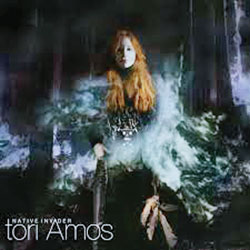 Out this week
* Albums
Native Invader by Tori Amos: Fifteenth album by the American singer; comes after 2014's Unrepentant Geraldines; includes the singles 'Cloud Riders', 'Up the Creek', and 'Reindeer King'.
* Movies
It (starring Jaeden Lieberher, Bill Skarsgård) – horror, based on Stephen King's 1986 novel; a group of young outcasts fight against a shape-shifting being (Skarsgård) responsible for the disappearance of children in their town.
Home Again (starring Reese Witherspoon, Candice Bergen, Michael Sheen, Lake Bell, Nat Wolff) – romance; a woman's (Witherspoon) life unexpectedly changes when she allows three young men to move in with her.
9/11 (starring Charlie Sheen, Whoopi Goldberg) – drama, based on the stage play Elevator; five people find themselves trapped in an elevator after the first plane hits the World Trade Center.
Gun Shy (starring Antonio Banderas, Olga Kurylenko) – action comedy; an aging rock star (Banderas) tries to rescue his kidnapped supermodel wife.
Celeb Tweets
Russell Brand (@rustyrockets): Where are our sunglasses? If I had back all the pairs I've lost I could open one of them booths at a train station.
Stephen Mangan (@StephenMangan): I think that's enough superhero movies now.
Dylan Sprouse (@dylansprouse): The hard realization that growing older also means planning your own birthday party.
Star
Alecia Beth Moore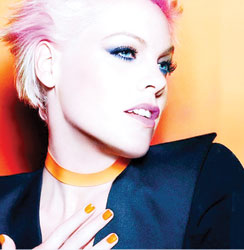 Born on 8th September 1979 in Pennsylvania, U.S.
Parents divorced when she was a child.
Started performing in her early teens, adopting her childhood nickname "Pink" as her stage name.
Earned a spot in the girl group Basic Instinct, but they disbanded without releasing any material.
Formed the short-lived R&B group Choice which released the song 'Key to My Heart' before breaking up.
Subsequently pursued a solo career, gaining fame with the release of her debut album, Can't Take Me Home, in 2000. Has since made five more albums: Missundaztood (2001), Try This (2003), I'm Not Dead (2006), Funhouse (2008), and The Truth About Love (2012).
Also released a collaborative album, Rose Ave. (2014), with singer Dallas Green under the name You+Me.
Is set to release her seventh album, Beautiful Trauma, in October this year.
Has been married to racer Carey Hart since 2006 (with a separation from around 2008 to 2010). They have two children – a daughter (born in 2011) and a son (born 2016).
Is an animal rights activist.
Also born today: Avicii, Wiz Khalifa, Jonathan Taylor Thomas, David Arquette, Neko Case, Aimee Mann
Spotlight
Annabelle: Creation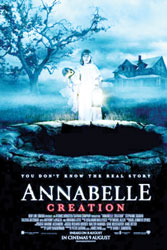 Cast: Stephanie Sigman, Talitha Bateman, Anthony LaPaglia, Miranda Otto
Director: David F. Sandberg
Tagline: You don't know the real story.
Horror; a dollmaker's (LaPaglia) possessed creation targets the girls who are seeking shelter at his house.
Fourth film in The Conjuring series, which presents a fictional take on the real-life cases of paranormal investigators Ed and Lorraine Warren. Is the first film in the series in which the Warrens are not featured or mentioned.
Is a prequel to 2014's Annabelle. Takes place in 1958, 12 years before Annabelle.
Had a budget of $15 million; has made around $220 million in less than a month.
Has received mixed to positive reviews, with critics praising its shocks and scares.
Score composed by Benjamin Wallfisch.