ECOMMERCE
Online shopping websites are coming up fast in Pakistan and offering opportunities to prospective buyers to make purchases online and get the goods delivered at home. All they have to do is to visit these websites, select the products displayed along with their prices, and register themselves by filling a form or providing their contact details and postal address. In most cases, these are delivered at home on cash on delivery (COD) basis, though other forms of payment are also available.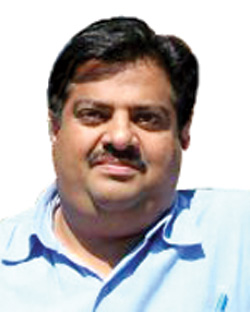 However, over the time it has been observed that there are certain issues with this phenomenon and lacunae that need to be filled. For example, there are incidents where the goods delivered are not as per the quality promised on the website, sometimes it takes ages for the purchased products to arrive and on other occasions the products are defective. Just like in any other business there are good companies and bad companies in this field as well.
Money Matters talked to experts to get an idea of how exactly online shopping is evolving in Pakistan and how it can be regulated for the benefit of consumers. Their input follows:
Arslan Ahmed Hashmi is the owner of Ultimate Bazar-an Online Facebook store. He is working on re-seller business model, buys products from AliExpress.com and sells these to customers on COD basis. He believes quality and rates are two big question marks on the performance of Pakistani e-commerce industry. Most of the online stores here are resellers or retailers, so their cost becomes higher as compared to local market, he adds.
He points out that most of the online stores have no ground presence, and people are operating from home as freelancers. He explains that in major cities like Karachi, Lahore and Islamabad, online sellers have a contract with local shopkeepers and whole-sellers. "They just take pictures with DSLR camera and put these up on their online store platform whether it's on a website or Facebook. They buy the item as per orders of their online customers. This business model needs very less investment and just costs an effort of online marketing to reach potential customers."
On the issue of quality, Arslan says sometimes it happens that you browse the online store for hours to find the best deal for your favourite sunglasses and end up with a fake third class copy, and you realize that you can buy the same in less than Rs200 rupees. This practice, he says, can at the moment only be checked by the reviews of visitors and buyers. "I think the government should take some steps to make an authority which can tackle these matters in e-commerce and online shopping industry," he suggests.
On the other hand, Uzair Shahid thinks online stores in Pakistan are doing pretty good but their success depends on a lot of factors. Uzair is a senior programme manager at Punjab Information Technology Board (PITB) and is responsible for designing and implementing innovative ICT solutions for the government. He says one of the major contributing factors in the whole process is the customer support which many tend to put less attention on and in turn start losing customers.
Uzair says there is a lot of scope in ecommerce business, and one of its major benefits is that you don't need to have a physical outlet or go-down for that matter. For starting, this is the best method and as the business grows and the frequency of the orders increases, then there is a need to start keeping stock of the products that are high in demand.
He agrees that due to the lack of regulation in the sector, the vendors sometimes in pursuit of margins do not pay much attention to the quality of the product, and hence affect customer satisfaction. Therefore, he says, proper laws need to be implemented in order to keep a check on the quality of services provided by these portals.
He says introducing different payment methods is one of the major reasons this industry has not grown to its full potential. "Disputes over payments do arise but since majority of the business is done on COD model, people usually have the product in their hands before they give the payments. But still if an issue arises, the customer is normally not accommodated, which leads to people losing faith and interest in online shopping," he says.
"Money back guarantee and product return policy is given only by a few leading businesses and this needs to be incorporated across the board."
Uzair states ecommerce in Pakistan is still an untapped market and with the population of over 200 million, and mobile penetration of over 70 per cent, there is enormous potential. "I foresee this market to cross $500 million in the next 3 years if all the stakeholders play their role."
Regarding the payment options, Arslan suggests that online payment gateways like Paypal are very much needed to boost online shopping, because Paypal in itself has a lot of useful features like payment reversal in case a customer is not satisfied with the transaction. Currently, most of the stores are offering seven to 30 days money back guarantee and complying with their claim for the sake of gaining ratings and positive reviews, he shares.
Entrepreneur and Public Policy Analyst Fouad Bajwa is quite critical in this regard. He says there is no true ecommerce activity in Pakistan. Our version of ecommerce are digitally enabled markets (websites hosting product catalogues or mobile-apps performing similar functions) where people can browse an online catalogue displaying a variety of product imagery and details and place orders. By the way, he says, courier companies also fool ecommerce merchants and operators by claiming penalties for missed calls where the customer was unavailable to receive the order.
Fouad says these stores are only replications of offline stores where people can only view images and never interact in real-time with the products. He says MyShop.pk is the only store that lets you select a technology product from their online catalogue which you can physically unbox after payment at their shop in Century Towers on Kalma Chowk Lahore.
He said a rough estimate of this version of Pakistan's ecommerce market would be anything between $100 million to $120 million, with estimates fluctuating during holiday season or and black Friday sales. However, it is fuelling many offline manufacturing, imports, merchandising, stockists, wholesaler and retailer businesses. In a climate, where the government is failing to create millions of jobs for our citizens, e-commerce appears to be a green card to self-employment, business growth and employment creation, he believes.
Apart from the prominent 10-12 online catalogues, Pakistani merchants and businessmen are also promoting and selling products through Facebook since it dominates 98 percent of the local social media scene, he adds.
Fouad says, "My personal experience, so far I have never received what I've seen online and ordered. The quality is pathetic; the products are b-grade and also low-quality Chinese stuff. Even clothing sizes and colour matches are not satisfactory as is with offline shopping. However, it's a start and sometimes, as with some friends, they have gotten good quality merchandise. I may be wrong but I am still to achieve a satisfactory order."
He thinks one challenge is breaking the offline shopping mindset barrier, and coping with lack of entertainment opportunities in our country. Shopping is also a means of entertainment in our society, he said. "We see around even bakeries in the evening that families all dressed up are buying breakfast items such as eggs bread and milk," he adds. For them this is the only entertainment in urban centres other than cinemas and now the emerging shopping malls. "The malls will also pose a challenge when a family, the wife, husband and the children can all go to an all purpose venue to shop groceries, products, playlands and finally food, the future may be a bit different," he says.
The other angle, he says, is that maybe Pakistan's COD enabled ecommerce system will see further growth in the near future as more people from rural regions access these websites through just cell phones. "At present, my observation is that the ecommerce scene is mostly fuelled by the urban centres, but this is bound to change in the short term."
A trend is developing for people to order counterfeit fashion accessories, electronics and digital and mobile technology products online, he says.
The dispute resolution in his opinion lies at ecommerce store operators' end. He says they have to ensure that clients get the product they ordered, there have been reports of the competition authority conducting enquiries on ecommerce operators who failed to do so.
He believes the standard offline dispute resolution mechanism as defined by the competent authority would be applicable to all customer complaints should the ecommerce operator fail to address them. Consumer courts would treat this as an offline issue because the product was delivered or not delivered to the customer by hand by a courier service contracted by the ecommerce operator. The transaction happened offline despite that the consumer chose the product from an online catalogue, he adds.
The writer is a staff member