Behind the scenes: (L-R) Marina Khan, Sajal Aly, Sarmad Khoosat and Imran Abbas.
InstepinterVIEW
The actor reflects on collaborating with director Sarmad Khoosat, working in multiple mediums and learning to grow with time.
It's a beautiful autumn afternoon in Lahore as I head out to meet Sajal Aly on the set of an upcoming TV serial. Having just shot for a scene, Aly steps away from the front of the camera and the hustle bustle in the room to accommodate me for this interview. What's obvious almost instantly is just how much she has grown, both as an actor and as a human being.
Though Aly has starred in at least two films, she has strong TV roots and is gearing up for an upcoming production that is being helmed by Sarmad Khoosat, whose past credits as director include productions like Manto, Humsafar Mor Mahal. The cast includes Aly alongside actors Imran Abbas, Marina Khan, Irfan Khoosat and Iffat Umer.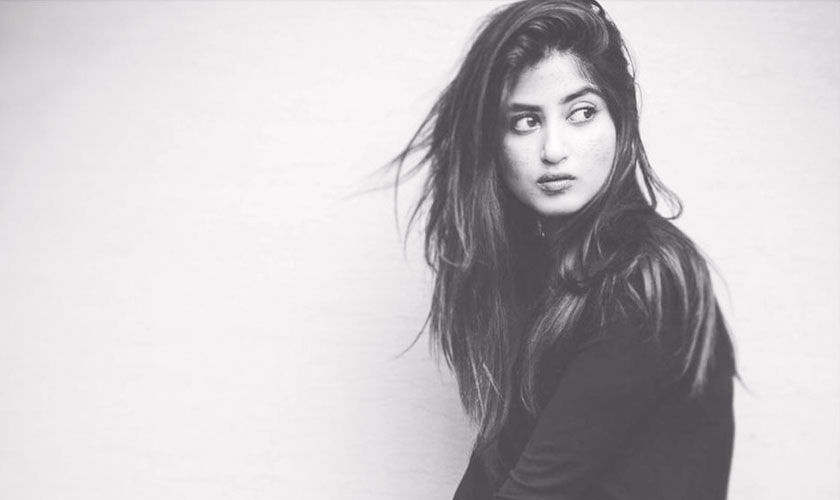 Our conversation opens with the evolution of Sajal Aly, who looks and sounds more comfortable in her skin today than previous years. "You learn with the passage of time," begins Aly while reflecting on her personal journey. "I want to grow with time, and not just as a performer but as a person as well. You know your weak points, so there are a lot of things you want to change about yourself. My life has changed a lot as well. There's a lot that I've lost, and you learn so much from that."
Aly made her acting debut in Bollywood this year with Boney Kapoor's Mom in which she acted alongside Sridevi and Pakistan's own Adnan Siddiqui. But the actor is not looking to rest on her laurels. She is presently starring in Shahzad Kashmiri's Yaqeen Ka Safar and Kashif Nisar's O Rangreza opposite Pakistan's newfound heartthrobs, Ahad Raza Mir and Bilal Abbas, respectively.
"I did a film (Zindagi Kitni Haseen Hay) last year. Then, I got busy with Mom and I wanted to take a break myself. But I enjoy doing serials. I remember when I was in India, I was craving for drama," recalls Aly. "I think I was being offered the right projects at the right time. O Rangreza, I just could not have let go of because I've worked with Kashif Nisar on Sannata and I know the kind of director he is. Yaqeen Ka Safar was relatively different. It was very subtle and akin to the likes of Dhoop Kinaray."
Aly's third TV serial of the year is one that has enormous value to the actor, at least partially because of Sarmad Khoosat, who is spearheading the project as director. "I wanted to work with Sarmad for the longest time," states Aly. "I even posted a picture with the caption, 'dream come true'. A friend of mine objected to it, but the thing is that if I feel honored to have worked with Sridevi, I should feel equally privileged to be working with the greats of our industry. For example, I wanted to work with Noman Ijaz, and similarly, being directed by Sarmad was huge for me. I was very excited, and I knew that no matter what the story, Sarmad would do wonders with it, and I trust him completely."
It is also good to know that Aly takes television as serious as films with the understanding that both mediums have their unique value. "They are both obviously very different. However, I never felt like I was doing a 'film' when shooting for Zindagi Kitni Haseen Hay. Mom was a huge international project. Our film industry has just started off, so we don't have the infrastructure just yet. We're known for our drama serials and throwing tantrums just to prove something won't do anything for me. You earn a place in the industry because of your body of work, so it's better to focus on one's craft."
With several strong performances to her credit, Aly maintains that there can be no method to acting. "I've never understood how to answer that question. I've heard of actors who start living their characters. I don't know if there's a method to acting, but I know I need to be in that moment while shooting. As soon as the director calls cut, I snap out of it," she says on a parting note. "I am very observant, so I pick up aspects from real life. I had barely shot for O Rangreza when my mother passed away, so after that, there were so many scenes in the later part of the serial, when Sassi, my character, undergoes some crisis that I related to personally. You just have to convince your audience; that's how I manage to do it."