CATCHINGUP
The seasoned star discusses working in TV, films and shooting for fashion campaigns.
Model, actor and TV host Azfar Rehman, having been the face of nearly every menswear campaign this past Eid, is having his moment in the spotlight. His varying interests in different fields of entertainment have given him a chance to participate in several noteworthy projects and, unlike many others who fizzle out when tackling a hosting gig, Rehman manages to stand out because he is engaging and witty, a hard combination to beat. After exchanging Whatsapp messages, we met for an interview where Rehman spoke about films, fans and much more…
Instep: You're doing many things at the same time. Is it because you get bored easily?
Azfar Rehman (AR): Yes, I do have issues with my attention span. I like doing different things and presenting myself through different mediums. I walked the ramp a few months ago and did commercials as well. I have just signed a few films and I have completed drama serials as well. I am active on social media, which keeps my hands full. I like being the jack of all. I love to host, model, act and I want to run all of them in parallel. This Eid, I did six campaigns for the top brands in Pakistan (including Amir Adnan, Cambridge and Gul Ahmed) because I had not done any eastern campaign in a while. So I strive to strike a balance between all of them.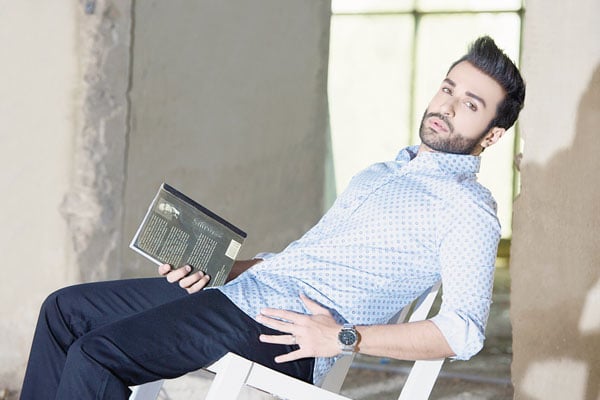 Instep: How would you assess your career?
AR: To be very honest, I keep judging things on one scale - at the end of the day I should be in a position to choose my own work. So I know what I want to do at what time and if I don't get that project or miss that assignment, I get really disheartened.
Instep: Your tryst with drama serials is on and off. Are you doing any TV projects?
AR: I have just completed four serials. There is one with Alishba Yousuf, one with Anam Fayaz, one with Eshal Fayaz and one with Mahnoor.
Instep: Among the many campaigns you did, the one with Amir Adnan stood out the most. How did that happen?
AR: I did a campaign for them last year and it was very well received so the brand decided to sign a contract with me for a year. Personally, I really admire the quality of their work, especially the way Huma Adnan manages the brand and keeps everything so fresh and energized. It is her contagious energy that I was completely blown away by. I never get a dull call from her ever.
Instep: Is it safe to assume that your next destination is Lollywood?
AR: I won't call it a destination, but yes that's definitely my next stop over. As I said, I had signed three films; I pulled out from one of the three as the production house had mis-committed the star cast to get me on board.
The other two are with Misbah Khalid and my dear friend Fahim Burney. The films will go on floors from this October and will give me a good break from television, too. After all, how often can one play a foreign-returned-Pakistani boy looking for love?
Instep: You have finished a decade in the industry. What keeps you going?
AR: It has been a very pleasant journey so far and I have worked with all the brands or production houses that I ever wanted to be associated with. My way of working has been slightly different because I am a relationship driven person and my work comes second. Though I work around the clock with no day off, my relationships and my love life have always been my focus. Just give your hundred percent and never hold yourself back whenever you want to do something.
Instep: You are very active on Instagram. What's the story behind your recent post where you were flaunting your Jodhpuri Chappals?
AR: I love Instagram and I like to share good portions of my life with my fans and followers. Like before coming here, I was at a café having Lassi and I posted that. And those Jodhpuris were sent to me by an Indian fan who has been an avid follower of my serial Ishq Mein Tere on Zee Zindagi. She sent those all the way to Dubai as my brother lives there and I completely loved them so I had to share it.
Instep: On a final note, are you dating anyone?
Azfar Rehman: No, I am very much single.
– Sadiq Saleem is a Dubai based entertainment journalist. He is also an
Instep correspondent and can be contacted on his page fb/sidsaidso.