lingerie
Just like shoes and handbags, lingerie is a staple in a woman's closet. Lingerie symbolizes grace and femininity. There is just something provocatively alluring about lingerie - it is intimate and lends you an undeniable aura of sexiness and grace. If you are wearing something beautiful underneath your clothing, you send a very powerful message to the world, and they see it as confidence and mystique. The fact is, that investing in beautiful lingerie is about a lifelong love affair with yourself. Wearing the right lingerie can give a woman oodles of confidence and she can carry herself with panache.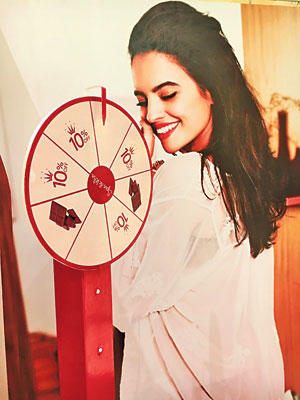 Did you know that 'lingerie' is a French word which derives its origin from 'linge', which means 'linen'? The concept of lingerie was developed during the late nineteenth century, which has now become a beautiful expression of women's femininity and enduring fascination. When we talk about lingerie, what is the first name that pops into your mind? Yes, you have guessed it right! It is our very own favourite brand, Triumph.
Started out in Germany in 1886, as a small-scale venture, today it has emerged as an iconic global leader in innovative and sensational lingerie, with a presence in over 120 countries. Triumph came to Pakistan in 1971 to manufacture undergarments for export as well as for the local market. However in 2001, it was decided to sell the locally manufactured undergarments under a separate local brand IFG and re-launch the fully imported brand of lingerie...Triumph. Today the entire Triumph range available in Pakistan is imported and available through 150 plus retailers in the country. The best part is that it is the only European brand that produces intimate apparel, specifically designed and tailored to suit Asian women. Recently, the brand has launched a new product, the filigree version of Triumph's best-seller: the Delicate Doreen (non-wired bra). The launch event was held at the Triumph store in Dolmen mall, Clifton, Karachi. Many female members of the press and social media attended the 2-day event that also featured a spin and win game for all.
For our curvy girls, full coverage bras offer a lot of support. And Triumph's Doreen is the perfect choice for all well endowed women. It is a minimiser that is dreamy, divine and a must-have. This range looks back on a successful career spanning almost 50 years. The Doreen bra was launched for the first time in 1966 and has been a Triumph best-seller ever since.
Continuous improvements in materials and designs have now culminated in the softest and lacey version. The retro look is preserved and enhanced by modern lace details and a more elegant design.
Maximum comfort and support, along with super-soft high quality material, make for a stunning minimiser. Delicate Doreen is based on the design of the original Doreen, for women who require a larger and more supportive cup, but with a more modern look and lighter feel. The new range features all over lace cups and a stretch frame to ensure an excellent fit for the well-endowed figure. Go have fun picking out some new lingerie!
- M. Shirazi