Want to know about the bridal makeup trends that ruled the runway? You! talks to renowned beautician Angie Marshall who shares the looks that she conjured for the recently concluded PITF, Uroos ul Bilaad...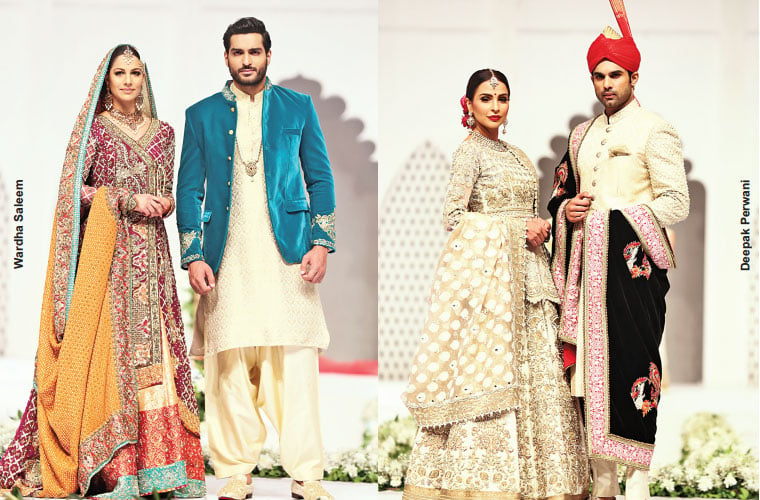 An exciting day of your life is on the horizon and you are super pumped about your looming nuptials. Gals who like to stay ahead of the curve when it comes to beauty, will want to discover the latest bridal makeup and hair trends. And fashion shows/weeks are an apt way of staying up-to-date. Yes, it is through these shows that our very own style and makeup gurus make sure to scrutinize diversified runway looks before they are presented on the ramps, season after season. In the ever-changing world of fashion, 2017 Bridal couture has redefined the runway with some outstanding trends.
Recently, Pakistan International Trade Fair 2017 (PITF) organized a 3-day event at Karachi Expo Centre, which was concluded with a fashion show 'Uroos ul Bilaad -Tales of Mystical Beauty' followed by a concert. The show comprised Maharaja themed collections where eminent designers including Deepak Perwani, Wardha Saleem, Humayun Alamgir, Ayesha Ibrahim and Shazia Kiyani showcased their bridal collections.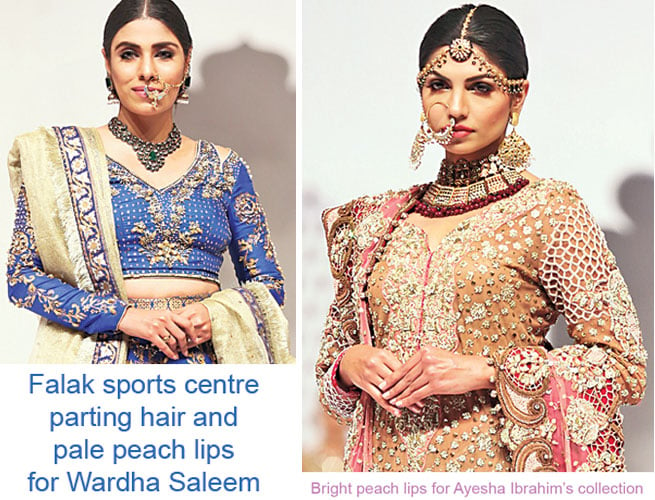 The oh-so-wow looks
Of course, the bride needs to look all glammed up on her big day. And this year the bridal trends are all about a fresh face charm with dewy skin. The official stylist for the show was Angie Marshall and her team who created effortless looks that complemented the overall theme of the show. According to Marshall, "All the collections had a very Mughal touch and we kept the focus on subtle makeup and simple hairdos."
The fresh faced look
Natural makeup is in, and overly complicated up-dos are out. A woman's wedding day has long been considered synonymous with a notion of getting everything, especially on the beauty front, picture-perfect. And this is exactly, what Marshal had in mind while creating the looks.
According to the expert, glowy skin and youthful eyebrows are trending makeup looks for brides this season. "Deepak Perwani's collection 'Bahaar' was all about the arrival of spring and the festive season of weddings. As Deepak was opening the fashion show, I envisioned a very fresh face look for it. Eyes were kept simple with gold shadow, kajal and 'Maharani' winged eyeliner and the lips were painted in a bright maroon hue. To complete the look, maroon coloured bindis were added on the forehead," shares Marshall.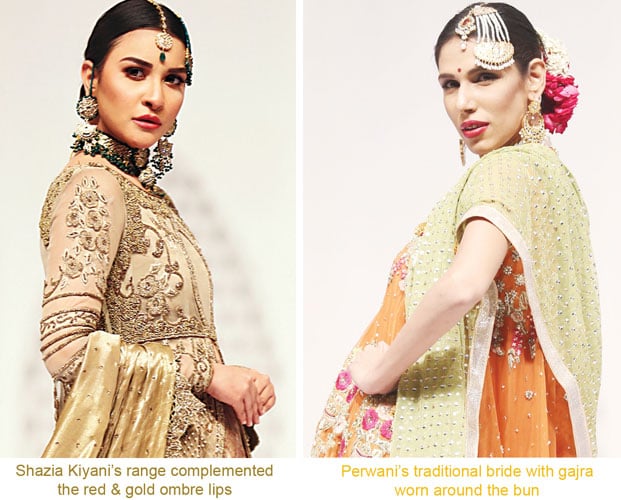 Smokey all the way
"Keeping in mind the vibrant colours of Wardha Saleem's collection 'The Mughal Empresses', we gave the models smokey eyes with a hint of sheen at the inner corner of the eye with subtle lipstick hues like dull peach and nudes," adds Marshall.
Glam factor
"For Ayesha Ibrahim's range, 'Jashn-e-Aroosi', the emphasis was on bright peach lips and glamorous bronze eyes. The lid was all bronze while we opted for a gold shade for the inner corner of the eyes," she informs.
Ombre effect
"Ombre has been doing rounds for quite some time now. For Shazia Kiyani's 'Mumtaz Mahal' we went for bright ombre lips in the shades of red and gold. Bronze and gold eyes were the choice for Kiyani's wedding range as well," says Marshall.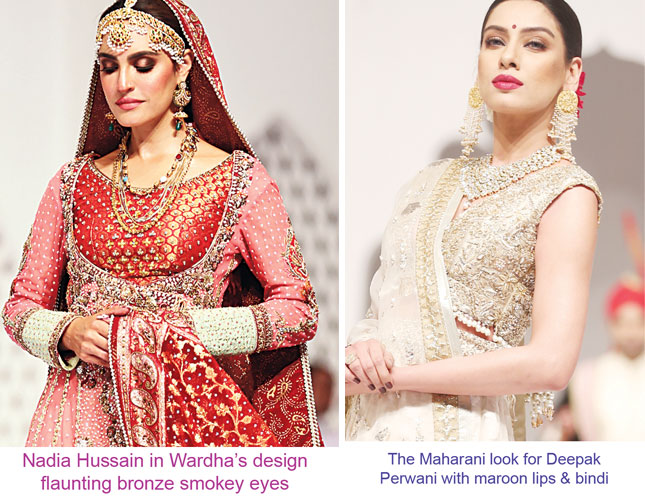 Hair glory
When it comes to bridals there's not much one can do about the hair. It is not a good idea to be experimental. Good old middle parting with the hair neatly tied in a bun at the nape remains the favourite hair style for most stylists on your wedding day. Such was also the case at the Uroos ul Bilaad show. "For Deepak Perwani's collection we opted for a traditional look with centre parting hair tied in a bun. He wanted gajras worn around the buns which gave off a sleek look," shares Marshall.
"For Ayesha Ibrahim's wedding range, the hair was neatly tied in a low knot and for Shazia Kiyani, we went with desi thick braids," she says.
About the look she conjured for Wardha Saleem's collection, Marshall states, "Because her assortment was vibrant and had a very mehendi feel to it, we opted for a centre parting hair with huge bun at the nape to give a regal look."