recipe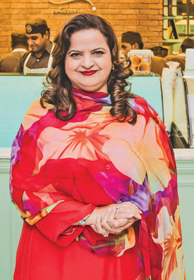 Don't you just enjoy appetizers before ordering the main course at a restaurant? And if it is creamy dips to go with pita bread or nachos, then nothing beats that! Amongst many yummy dips is 'Hummus' that hails from the Middle East. It is not only healthy but the flavours just burst in your mouth. Want to try out this dip at home?
This week
You! has collaborated with Lal Majid, the
chocolatier extraordinaire of Lal's Patisserie, who shares her special recipe of 'Hummus'. Try it out and indulge in the
creaminess of this dip.
INGREDIENTS
Chickpeas 500 gms
Tahini paste 115 gms
Fresh garlic 10 gms
Water 32 gms
Lemon Juice 80 gms
Salt 5 gms
Yoghurt 45 gms
Sumac 5 gms
Topping:
Olive oil 30 gms
Paprika a pinch
M E T H O D
‑Mix together garlic, lemon juice, yoghurt and tahini paste in a grinder. Add few drops of water if needed.
Add chickpeas and remaining water and mix together.
‑Now add sumac powder in it. Mix it for few seconds in a grinder.
‑Take it out from and top it with olive oil and paprika before serving.
'Corrigendum'
In our feature 'Unstoppables', printed on 7th March, there was an error.
The Pond's Miracle woman, Hiba Masood is the creator of Drama Mama and Happy Place. She is not the founder of Veritas Learning Circle, as published.
The error is regretted. Ed.