BookReview
In his memoir, Can I Say, the percussionist reflects on his many musical projects, and fans of rock music (and obviously Blink-182 fans) in particular are likely to enjoy this volume.
Travis Barker has had an extraordinary life, and it is also quite extraordinary that he is still alive. Not only has the American drummer survived a plane crash, but he has also done just about every reckless thing that you can possibly think of, all of which he talks about in his memoir Can I Say, a candid look at the first four decades of the musician's life.
The percussionist's passion for drumming takes center stage throughout the book. Barker's childhood hero was Animal, the "pure primitive orange insanity" on The Muppet Show, and at age 4, the youngster already knew what he wanted to do with his life: he wanted to be a drummer. He had received a tin drum from his parents on his first Christmas, and subsequently got a full set of drums on his fourth birthday as his parents had started realizing his nascent talent. Drumming lessons helped him hone his skills, and his mother's encouragement helped him pursue the activity and turn it into a career; one of the last things she said to him before her death when Barker was 13 was to continue playing the drums and follow his dreams. "Keep doing it," she told him, "no matter what anybody else says." And he did.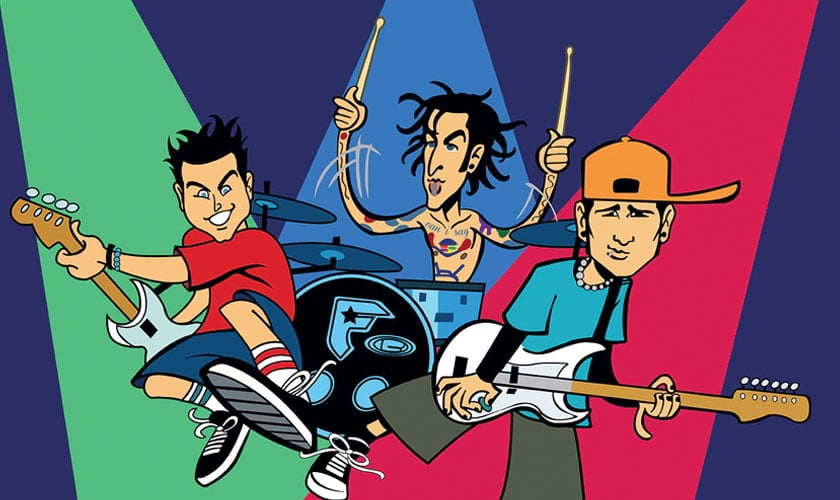 In junior high, Barker joined his first rock band, Necromancy, and subsequently joined and formed a number of groups, most of which did not have any considerable success or last very long. His luck turned with the punk rock band Feeble in the early '90s, followed by the ska punk group The Aquabats in 1994, and finally the pop rock outfit Blink-182 which he joined in 1998. Mark Hoppus and Tom DeLonge recruited Barker after they fired their previous drummer, leading to the Blink-182 line-up that would find massive success following the release of 1999's Enema of the State. A string of hits made the outfit one of the most popular pop punk acts of the time, propelling them to international fame.
This recognition as well as his reputation for being one of the best drummers in his field subsequently gave Barker the chance to pursue several other projects – including Box Car Racer, +44, Transplants, and TRV$DJAM, all of which are mentioned in the book – and perform with a number of artists from various different genres, as well as establish his clothing line, Famous Stars and Straps, which was inspired by his passion for "skateboarding, BMX, cars, tattoos, rap, metal, [and] punk".
But while his determination and dedication helped him achieve his childhood dream of becoming a successful drummer, his addictive personality has also caused him a handful of problems behind the scenes. "Everything in my life that I've ever had, I wanted in abundance," Barker writes, and the impact of this statement is visible throughout Can I Say. "If I like something, I get addicted to it," he states, and his many vices have included drugs, drinking, smoking, and pills; his addictions and slow recovery are chronicled in this book. He also writes repeatedly about his countless sexual encounters, and discusses his two failed marriages – first to Melissa Kennedy, second to Shanna Moakler (with whom he has two kids, Landon and Alabama, who clearly mean the world to him) – although the way he talks about women comes off as disturbing and at times even disrespectful, and the frequency with which the topic comes up starts to get tiring and off-putting.
There are also testimonials from his friends and family members throughout the memoir that add more context to his tales (like when Hoppus and DeLonge share their thoughts about the group's falling out, for instance) and – when they aren't being overly flattering – are a nice touch.
The highlight of the book, though, is his harrowing account of the 2008 plane crash and its aftermath. The incident claimed the lives of four people on board, including two of his closest friends; the only other survivor – Adam Goldstein, a.k.a. DJ AM – died less than a year later from a drug overdose. Barker – who was always afraid of flying – writes about the chilling experience and its consequences: he was left with third-degree burns on 65 percent of his body and broke his back in three places; required 26 surgeries; and suffered from post-traumatic stress, survivor's guilt, and suicidal thoughts. His account of the gruesome ordeal makes for a tough yet riveting reading.
The drummer's life is so eventful and unusual that it automatically makes his book fascinating, but Can I Say – which was co-written with Gavin Edwards – could have been better organized. There are parts of it that feel repetitive, and sometimes the book just jumps around from topic to topic. Still, the biography is chock full of information about Travis Barker and his many musical projects, and fans of rock music – and obviously Blink-182 fans in particular – are likely to enjoy this volume.