SCI-TECH
Musical torch, Anti skin cancer lotion and Bracelet Aid for blind people were just some of the projects that were presented by our incredibly talented students at the 2017 Intel International Science and Engineering Fair (ISEF), which was held in Los Angeles, California from May 14th to May 19th 2017. ISEF is an annual event held in USA. More than 1,700 students from all over the world participate in it. But before booking their seat for USA, the students go through a hard selection process at the national level. The selection process also took place in Pakistan through the Intel National Science Fair in which students from 56 local educational institutions participated. A total of 96 projects by 196 young scientists were showcased. The projects were assessed by a panel of renowned judges, and winners selected to represent Pakistan at the ISEF 2017, where they got a chance to showcase their independent research and compete for more than $4 million in prize and scholarships.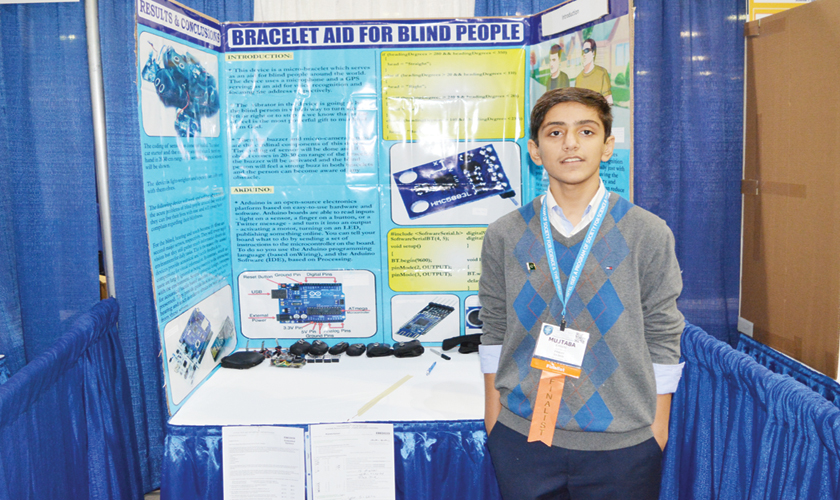 For the past decade, Pakistani students have made their mark and attained numerous distinctions at the Intel ISEF. They have designed and created some of the most innovative projects. This year 10 local students made it to the ISEF with advanced concepts in a wide range of fields.
Mobile phones have become a necessity in today's day and age. Keeping this in mind Ahmad Hassan, Liaqat Ali and Naeem Hassan from Punjab Daanish School decided to tackle a problem faced by most mobile users: fast drainage of battery. The students converted the caller's sound energy into electric energy for recharging mobiles. This project was called "Call and Charge the Mobile", simply a device that recharges the phone's battery during a phone call.
Arqam Ali Khan a student of grade 11 from Islamabad Model College for Boys made a single environmentally friendly electrochemical sensor which can sense every compound, gas and other things present in a solution in minimum possible time. His goal was to reduce the cost by replacing the noble metals and complicated technology with cheaper metals and simpler technology.

Another talented student from Aga Khan Higher Secondary School, Karachi, Haseeb Ahmed Khawaja from grade 12 created a project called A Roar for Energy (Musical Torch). This project was designed to combat the inefficient energy resources we face. On the basis of the piezoelectric effect, he amplified small range voltages into mild range voltages to charge up a secondary cell by induced vibrations from any oscillating sources (wind from fan, sound from music, etc.) through operational transistors.
After seeing a growing demand for organic products, Hassan Rizwan from grade 11, along with Mansoor Ahmed grade 9, created organic plastics from seaweed. This duo from the Pak Turk International Schools and Colleges utilized the variety of seaweeds and algae found along the coast of Pakistan and manifested the production of organic plastic from seaweed which serves as a good feed stock for production of plastic.
Mujataba Sajjad Kamani's project was an impressive contribution made for the blind community. The Aga Khan Higher Secondary School student from Karachi created a Bracelet Aid for blind people. His aim was to help make blind people's life easier. The bracelet can help them to locate their particular addresses easily, and thus benefit blind people all over the world.
Shahzaib Ejaz a grade 12 student at the Pak Turk International Schools and Colleges, Lahore, created an eco- friendly design and fabrication of a Solar Water Pumping System. The project was aimed to design and construct a solar water pumping system that would take energy from the sunlight. This energy is then converted into electrical energy through photovoltaic cells and stored in batteries. Shahzaib thinks that if the project is implemented on a larger scale it can prove to be a productive and eco-friendly solution.
Lastly, Sadia Qadir a local resident of a small town called Haslipur, located in Bahawalpur had some big ideas to share. She claimed to have developed the first Anti-Cancer Skin Lotion. A daughter of a driver, Sadia hopes to become a scientist someday and work for the betterment of Pakistan.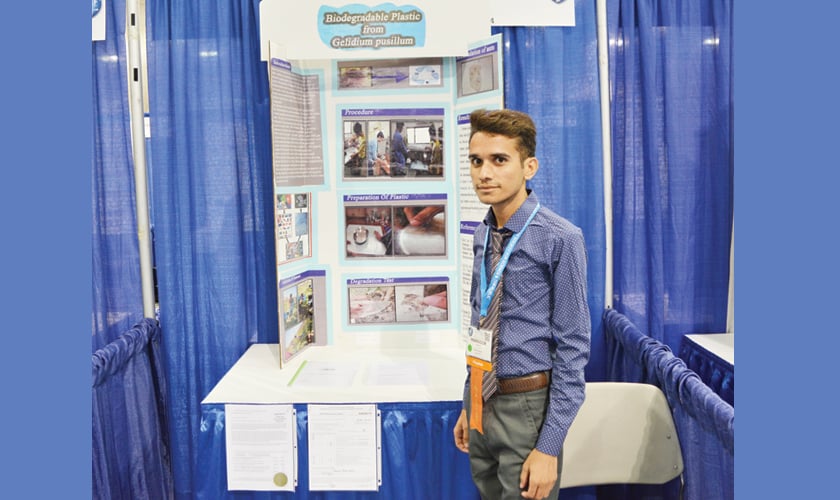 Intel ISEF not only provides students a platform to display their ideas in front of a global audience but also exposes them to different cultures and allows them the chance to interact with people from a wide range of backgrounds. Many of these brilliant minds had ventured far from home, many travelling halfway around the globe for this novel experience and interact.
The projects presented by the young Pakistani innovators were truly remarkable; our young scientists should be encouraged by their respective schools as well as the ministry of education. The solutions they have provided can be the answer to many of the problems faced by Pakistan today and can be beneficial for the growth of our country.
Way to go, guys! Keep making Pakistan proud.