Pakistan is unlikely to avoid crunch time if it does not ensure strict financial discipline along with increasing exports, cutting non-essential imports and greatly enhancing the diminishing manpower export.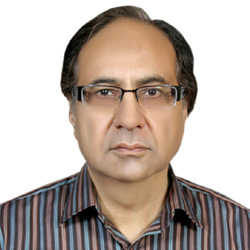 Since the Trump administration does not seem to be softening its inflexible attitude towards Pakistan despite unanimous resolution adopted by the National Assembly last week, the Prime Minister Shahid Khaqan Abbasi is being urged to take cognizance of the possible US sanctions that appear to be around the corner.
One of the major areas that need to be discussed and taken up urgently with the Gulf Cooperation Countries (GCC) is the shrinking manpower export, which, it is said, could easily be doubled to $32 billion within next 12 months, provided some serious efforts are made by the prime minister and his finance minister.
Now, when the government has failed to restrict its import reaching $52 billion - an all-time high, and exports have gone down to $21 billion while home remittances declined by $1 billion, increasing manpower export could help remove Pakistan's dependence on foreign loans and bilateral support from various countries.
Renowned economist Dr Ashfaque Hasan Khan and PML-N stalwart Senator Enver Baig have advised the government to formulate a strategy to avoid possible US sanctions by immediately taking up the manpower issue with the GCC governments. They were of the view that home remittances could substantially be enhanced by reaching out to the GCC bloc, which was currently ignoring Pakistan and preferring manpower from India, Bangladesh, and Sri Lanka.
"I really do not know why did the ousted prime minister (Nawaz Sharif) ignore manpower issue with the Gulf countries," asked Dr Khan.
He was of the view that the new prime minister should visit GCC countries urgently and inform their leaderships about the declining Pakistani manpower in their countries. "Although the economies of GCC bloc are still suffering on account of low oil prices, our friends like Saudi Arabia, Kuwait, Qatar, and UAE can still help us by importing manpower from Pakistan and this is how we can fight with impending US sanctions," Khan said.
However, he was of the view that non-essential imports, including $600 million annual fruits and chocolates must be discouraged by the government to save precious foreign exchange. "Then we need to correct our taxation system," he said, regretting that tax rate has been increased while no tangible relief was given to the people on account of reduced international oil prices.
"Our economy is not performing as fiscal deficit is touching new heights notwithstanding taking so-called austerity measures including by withholding Rs300 billion sales tax refunds of the exporters."
Senator Enver Baig of PML-N said the only way Pakistan could compete with possible sanctions was if manpower to Arab countries was substantially increased. "It pains me a lot to know that the former prime minister Nawaz Sharif did not use his personal influence in GCC states to increase our manpower export there."
"Out of $19 billion annual home remittances, $16 billion come from GCC bloc and it can easily be doubled only in 12 months provided our leaders take a genuine interest," Senator Baig claimed.
He said home remittances were a vital area which needed to be considered by the prime minister Abbasi to enhance foreign exchange reserves and thus avoid piling of foreign loans now touching $80 billion marks.
"This is the time to act and seek working visas for our people in the Arab world where Indians, Bangladeshi and Sri Lankans are currently making their monopoly due to our carelessness," he said, and added that despite so-called lifting of ban on Pakistani manpower to Kuwait, there was no follow up to address the issue.
The new premier who has apparently cut to size his finance minister needs to stop the appointment of cronies to the strategic positions to avoid further damage to the ailing economy.
How would the new prime minister dispel the impression that economic data had been manipulated and doctored to such a large scale about which the IFIs have also started talking quietly? Is it wise to only rely on Chinese investment and whether the new prime minister would look into it? Is this not a matter of worry that the private and foreign investment is not picking up while the GDP growth is actually standing at 4 percent against the official claims of 5 percent plus?
Industrial growth is declining due to non-availability of electricity and gas on competitive prices while agriculture continues to face problems despite comprising 23 percent of the country's GDP. Fiscal deficit is still close to seven percent against the claims of 4.5 percent to 5 percent.
With rising unemployment, increasing mass poverty, falling exports and increasing imports, trade deficit continues to widen while current account deficit is fast becoming a serious problem. Part of the problem is that the economy could not be revived due to shrinking private investment. Unfortunately, private investment continues to decline in spite of the cut in the discount rate of the central bank. Since there is no plausible investment by the private sector, foreign direct investment (FDI) could not be attracted except close to $60 billion Chinese investment in China-Pakistan Economic Corridor (CPEC).
Many people believe though the economy was kick-started by the PML-N government, it remained unsustainable owing to flawed policies and that the new prime minister would be taking fresh corrective measures during the next nine months of his government.
Since the issue of structural reforms particularly in the energy and revenue sectors could not be addressed during the last four years, there is no real economic turnaround that is essentially needed for growth in the country.
More importantly, the prime minister has to take short term measures to increase foreign inflows aimed at augmenting reserves that are depleting fast because of decline in home remittances, exports and FDI including that of portfolio investment made in the stock market.
Is the government ready to float euro bonds and improve its falling foreign exchange reserves? In recent times if Argentina which defaulted eight times and still fetched $2.75 billion while Iraq can raise $1 billion despite fighting a long war against terrorism, why cannot Pakistan do that.
It is time to drastically cut non-essential imports, enhance exports and increase the much-needed home remittances through manpower export. But it requires a vision and a will that has to be demonstrated at the top without which the country will continue to suffer while the elite will thrive at the expense of the poor nation.
The writer is a senior journalist based in Islamabad