Pakistan's first technology centered festival, The Mix took place
at The Alhamra Cultural Arts Complex this past weekend.
Lahore
What does technology do? It keeps users engaged, entertained and interested and that was the spirit of Pakistan's first technology centered festival, The Mix. With a strong focus on being experiential, it centered on the convergence of the tech, fashion, music and food industries and was all about about creating opportunities for attendees to engage and network. Experience has the ability to cut through the noise and make everything sharable on a greater scale. 'It's a millennial thing', today's Gen Y would say and those are the people the event was targeted at.
The two-day festival was organized by the Punjab Information Technology Board (PITB) and the Information and Culture Department Punjab. It was inspired by the model of The South by Southwest Music Festival (SXSW) in Austin, Texas, which boasts of a combination of high-profile speakers, noteworthy artists and memorable experiences. Technology festivals world over, dedicated to helping creative people achieve their goals and are an essential destination for global professionals, feature sessions, showcases, screenings, exhibitions and have a variety of networking opportunities. Similarly, The Mix drew out crowds of people over the smog filled Lahori weekend proving that an event that promotes networking within different industries under the umbrella of technology will do well no matter what.
Zainab Tariq, Plan 9 project manager shared with Instep, "Although all of Austin celebrates South by Southwest we tried to make The Mix as big as possible in scale and hope to continue doing it bi-annually." The organizers aim to show technology through different domains was evident as we navigated our way through the grounds at Alhamra.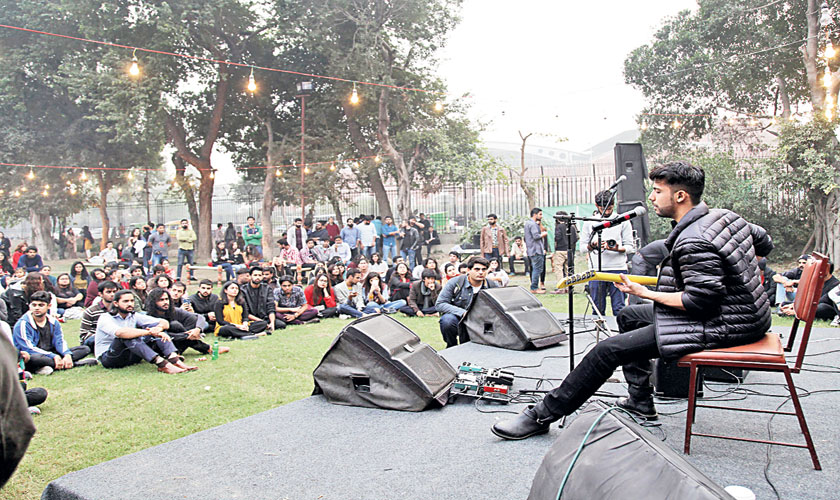 Picture courtesy: Grazia Pakistan
There were talks throughout the two days on topics like "Tech for Impact", "Engaging Communities Through Tech", "Fashion Forward", "Future of Gaming" and "Making Tech Pop" among others. PITB had invited international venture capitalists, leading tech-preneurs, champions for social change, artists and designers who are all creating an impact through their fields to talk about the relevance of technology. There were also rows of stalls outside that had a digital edge including Fabbit: a tech led fashion brand, Sara Shakeel: the Instagram collage artist's display, 3D printing, VR facilities, digital libraries and an entire section related to food. The food section was exciting because it was powered by SimSim, an app that's pushing paperless money transactions in Pakistan. There was a 50 per cent discount for anyone with the app which was a pretty sweet reason to make the download on the spot. The tickets for the event were also meant to be purchased online prior to the event at Bookme.pk, which was another way the organizers were pushing the digital boom.
There was also a strong music section that provided background sound for those attending the talks or entertained crowds who were sitting out the talks, on both days. Mahira Khan and Haroon Shahid made an appearance with Abid Brohi as part of Verna promotions, Abdullah Qureshi performed and the Face Music Mela took place. Ahmer Naqvi, COO Patari said, "Patari doesn't do a lot of events but we've been a part of PITB since our inception and wanted a chance to have our artists perform." Their outdoor stage on both days was quite a crowd puller with the first day having more of an indie vibe and the second day with a more plugged in louder sound. Keeray Makoray, Somewhat Super, Mughal-e-funk, Janoobi Khargosh among others played. "The Mix was a festival where technology was interacting with different fields so we wanted to get bands that sound like they're from the now and future as opposed to the past," Naqvi said.