Behind the scene: Ali Zafar, flanked by team Coke Studio including executive producers Bilal Maqsood and Faisal Kapadia.

The singer-songwriter and movie star talks to Instep about social media, the emergence of his brother Danyal Zafar and his penchant for writing poetry.
Ali Zafar is having an eventful year. Currently in the news for rightly supporting Pakistan's most popular female star - who is in the eye of a storm for appearing in what remains an innocuous image – Zafar is otherwise content with the way things are shaping up. He's shot for his first official Pakistani film, Teefa in Trouble, that is presently in post-production stage. He also enjoyed a decent run on the recently concluded tenth edition of Coke Studio with 'Julie', 'Yo Soch' and 'Uss Rah Par'. He has also partnered with iflix Pakistan as their ambassador for Pakistan.
In this conversation with Instep, the singer-songwriter and movie star shines a light on his take on social media, the upcoming Teefa in Trouble and matters pertaining to poetry.
Instep: Why was Teefa in Trouble shot (partly) in Poland?
Ali Zafar (AZ): We wanted a slightly different architecture and there's a different feel to it. Upon exploration it became apparent that Poland was meeting all of our requirements.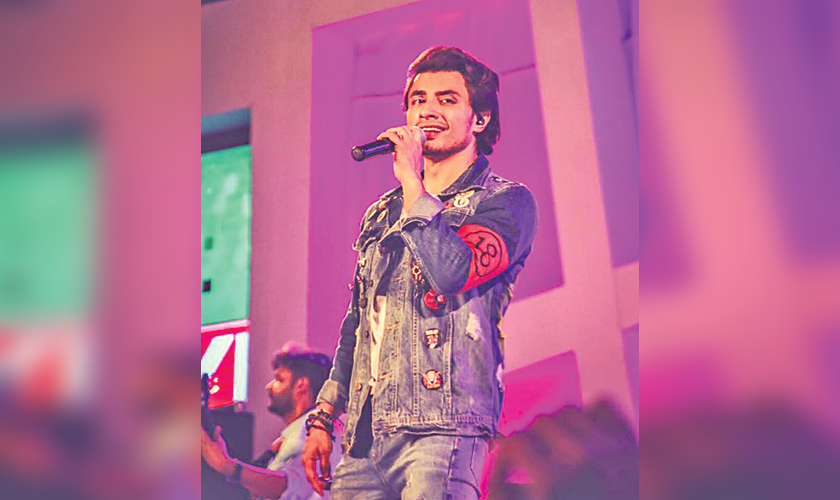 Instep: What genre does the film fall under?
AZ: You can call it romantic/action/comedy. It has all the flavours. It has romance, song and dance. It has a substantial amount of comedy but it also has substantial action. See, our audience wants everything, like a mixed plate or a buffet. That said, there is nothing senseless in the film.
Instep: We're living in the age of Facebook and while it has helped artists in connecting with fans directly, it is also true that it has led to invasion of privacy to a degree. It has created keyboard warriors who unleash hate and troll and harass. Artists are also scrutinized in horrifying fashion. How do you deal with it?
AZ: Negativity is a form of energy and it has to come out somewhere. As a society we are enveloped to a great degree in negativity due to various reasons including social and political ones. People have to take out this negativity somewhere and so the Internet has become a tool. The way they express themselves is through social media and they have a voice. Everybody has a voice, which is a good thing. However, people also need to understand that every thought has the power to manifest itself. So thought become words and words become action. Hence, we should think and speak positively. Only by reciprocating negativity with positivity and love, meditation and prayer will we find solace.
Instep: On one hand, Danyal (Zafar) clearly has a following as has been established by the strong numbers that followed his debut appearance on Coke Studio. But, on the other hand, there is the accusation that his appearance on the production was not based on merit alone but was a 'parchi' entry. What do you say to that?
AZ: When I started out and 'Channo' became a hit, so many people spoke ill of me and called me a one-hit wonder. My point is that whenever you are greeted by success and you become an overnight star, two things happen. One, you get a lot of love and two, you are criticized. It happened to me but to counter it you should take the positive criticism and not let negativity affect you.
Danyal, too, has taken the same approach. When you know what you are from inside and you know the truth, then you are not afraid of anything. Like when I came with 'Channo', I knew that I was more than a one-hit wonder that many were calling me. And it's been 14 years so the way you prove yourself is with work. Similarly, Danyal will have to prove himself through his work over the years. I would say that what you saw of Danyal in that one song ('Muntazir') was not even ten percent of his talent and what he can actually do. At the same time, his journey will be his alone. During Coke Studio 10, he himself had sent them the demos. They heard the demos and auditioned him and then he was given a song and that too was a duet. Now that song is number one and is ahead of all other songs, that's his kismet.
Instep: How do you go about making music when approached for projects like Pakistan Super League? Do you go by a brief? What about personal songs?
AZ: I completely compartmentalize it. If I'm commissioned to do a song for PSL, I will make it while keeping in mind the fact that the song is supposed to play at the stadium and on TV. It has to connect with all those who are watching the match. I know that I have to write a song that people can sing along to so I go about it accordingly. If it's something personal then I'll make a 'Jhoom' or a 'Julie'. In the case of the latter, it speaks about love and compassion and how material things don't matter. It is a message through which I want to tell people to not run after fame or money. Everybody's chasing it blindly but actual happiness lies somewhere else. So in my music I want to echo that sentiment. Recently I've been writing poetry and posting it so people become a bit more attentive towards literature. You can't detach from all of it and just spend time on Facebook. You need to connect and reconnect with all the knowledge and wisdom that is so readily available to you.