Karachi: The much anticipated theatre production, Heer Ranjha, directed by Zain Ahmed, created a lot of hype when it was first announced and for good reason(s).For one thing, it marks Sanam Saeed's return to theatre. Another reason is that it aims to raise funds for the education of less privileged children in collaboration with The Citizens Foundation.
The Urdu musical, featuring the tragic love tale of Heer and Ranjha, premiered in Karachi at Arts Council last Thursday and was received well by those in attendance.
The play opens with a group of boys and girls, including Heer (Sanam Saeed) and Ranjha (played by NAPA graduate Hasan Raza), dancing to a famous Punjabi track, 'Chitta Kukkar Banere Te'. Dressed in traditional garb, they are attending a wedding where Heer and Ranjha meet each other for the first time and fall in love. Heer hails from Jhang while Ranjha belongs to Hazara and the differences between the two villages force them to part ways. This is followed by some unforeseen episodes that form the crux of the play.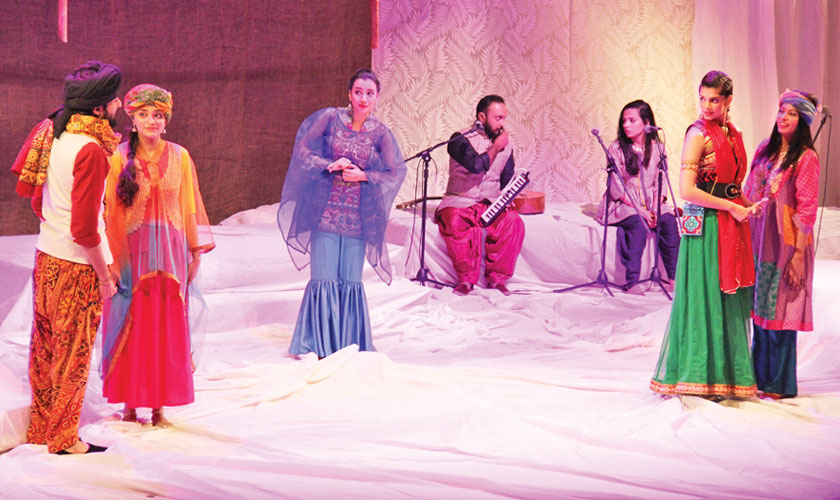 This particular rendition of the narrative is based on the script of Indian poet Kaifi Azmi that has been twisted to suit modern times. Azmi's script is popular for its dialogues that follow a rhyming scheme and it remains the highlight of the play too. The performances, dance sequences and the dialogues make for a visually appealing presentation but the play had some shortcomings. Given the struggle the two individuals face and their tragic end, the musical wasn't emotionally gripping and the selection of songs could have been better.
Sanam Saeed delivers a beautiful performance as Heer but is outshined by Hasan Raza as Ranjha, not just in terms of acting but in singing as well. Others who performed well include actors Meesam Naqvi (who essays the antagonist Qaido) and Nazar ul Hasan (who plays the role of Qazi).
Equally impressive, if not more, were veteran actors Samina Ahmed and Arshad Mahmood, who managed to make a mark in supporting roles.
The music, composed by Nigel Bobby, matched the theme of the play and added more texture to it. The Karachi run of Heer Ranjha concludes tonight after which it will head to Lahore and then Faisalabad.