CinemaScope
With three international awards to its credit, the film is all set to release in Pakistan on September 15.
Earlier this month the Pakistani Academy Selection Committee invited Pakistani filmmakers to send entries for Oscar consideration and we wondered which films would make the cut. Unfortunately, most of the films that hit theatres this year were disappointing. One could hardly find a film that appears worthy of an Oscar nomination.
However, one film that stands a chance in the Academy Awards' Foreign Films category is Farhan Alam's Saawan, a film that has recently caught our attention. The film bagged two awards at the Social World Film Festival 2017 held in Italy this month – one for Best Film and the other for Best Director. It also won the award for Best Foreign Language Feature at the Madrid International Film Festival earlier this year (July 8 - 15), where it received much appreciation. With a total of three international awards, the critically acclaimed project is expected to release in Pakistan on September 15 under the banner of Geo Films.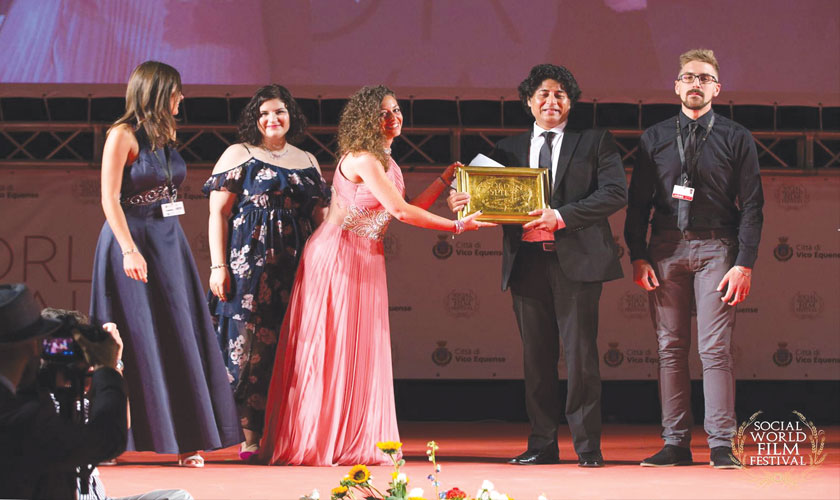 Farhan Alam bagged an award for Best Director at the Social World Film Festival 2017.
Judging by the film's official trailer, Saawan touches upon the true story of a nine-year-old disabled child, essayed by child artist Syed Karam Hussain who has been acting since the age of 5 and has made his cinematic debut with this film.
The film talks about struggle and survival. Shot in a barren wasteland (a valley in the mountains of Balochistan), it is about the journey of this child who initially has to deal with feelings of helplessness and rejection from his family and friends because of his disability. Eventually, he rises above all the obstacles around him.
Six months prior to the film's shoot, the writer and the director travelled to Skardu to scout the locations after which the shooting began in August and September of 2015. Most of the film has been shot in the northern areas of Pakistan.
Aside from the lead actor Hussain, Saawan features an ensemble of talented actors which also includes many child artists. The list includes names like the talented Saleem Mairaj, Arif Bahalim, Najiba Faiz, Imran Aslam, Tipu Sharif, Hafeez Ali, Sehrish Qadri, Muhammad Abbas, Danial Yunus and Mehek Zulfiqar, among others.
Moving on to the director behind the internationally acclaimed project, Farhan Alam is an award-winning director of photography who directed the film, Calendar. He has also been the director of photography for the film Bin Roye and several drama serials including Dastaan, Malaal, Mera Naseeb, Sanjah and Coke Kahani.
Written by Mashood Qadri, Saawan features the work of internationally known artists including the editor, Aseem Sinha, who has been associated with a lot of Bollywood films, while the music is composed by renowned Hollywood music producer, Amir Isilah.
Saawan depicts the harsh realities of life for those who struggle with disabilities in this country and may prove to be inspiring for those who think that their disabilities can hinder their personal and professional growth.
The reviews of the film suggest that it aims to deliver a message of hope and is a lesson for those who ignore and abuse disabled children in their lives while considering them a liability. The film has received a lot of praise at all the international film festivals where it has been screened so far. We hope it garners the same response from viewers and critics in Pakistan as well and also generates high box office numbers.