Lawyer and pageant winner, Sarish Khan on her debut film in Pakistan and the flak it received even before its release.
A few days ago the trailer for Syed Noor's upcoming Chain Aye Na was released and social media was immediately abuzz with comments, listicles and jokes about it. The film stars Shahroz Sabzwari, Sarish Khan, Atiqa Odho, Behroz Sabzwari, Mustafa Qureshi and Nadeem Baig among others. Reasons for the criticism aside, the film marks the coming together of a group of veteran/established actors and director, except for one - Sarish Khan. Chain Aye Na marks Sarish's debut and foray into the local film industry. For a newbie, the kind of scathing criticism the trailer has received can be disheartening and while co-star Shahroz wholeheartedly stood by the movie, we wondered what Khan's stance would be.
When contacted by Instep, Sarish seemed unfazed by the flak.
"I've been well prepared for criticism because I am following the footsteps of my grandparents, Sabiha Khanum and Santosh Kumar, who have been part of the industry. Once you're in the public eye you have to be open for these opinions however, most articles about the trailer are statement oriented and I'd love to read ones that are conversations or questions instead. I've been asked to respond to the articles on numerous shows but I can't respond to something that's not asking a question and I can't condemn opinions." She feels that the line between bashing and criticism needs to be made clearer to the public and journalists.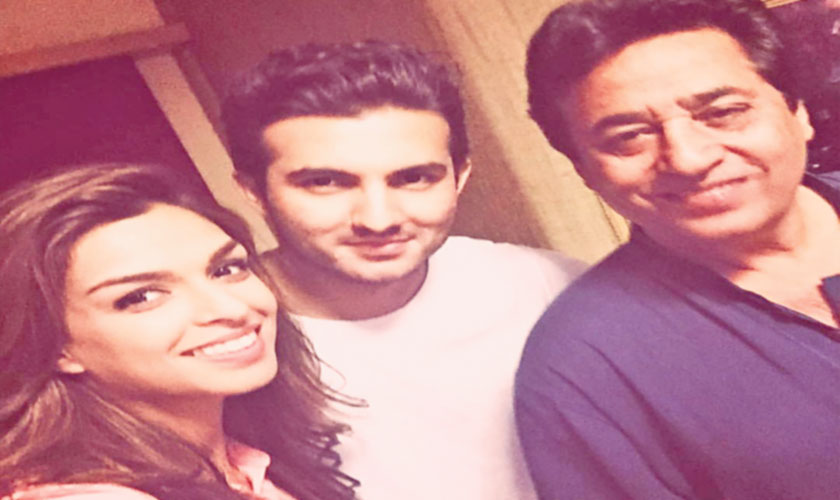 Sarish Khan with co-star Shahroz Sabzwari and director, Syed Noor.
The lawyer and pageant girl (she was crowned Miss Pakistan-USA in 2015) turned actor has also worked for women empowerment in Pakistan and in USA. Interestingly enough, the first character she picks for herself in Pakistan doesn't seem like it's about to break any barriers. When asked why she chose this character and a Syed Noor film as her debut she said, "I agree that my character is different to what I am in my personal life but that's why I wanted to be an actor – to be able to live other people's lives. Coming from America I didn't have a judgement of what a typical versus non typical character is. I am not so aware of what has already taken place in the country."
She also added that she's a hopeless romantic and any film with a plot around romance will immediately have her heart. "My character has a lot of complex relationships so that's what the film plays on and that's the main reason I selected this film."
"I don't know if it's a good film or a bad one but it's a film nonetheless. For me a film takes you away from reality to an element of fantasy and that's what I've learnt at film academy." While the rest of the cast is promoting Chain Aye Na in Pakistan, Sarish is doing rounds in the States. "The Pakistani American community is very supportive and interested so I'm going to be the face of the film here," she says.
Since she was crowned, the actor has been known as Miss Pakistan USA by most. Managing to spark immediate curiosity once she walked the ramp next to Muktaran Mai at FPW last year, she's done many photoshoots and even shot another film titled Rehbra during her stay in Pakistan. She's now back in the States, training for the Spartan race and working with the UN on nonprofit ventures. There is definitely more to Sarish than meets the eye and we wish her all the best when Chain Aye Na hits screens later this month!