Music group Jal, spearheaded by Goher Mumtaz, brought the crowd to its feet. One could see almost everyone singing along
to Jal's most famous tracks.
InstepREport
The fifth session of Levi's Live brought Jal and Shiraz Uppal to the fore along with a soulful tribute to the recently demised Chris Cornell by Farhad Humayun.
Lahore: The Levi's Live platform became five sessions old this weekend. For those of you living under a rock, where the sound of Pakistan's most well-known musicians doesn't reach you – this is a collaboration between the global denim brand and Riot Productions. The latter is spearheaded by vocalist and drummer Farhad Humayun who holds the sessions in his studio.
The event has become somewhat of a monthly congregation of upcoming artists and veteran singers to come together and perform. Abdullah Qureshi, Maria Unera, Sania Shahzad and Ammar Farooki along with more established names like Bilal Khan, Uzair Jaswal, Overload and Noori have taken to the Levi's stage so far.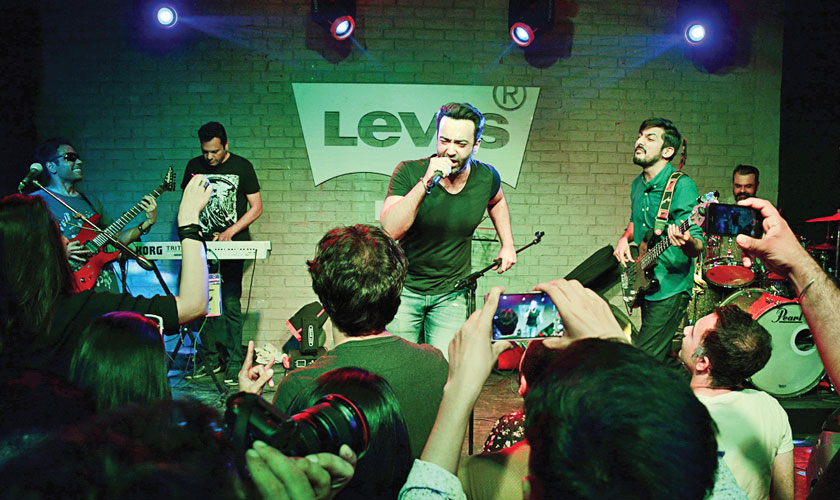 Overload leader Farhad Humayun spoke about how he's been using the Levi's stage to give tributes to the greatest artists we've lost. He also paid a fitting tribute to Chris Cornell, the cherished singer-songwriter known for musical acts like Soundgarden and Audioslave, who passed away unexpectedly last week.
The fifth session this weekend had Rizwan Anwar open for Jal (Goher Mumtaz) and Shiraz Uppal who were headliners for the night. The balmy and windy night also had a few surprise performances in store.
After a short delay due to power outage, Rizwan Anwer took to the stage to sing his most well-known number 'Laiyaan Laiyaan'. The playback singer from Lahore had the entire crowd grooving with the song. He also performed a soulful rendition of Nusrat Fateh Ali Khan's 'Har Dum Dum'. Anwer's set exhibited the artist's range and ability to take a beloved hit and make it his own with flair.
His energized performance was followed by Jal, who really brought the crowd to its feet. One could see almost everyone singing along to Jal's most famous tracks including 'Dil Haare'. They ended on the song that brings back memories of school buses, teenage woes and one with the astounding quality of being relatable to any situation of said teenage woes: 'Aadat'.
Between the two headlining acts was Humayun, with apparently four days of no sleep and still in his element more than ever. He took to the stage to talk about how he's been using the Levi's stage to give tributes to the greatest legends we've lost– the ones who had the biggest impact on his career including Leonard Cohen, George Michael, David Bowie and the ones he's grown up listening to. While Humayun was talking about the legends, the crowd started chanting Chris Cornell's name, the Soundgarden and Audioslave front-man who recently died on 17th May. He may be best known for the 2006 Bond film Casino Royale's theme song but the musician had quite the impact on musicians' world over. In a brief but solid performance channeling Cornell, Humayun reminded everyone in the audience about the power a rock star can have over fans.
Wrapping up the lineup was Shiraz Uppal who had a great year last year being one of Coke Studio's producers and producing multiple film tracks. Uppal took to the stage and performed and was soon joined by Bilal Khan and Ali Hamza, who sang Khan's breakthrough track 'Bachaana' together. Noori ended the show with the brothers' performance of some of their best crowd pleasers.
What's unique about Levi's Live is the relaxed atmosphere they have managed to achieve for the attendees and the steady stream of YouTube and Facebook videos of the performances for those who aren't present, since the first session. There's isn't much that can draw people out of their air-conditioned homes into Lahore's summer nights but Riot Productions and Levi's have managed to create a definite buzz with their successful series of gigs. Halfway through, we have five more Levi's Live sessions to look forward to.