The musician-turned-actor speaks to Instep about his latest song, 'Parinda' and why he enjoys acting.
Jal's latest release is the melodious 'Parinda' which was unveiled along with its video a few days ago. "If you listen to the lyrics and watch the video, you'll see that it's all about being yourself as an artist, experimenting with your craft, and playing around with creativity," Goher tells Instep. "I had composed and recorded more than 6 songs, and 'Parinda' is what I felt like releasing, mainly because of the composition and lyrics, which I thought are very unique as compared to the other songs I wanted to release in 2017."
The video is directed by Shoaib Rabbani, who the band had previously worked with on their clip for 'Laiyan Laiyan'. "As soon as he heard the song, Shoaib had this concept of bohemian style rebels who live the way they want, distant from the routine of daily life," the Jal front-man recalls, "and as soon as he explained the concept to me, I said yes to it, as we both have chemistry and the tendency to improvise."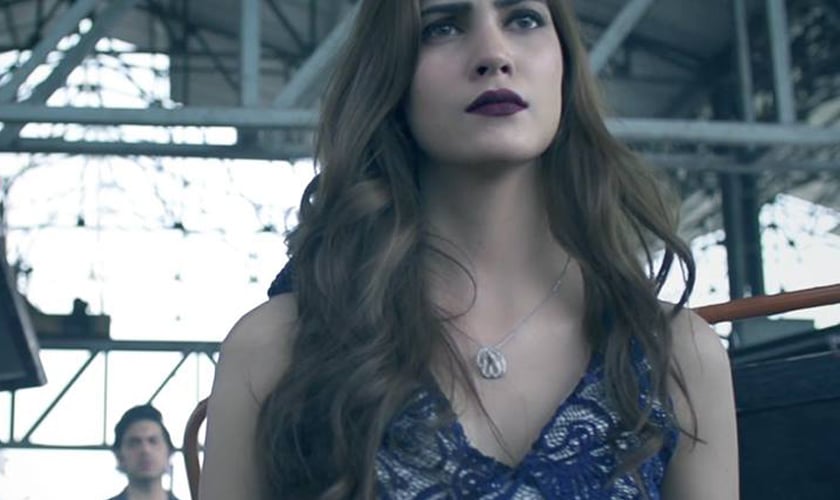 Goher's co-star in his song 'Parinde' is Nazish Jahangir who plays the singer's onscreen love interest.
Goher's co-star in this "high budget [short] film" is Nazish Jahangir, who plays the singer's onscreen love interest. "Nazish and I are playing the characters of film actors who are on a shoot, but want to run away from this world where you have to glam up and look perfect every day. I tell her to leave this place and go somewhere far. She refuses at first, but then takes the risk. Raheel Solankie, who is playing the role of the director in the video, doesn't agree to the idea of us leaving the shoot and being rebellious, and shows us that we have to stick to work. He follows us and makes sure that we can't run away from this world full of glamour, glitter, and fakeness."
Goher sounds very enthusiastic while talking about the new video – the wardrobe for which was done by Munib Nawaz.
"The bohemian and rebellion concept is new to the industry and doing this sort of experimental video was not easy. I believe you should take your song to another level production wise, and you also need a video that can take the song there."
With reference to Jal's musical output, the group's vocalist and guitarist admits that there has been a considerable gap between releases, a delay he ascribes primarily to his high standards as well as to the state of the mainstream music industry. "I don't release new music until it satisfies me as a musician," he explains.
"Nowadays we don't have to produce ten songs for an album due to the non-existence of record labels. I always think that since we have to release singles on our own, it has to be a song that can be remembered. Even if I do 2 songs per year, I want people to say that Goher did justice to the songs and the videos. There is a lot of detail involved when I produce, write, or compose a song, and even when it comes to a video. Shoaib (Director) and I worked on the video's concept for more than 2 months. If you set high standards in your mind and want to achieve them on your own, it always takes time. The 'Parinda' video is no less than shooting a film. I have a lot of songs that I could release every month, but fans always have high expectations from the name we have made through them, and they deserve quality."
Goher has seen his band go through a lot of changes in its lineup as well as experienced the evolution of the Pakistani music industry over the years. How is the industry different now than when he started out more than a decade ago? "Industry dynamics have changed. It has gone on to social media and digital mediums, which is okay, but we artists need to understand this market and target it correctly. I believe that no matter what, one has to keep producing music and people will still follow you for your individuality and talent. They do follow you now on Facebook and Twitter, and download your songs on SoundCloud, etcetera, which is okay as long as we keep making great music for them."
Music isn't the only thing that's keeping Goher busy these days though. He is also working on a new television drama, Faisla, which will air after Eid.
"Acting is one thing that you learn with experience," Goher tells Instep."You cannot wake up one day and say 'I am Goher Mumtaz and I can act'. I have been acting since the last 6 years with different directors who have taught me a lot and they are sort of an institution for me."
Based on his experience, he has discovered that he has a knack for comedic roles and would like to delve into comedy more in the future. "I think I can do comedy really well. It sounds really cheesy, but I think I am good with comic timing. Like the telefilm I did with Sanam Saeed. Director Siraj-ul-Haq told me that I naturally have it, as doing comedy is not easy – he, as a director, had to guide us a lot, but he gave me the confidence to do the part. I have saved that character for the future."
When asked about the standout acting talent in Pakistan, Goher says he particularly admires the work of Saba Qamar and Sanam Baloch. He also talks about his admiration for Pakistani films and hopes to star in a movie some day. "I am all in and looking for a role which can challenge me. As soon as I feel that I can do justice to somebody's film and they can do justice to my name, I will surely do it."
As for the future of music and Jal, Goher has a lot in store for fans. The musician reveals that he is currently working on the band's new album, and that 'Parinda' is going to be a part of the new record.
"We are also going to release back to back videos after Eid and are looking forward to a great tour across Pakistan where we can sing new songs for our fans."