Mahira Khan wins her audience over as she is announced as the first Pakistani brand ambassador for Veet.
Karachi
There's something about Mahira Khan that attracts people to her. Even when she's on her 217th selfie in an unknown crowd, she'll smile and endearingly pull a face before apologizing and requesting whether she can pose five minutes later for her 218th, after she has finished her meal. There's never a frown or a scowl when talking to fans. Mahira was one of the few, if not only, Lux Style Awards winners who actually thanked her fans in her acceptance speech. And she has a way with words. Mahira's entire persona, other than the fact that she is beautiful inside out, is probably why she was selected as Veet's very first brand ambassador from Pakistan. This was announced at a dainty soiree at The Deli, which was washed in a plume of pink for the occasion.
"It's not a colour I usually wear," Mahira smiled and replied honestly when she was asked what the colour pink reminded her of. "My wardrobe is almost all black and white. But when I think about it, pink reminds me of blush." She was dressed in jeans and a very cool, bohemian off shoulder white blouson but she is wearing a pink summer dress in the advertisement.
The evening was an extension of a teaser that had been sent out two days before the event unveiling the campaign, intriguing people into thinking what Mahira was 'Hamesha Ready' for. At the event I asked her what three things she would always be up for?
"A cup of tea or coffee," was her first reply. "You can wake me up at 3am for a good cup of chai or coffee. I am also hamesha ready to work; I love being on set and it defines me. The third thing is playing with Azlaan (her son). I'm hamesha ready to spend time with him."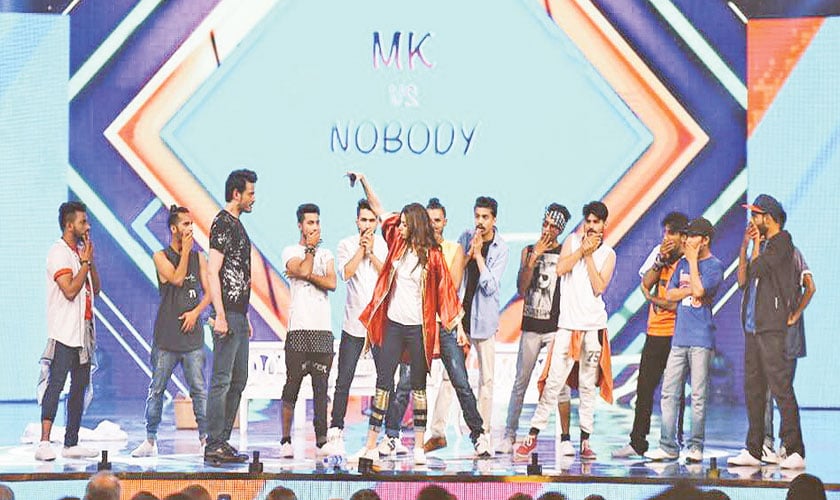 The post-Raees Mahira Khan is more confident and more comfortable in her skin. She is less inhibited and definitely less guarded, a glimpse of which was seen at the Geo-Lux Style Awards recently.
The media had a field day with Mahira, who was also ready to answer all questions put forward to her. Lately she has also been onboard every ad campaign that comes her way. Or at least that's the way it appears.
Mahira's choice of brand endorsements has not gone down too well with fans, who think she should be more selective with the products she chooses to put her name to. Many fans have been expressing their concern and disapproval of her appearance in washing powder ads, mall promotions etcetera. She has done some very high profile campaigns but Mahira definitely isn't being selective and appears to have taken the Shah Rukh Khan route to endorse anything and everything while being selective in the films and projects that she signs up for. She has currently finished shooting for Shoaib Mansoor's Verna and is now working on Bilal Lashari's Maula Jutt with Fawad Khan, Hamza Ali Abbasi and Humaima Malick.
Whether the campaign is good or bad, Mahira makes it work, which is why she is the most sought after name these days. And she does appear to have a new energy around her; this post Raees Mahira is more confident and more comfortable in her skin. She is less inhibited and definitely less guarded, evident in her choice of wardrobe and Instagram feed. And if letting her hair (and guard) down means signing up for all the commercial campaigns that come her way then so be it. We are 'hamesha ready' for more Mahira, always!