Atif Aslam's opening and ending and his mimicry of Umair Jaswal, Ali Zafar and Sajjad Ali was thoroughly entertaining.
InstepREport
Superstars Atif Aslam, Ali Zafar, Reema, Mahira Khan and an orchestra of hip, young musicians including Patari Tabeer sensation Abid Brohi ensure that the 16th annual Lux Style Awards create a cool composition of film, fashion, TV and music.
Karachi: The 16th annual Lux Style Awards were big on star power and absolutely spectacular on ground. Atif Aslam opened the evening with a rendition of the National Anthem that left everyone with goose bumps; he ended the night on an equally soulful tribute to Junaid Jamshed. Ali Zafar came in warrior mode as he played out a tragic Ishq sequence with his Teefa in Trouble co-star, Maya Ali, who was also crowned one of the two new Lux faces of the moment. The other Lux girl revealed was Mawra Hocane, who performed to several hit numbers of the year and was joined by the evergreen and graceful Reema. Reema, by the way, chewed up all competition and reminded us of what film stars are supposed to be like. Her dance was one of the best moments of the entire show!
A spate of younger artists also performed on stage and between Mooroo, Zoe Viccaji, Jimmy Khan and Ali Sethi – who all held their own – the young star of the night was Abid Brohi. A true star to the core, Brohi's body language reminded one of a very young Prince.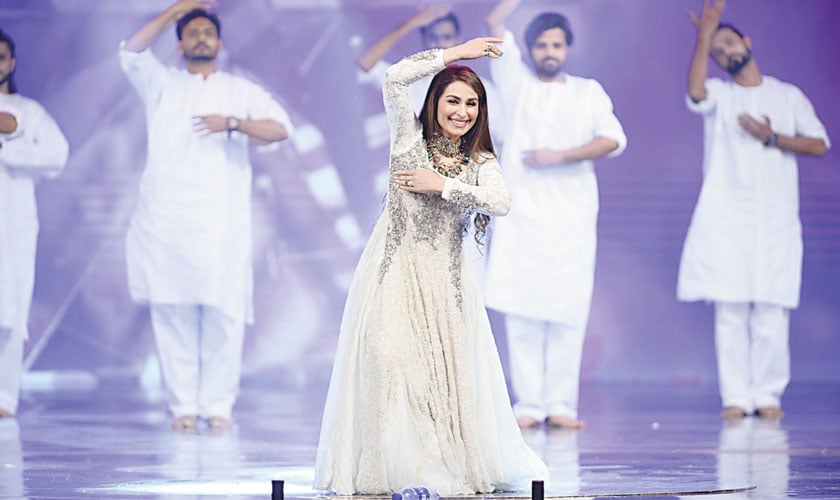 The evergreen and graceful Reema performed alongside Mawra Hocane and reminded us of what film stars are supposed to be like.
The optics and acoustics were fantastic. Jalal Salahuddin, responsible for the ambience, managed to get the red carpet right. It was plush and as rich as the proverbial cherry on a rum drenched black forest cake. The high tea reception sounded like a good idea and the room looked opulent but the heat got the best of it. Any attempt to have nominees and presenters in on time fell as flat as the blow dries and hairdos that suffered the heat. Even the food sat sad as it wilted and dried away. And not many people, with the exception of Zara Shahjahan, Safinaz Muneer, Bilal Ashraf, Ali Kazmi and a few others turned up on time. In retrospect, the red carpet would have sufficed as a waiting lounge.
The red carpet led to the main show area, which was larger than life. The stage sparkled with the right amount of glitz and sophistication and gave the perfect backdrop for the showcase. One would make a few observations here. Atif Aslam was the perfect host as long as he was singing. Atif has the power of a pied piper and can lead his audience anywhere he likes. But post-song his hosting was awkward. The LSA17 script was weak and there were too many lags that interrupted the momentum. The morning show sequence had to be the weakest point of the show, making a case for the fact that internet fame does not guarantee success with a live audience. Osman Khalid Butt, script writer for the evening and Sham and Shahveer, the Canadian boys insanely popular for their vlogs on YouTube, didn't quite succeed to entertain a live LSA audience. Yasir Hussain, Ahmad Ali Butt and Vasay Chaudhry – as overdone as they may be now – were missed.
On to the performances, the highs would have to be Atif Aslam; his opening and ending and his mimicry of Umair Jaswal, Ali Zafar and Sajjad Ali was entertaining. Another high was Reema's surprise performance. She came in to share the stage with Mawra Hocane, who looked as pretty as a painting, but as with most new-era actresses dance does not come naturally to them. Whether it is Mawra or Maya, it appears they are holding on to their good-girl image so tightly that there is no body language in their stage acts. Mahira Khan, however, is a new person post-Raees and the confidence was evident in her cool rap with Osman Khalid Butt. This was a new side to Mahira that we were all to happy to see.
The awards themselves were fairly on point. Ahsan Khan picked up Best Actor for Udaari and more than the award itself it was his acceptance speech that went down with thunderous applause. He mentioned social responsibility and Mashal Khan, referencing the need to educate the masses through television. TV awards were swept by Udaari with the exception of Maya Ali for Mann Mayal and Best TV Play going to Dillagi. Over to fashion, recipient for Best Model (male), Hasnain Lehri wept through his acceptance speech which was at the same time endearing and awkward. Speaking of fashion, the fashion presentation was a bit of an excess that could have been avoided. At an awards show one gets enough fashion and style on the red carpet; to walk out capsules by designers was overindulgent, one felt. It also defied the purpose as the musicians overshadowed everything else in this segment.
Film and Music awards were well received; the only valid point made by critics being that the Lux Awards should either be completely critic's awards or completely viewer's choice. The constant confusion actually discredits results and tampers with the USP of the entire show. If the LSAs want to award excellence, then they must leave the decision to the critics. If they want popularity then the awards must transition completely to popular awards, based on voting. There has to be uniformity and the process should change.
Change is an integral part of evolution, which is why everyone welcomed the decision to bring Hassan Sheheryar Yasin onboard as Show Director; simultaneously one also cannot ignore the fact that Frieha Altaf brought the platform to where it stands today. Amongst the thirteen odd references thanking HSY for the show during the show (you wouldn't see this happening anywhere else in the world, by the way) it would have been gracious to thank Frieha for years of hard work and devotion to the platform. She is in the DNA of the show and vice versa.
Back to HSY, there is no denying that he did manage to pull it off in a record time of three weeks, which is 'stand-up-and-salute-worthy' to say the least. There were bound to be flaws, and there were, but nothing that can't be smoothened out over time. This was an impressive year for the Lux Style Awards, and it left us waiting for next year already.