Cornetto Pop Rock 2 finally gets its right with a third release.
The inaugural edition of Cornetto Pop Rock, launched last year with aplomb and a fair bit of fanfare, had a formidable run. Apart from the star-studded concerts, held in three major cities, the songs were produced by the likes of Zohaib Kazi, Noori and Ali Azmat. Staying within the parameters of contemporary and palatable pop rock structures, the tracks were mostly hits than misses.
Sadly, the second season of the same show, which returned earlier this year, had been the opposite thus far. Komal Rizvi's 'Yeh Kya Huwa' and Qurram Hussain's 'Turn up the Music Mr. DJ' were both equally dreadful because they offered nothing new or substantial. And since neither possesses the magnetic magic of the likes of Ali Azmat and Noori who can elevate the most simplest of songs to something akin to musical reverie, it's been a below average experience. The releases made us wonder whether this corporate-fueled project would be better served by opening its doors to artists who may not be as famous but have much more to offer in terms of innovation and strong narratives. Think Khumariyaan or Poor Rich Boy.
But thankfully, after two average pop songs, Cornetto Pop Rock 2 has won back some of its lost credibility by bringing together the inviolable Ali Azmat with the rich-voiced contemporary malang that is Quratulain Balouch (QB). Having collaborated with Noori on the first season with a song called 'Pyar Wyar', QB has now joined forces with modern rock's ultimate god, Ali Azmat for the very first time and the result is electrifying.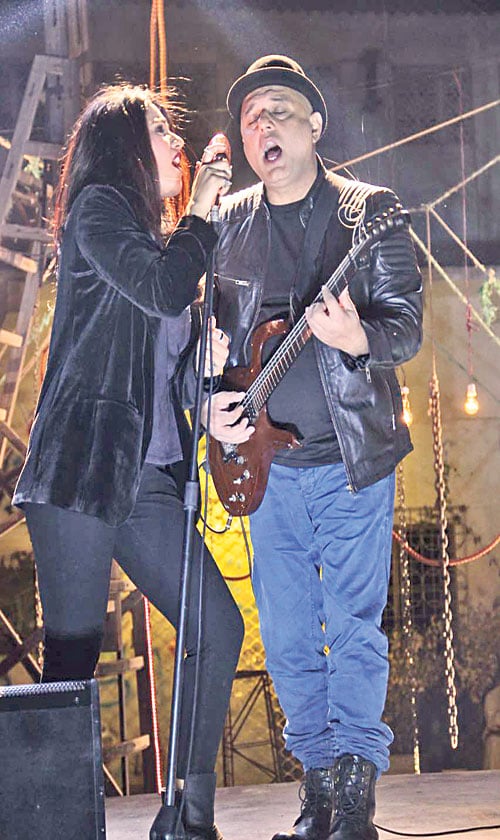 Credits Song: 'Chal Diye' Artist: Ali Azmat & Quratulain Balouch (QB) Music Producer: Omran Shafique Lyrics: Omran Shafique and Royal Law Direction: Sonny Koh Executive Video Producer: Asad ul Haq Opening with a tipsy-sounding riff, 'Chal Diye' – not to be confused with Zeb and Haniya's tune of the same name – is relatable, motivational and visceral. Azmat sings about finding what sounds to me like listening to your heart and finding a destination that is calling out to you; an inner monologue that reminds you of finding light in spaces that are dark and blinding. It's a colorful elegy that nudges you to get past the darkness and search for a better tomorrow. The chorus has that classic Azmat sing-along hook that is hard to forget. Azmat isn't always hitting the high notes and neither is QB and that balance, managed by the producer, is applause-worthy. It lends the song a subtle texture and an ebb and flow that can't be predicted easily. Ali Azmat is an emotional singer and it's this ability of his that makes this song (and many others) so powerful. QB is equally strong as a singer, if not more, and that collective power is hard to beat.
It is also worth mentioning here that guitarist, songwriter and producer, Omran Shafique, a longtime collaborator of Ali Azmat who perhaps understands the strengths of the singer better than most, is the music producer of this particular creation. The music video, directed by Sonny Koh from Shiny Toy Guns, is not the most arresting production we've seen but it does project Azmat and QB, set against the backdrop of a stage performance, just right.
Ali Azmat, while speaking about the song, said in a press statement: "The song is meant to be an inspiration to youngsters to pursue their dreams and by giving the opportunity to work on this song to so many young people, Cornetto Pop Rock 2 is definitely helping young artists to do what they want to do in life."
QB, on her part, described the duet as a dreamer's song. "It calls out to all those who are not happy where they are in life and tells them to move towards something they are passionate about."
In the end, the song is a victory for all involved and one hopes that upcoming numbers from this particular venture can match the electric standard that has been put forward by 'Chal Diye'. The end.