The beautiful cast of Balu Mahi; Sadaf Kanwal, Osman Khalid Butt & Ainy Jaffri at the Karachi premiere
INSTEPREPORT
Ainy Jaffri shines in the first half of the romantic comedy while the plot fumbles in the second half.
Karachi :One of the most awaited films of 2017, Haissam Hussain's rom-com Balu Mahi finally had its moment of glory earlier this week.
Starring Osman Khalid Butt (OB), Ainy Jaffri and Sadaf Kanwal, the film premiered in Karachi on Thursday night amidst much appreciation.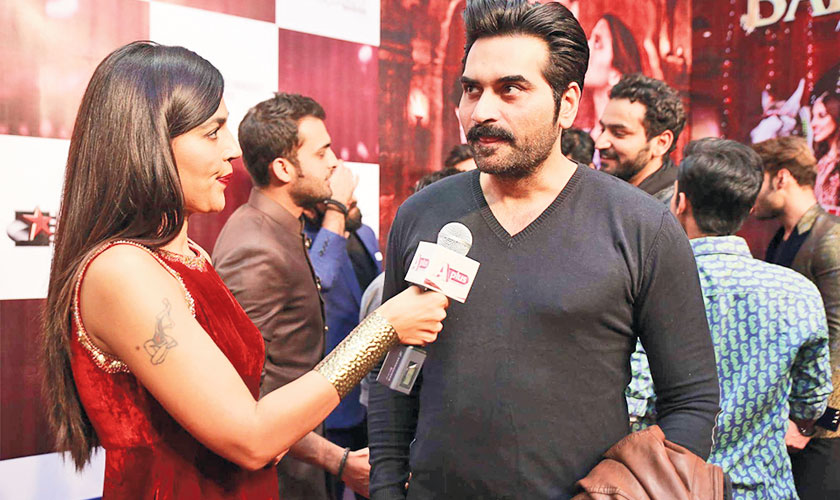 Spotted: Humayun Saeed speaking to media at the premiere of Balu Mahi.
Though one could easily note several instances that felt inspired from a combination of Bollywood films, it was adapted to cater to viewers in Pakistan.
The premiere was a starry affair with several stars in attendance. While Pakistan Super League's opening ceremony pulled away several high profile celebrities, many others not in Dubai for PSL made a point of showing up and extending their support to the film.
Humayun Saeed, Hareem Farooq, Yasir Hussain, Shaz Khan, Zahid Ahmed and Syra Shehroz (along with the cast of her upcoming film Chalay Thay Saath) were some of the stars present on this glittering night.
Coming back to the film, Balu Mahi is one of the better films - if not the best one - to have released in recent memory. The film, like its trailer, begins with a wedding scene that features Ainy Jaffri as the bride, Mahi. A free spirited girl who is asked to marry against her will, she manages to get out of the situation with the help of a stranger, Balu (played by OB), who enters the wrong wedding hall and mistakes Mahi for his love interest (who is getting married to someone else).
Mahi takes advantage of the situation and runs away with Balu, who is an aeronautical engineer by profession, not because she wants to marry him but because she wants to live her dreams. What follows is their journey together and how the two end up with each other despite unpredictable circumstances.
While the narrative isn't extraordinary or truly original, Balu Mahi has a comedic undertone that keeps the viewer intrigued throughout. Another strong aspect of the film is its sprawling cinematography that is made special by the beautiful locales.
The dialogues are sharp; the music, however, is average and the title track is the weakest link on the original soundtrack of Balu Mahi.
Jaffri shines in the first half as her character has some entertaining moments to offer. She outperforms OB, who is more captivating in the second half. His encounter with Sadaf Kanwal, who makes her acting debut with Balu Mahi, is memorable. It must also be mentioned that Kanwal, as Sharmeen, is sizzling as she tries to seduce OB and steals the scene in the process.
Aside from Butt, Jaffri and Kanwal, others who make a lasting impression include veteran actors Shafqat Cheema and Durdana Butt. Newcomers Mohammad Jamal (who essays Ainy's brother) and Mustafa Ali Khan (Butt's friend in the film) also do well despite limited screen time.
The problem with the film is that the second half is peppered with confusion; not much makes sense including how Mahi lands in certain scenarios. The confusion is such that it makes you wonder whether there was any need for it.
In the end, with a film like Balu Mahi, you just have to watch it to know if its your kind of movie. Our advice: watch and decide.