InstepInterview

Saba Qamar talks about her upcoming film Lahore Se Aagey, society's double standards and her experience of working on the other side of the border.
Amidst all the tension brewing between Pakistan and India, it is interesting to know that Saba Qamar was shooting in India all the while MNS was raising hue and cry about imposing a ban on Pakistani artists working in India. The actress was in Delhi to shoot for her Bollywood debut, Hindi Medium and recently returned to Pakistan after wrapping up the shoot.
Currently promoting her upcoming Pakistani film Lahore Se Aagey (the sequel to Karachi Se Lahore), Qamar is one of the finest actresses with multiple hit TV serials to her credit. One also remembers her as the talented and super-comic host of Hum Sab Umeed Say Hain; her impersonations of Sherry Rehman were always priceless. Qamar's presence on the big screen is as fascinating as it is on television; she won many hearts with her brilliant
performance as Malika-e-Tarannum Noor Jehan in last year's critically acclaimed Manto.
In Lahore Se Aagey, the actress plays a completely different character, which is that of a musician in the making. "She wants to be a rock star; she is a struggling singer who performs at small scale concerts," Qamar describes her character in an interview with Instep. "She's adventurous, fearless, energetic and live-in-the-moment kind of a girl."
The actress also notes that the character is very close to her personality in real life and that she has never played something similar on television. "I never got a chance in TV plays to portray a woman who wears western clothes; I have mostly played stereotyped characters (Maat, Yahan Pyar Nahi Hai). People have either seen me in a shalwar kameez or sari but not in a western outfit on television. My character in Lahore Se Aagey is that of a happening girl and this is what I am in real life."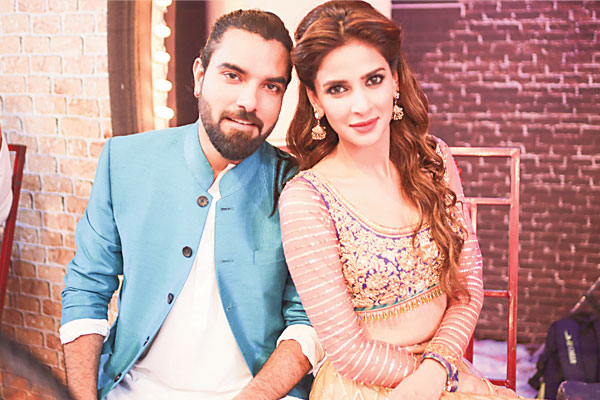 BTS image: Saba Qamar with her Lahore Se Aagey co-star Yasir Hussain.
Lahore Se Aagey is a romantic comedy based on a road trip that begins from Lahore, where it ended in Wajahat Rauf's original film, Karachi Se Lahore. The only actor from KSL who is part of the spin-off, however, is Yasir Hussain, who reprises the role of Moti but steps up as the lead in LSA. One has to admit that Yasir and Saba don't look like your average onscreen couple but they're adamant that public opinion will change after watching the film.
"We both have contrasting personalities in the film and a different kind of romance develops between the two of us as we spend time together," Qamar comments on the uniqueness of the characters. "It's not always good looks that matter, it's the bond two people share when their hearts and minds connect to each other."
"One has no control over their physical features and pointing fingers on anyone on the basis of their looks is questioning God's creation," she maintains, as she recalls the kind of remarks people often come up with on social media.
Saba states that personal remarks don't bother her anymore though she does seem perturbed over society's double standards. Talking about people's comments on her clothes in the song 'Kalabaaz' that features Qamar in a ghagra choli, she states, "If Deepika Padukone shows off her skin while dancing, our people praise her but when a local star does some good work, they never appreciate. There is no vulgarity in the song [Kalabaaz], there's nothing extraordinary, nothing loud."
While Lahore Se Aagey is Qamar's first feature film in which she plays the lead role, the actress is all set to make her Bollywood debut withIrrfan Khan-starrer Hindi Medium that will come out in April, next year. Sharing her experience of working inB-town, Qamar says, "It was mind blowing! It was the best experience ever. I had an amazing experience working with Irrfan Khan and everyone else."
As far as local projects are concerned, Qamar informed that there is a film in the pipeline for which she might begin shooting early next year if things finalize. She also said that she will continue working on television as she believes local cinema has started taking baby steps but still isn't as strong as television.