Azfer Rehman poses in front of a glorious Sri Lankan sunset where he is shooting a season of Veet Supermodel Contest these days. Picture by Tapu Javeri. (Below) Rehman with Mahnoor Baloch, who'll be making a TV comeback in Khoobsurat,
CATCHINgUP
Instep sits down with Azfar Rehman to chat about Mahnoor Baloch, his impending nuptials and what finally convinced him to settle down.
Azfar Rehman is an interesting person for a tete-a-tete. He's open and unguarded, unafraid of talking about his personal life or what really matters at the end of the day to a TV production: ratings. A host and an actor, Rehman's friendly demeanor is refreshing though it isn't hard to spot a hint of the megalomania that presents itself as a celebrity's occupational hazard.
Instep sits down with the star to talk about his upcoming serial opposite the vampirically ageless Mahnoor Baloch, among other titbits.
"In Pakistan there are very few people I'm in awe of but Mahnoor is one of the few celebrities who genuinely leaves me star struck," Rehman exclaims when talking of his co-star. "When I was offered this character and told that I'd be starring opposite her in her comeback serial it was no brainer for me. The serial, Khoobsurat, is the story of a younger guy falling for an older woman and it chronicles unrequited love."
Azfar has been in the limelight lately. He had a small but effective role in Manto and then reprised his role as a fashion model as we saw him in Amir Adnan campaigns all over town this year. Just recently he was announced as a host on the upcoming season of the Veet Supermodel Contest.
Elaborating on Khoobsurat Azfar adds that he plays the role of a Punjabi boy who works in a firm that only hires unmarried people and his boss (Mahnoor Baloch) slowly develops feelings for him. Unfortunately he has lied to get the job and is actually married, which complicates the situation.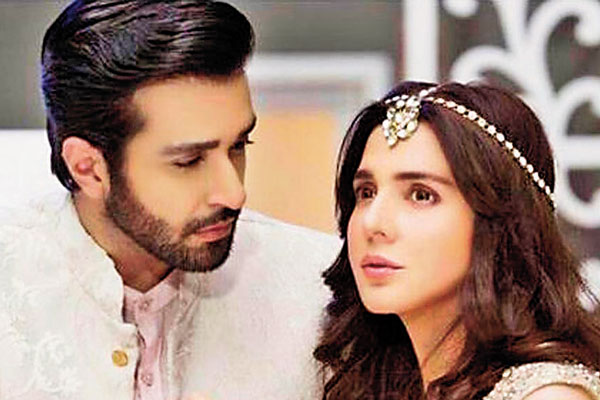 Talking about working with Baloch, Rehman has nothing negative to say. "I have no idea where she gets her energy from but she's like a live wire on set. She's so creative and full of ideas that she'll often lead scenes and come up with a different perspective of approaching the script which is delightful to find in any co-star. Also she has no diva tantrums and let me tell you, she actually looks that gorgeous and young, effortlessly. She doesn't spend hours in hair and make-up but has a naturally youthful appeal; maybe it derives itself from the same unextinguishable spring of energy that keeps her wired on set."
He adds, in what we see as a spot of being star struck, that there's a little bit of a Madhuri Dixit in her; from the dancing to the ingénue charm to the affinity for posing. "You can see the spark that makes her larger than life and yet so approachable," he divulges.
How similar is Rehman in real life to the character he embodies in this serial opposite Baloch? Can Rehman identify with a man who deals in duplicity in his personal life or does he believe in being honest?
"I'm personally nothing like this character in real life, he responds. "I believe in honest, truthful relationships and see no point in starting something out with a lie. I don't even have a passcode on my phone and it's up to my fiancé to decide whether she wants to see what's in my phone or not. It's an open door policy really," he claims with a smile.
That's right ladies, Rehman reveals that he's engaged to be married and the impending wedding is slated to take place in January between Karachi and Lahore. "It took me a while to come to this decision but I'm ready to settle down, have a stable relationship and have kids. I think that's what's really motivating me, the thought of starting a family. I've been around the world, had my share of fun but I think it's time I began to consolidate my life. All my closest friends are married and I almost turned into a loner because they're all occupied with their families. And dating is so passé in the sense that I've been there, done that. The charm wears off and my attention span is short.
"Plus I was in a long term relationship with another co-star for seven years but it ended, which made me think that maybe my attention span isn't as short as I imagined initially. I think if I could be seven years with her I can certainly push to 14 here and then hopefully, my kids will be the glue that keeps everything in place," he states with a sly grin.
It appears that years of fun and frolic seem to have eventually led Azfar down the path to becoming a family man. We can wish him nothing but happiness and success, not only professionally with all his upcoming serials (and there are many a fan can look forward to) but also in personal life that seems ready for an overhaul.