tvtALK
Geo TV's new drama serial is emotionally gripping in its depiction of the simplicity of life. Instep takes a look…
Following the lives of multiple women, mostly coming from modest backgrounds, on-going drama Is Khamoshi Ka Matlab isn't your quintessential, over-the-top, melodramatic TV serial that finds its calling in a weeping woman's misery. Instead it is a simple reflection of everyday life and the issues that confront us on a daily basis. From familial disputes and troubled relationships to employment issues, the play touches upon various societal struggles that one experiences in life. In that, Is Khamoshi Ka Matlab doesn't really bring anything new to the table, however the gripping performances and the plot execution make it a compelling watch.
With two episodes down, Is Khamoshi Ka Matlab is breezing through life stories of different groups of individuals, most of whom are connected to each other in some way and are most likely to impact each other's future (or at least we are expecting they will). On one end is Atiqa Odho leading a content life with her small family that includes her husband Habib (Waseem Abbas) and their beautiful daughter Zainab (Aiman Khan). Samina Ahmed is her typical mother-in-law, who seems unsatisfied with her son and his wife without much of a reason, and so, lives with her daughter Samina (Fazila Qazi). Samina is no breath of fresh air either and is only making matters worse by provoking Ahmed further by repeatedly reminding her of the grudges she withholds.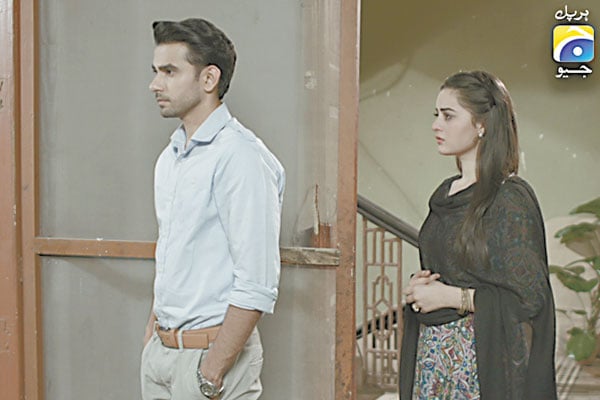 Will Zainab and Ali's love story find success amidst troubled family relationships? Only time will tell...
Amidst these weak family ties is a blossoming, young love story between Zainab and Ali (Samina's son). And before the two could gather up courage to tell their families about their relationship, in hopes of getting married, they learn that Zainab's parents have already fixed her with her maternal cousin, Noman (Asad Siddiqui).
On the other end is Yasra Rizvi, who seems upset over her deteriorating relationship with Azfar Ali as their interests and beliefs do not coincide. Azfar, who grew up watching his parents fight all the time, doesn't want to get married as a consequence. When his ailing mother (Shamim Hilali) asks him to settle down, he refuses saying he doesn't want to regret his decision later, just like she did.
The third and final household is that of a young widow (Sundas Tariq), who lives with her mother-in-law (Hina Dilpazeer) and is having a hard time getting over her husband's untimely death. She constantly recalls the time he was alive and they were living a happy life.
Connecting the dots of multiple storylines, Is Khamoshi Ka Matlab is essentially a reminder that life is a story in itself. There are no vamps, no cheating husbands and thankfully no submissive women although it largely focuses on these women who are fighting their own battles, with or without the support of a male counterpart. These women are strong in dealing with their struggles. Whether as a support system to another woman or as a fighter of their due rights, they all have a voice and have control over their lives. For this very reason, the play comes across as more relatable for each one of us is trying to deal with what life throws at us, in one way or other.
Written and directed by Mazhar Moin, Is Khamoshi Ka Matlab has the potential to keep viewers engaged till the end with its compelling narratives and realistic depiction of events. A strong ensemble cast, comprising some experienced as well as young actors, is another factor that makes it a lot more appealing to watch. One only hopes it doesn't end up following the done and dusted, melodramatic route that's become popular with TV producers these days.