Iman and Fahad with director Anjum Shehzad, the reason why Iman signed up for the film without even reading the script.
CinemaScope
Iman Ali and Fahad Mustafa begin the anticipated film's promotional tour in Dubai.
Dubai
Pakistani stars Fahad Mustafa and Iman Ali, along with director Anjum Shehzad, launched the music album of their upcoming and highly anticipated film, Mah-e- Mir at Vox Cinema Bur Juman in Dubai this Thursday. The music launch, however, revealed just one song and was more of a curtain raiser.
There are three things you should know about the film, before anything else:
1) The 'mah' in Mah-e-Mir, as many of you may think, does not mean 'month'. It means 'the moon,' Mir ka chand or his muse. And that muse is played by none other than Iman Ali.
2) Iman Ali is a fictional character, who is shown as the orbit of Mir's life and his poetry.
3) And finally, Mah-e-Mir is not a biopic on Mir Taqi Mir. In fact it's a contemporary film with a love story that runs in a flashback. So do not expect a Jodha Akbar out of it.
Written by Sarmad Sehbai and directed by Anjum Shehzad, Mah-e-Mir is a story that follows the struggles of a contemporary poet and draws parallels with the life of Mir Taqi Mir. Besides Fahad Mustafa and Iman Ali, the stellar cast features actors like Sanam Saeed, Ally Khan and Manzar Sehbai in significant roles.
Iman Ali, who will return to the screen after a long hiatus, seemed very positive about the film. When we asked her what made her agree to this film, she said: "I can never say no to Anjum. It was his directorial debut and I had to be a part of this film. Normally you read a script and then decide but with me it was the other way round. I had not read it because I knew Anjum will make a terrific film and will do justice to the characters. My character is a mysterious one. You cannot crack it. It's something that I am figuring out myself. That's Mahtaab for you."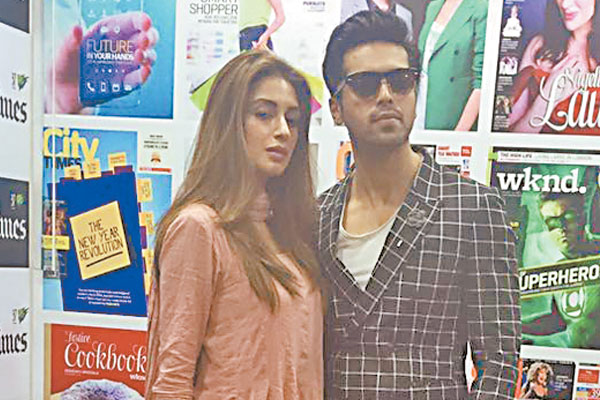 Iman Ali and Fahad Mustafa in Dubai for the curtain raiser of Mah-e-Mir. One song was revealed so it wasn't much of a music launch.
Fahad Mustafa, also in town for the launch, looked absolutely dapper at the event. An anecdote that he shared surprised us all. "I had actually returned the script after reading it. Not because I didn't like it but because I thought abhi mein iss qabil nahi but Anjum steered the entire film in a way that my faith just grew stronger with time. From Urdu language to dialects to the interpretations of Mir's poetry, Anjum walked me through it all. Also, his character has a lot of humour in it. I would say he is a younger version of Anwer Maqsood."
The movie hits the cinemas in the U.A.E. on May 5 and on May 6, 2016 across Pakistan and this launch also marked the beginning of the film's promotional tour. Speaking to Instep, Jacques Kruger, GM Vox Distribution, sounded very excited.
"Pakistani films have a massive potential because of the community that resides in GCC," he said. "Our collaboration with Pakistani films started a year ago when we joined hands with Hum Films for Bin Roye and I had anticipated the resurgence of this industry back then. Bin Roye set the first brick in the house that we hoped to build and since then we have had a chance to distribute multiple Pakistani films. The production quality that is coming out from Pakistan is extremely competitive."
What else can we say? More power to Pakistan's film industry!
Sadiq Saleem is a UAE based entertainment journalist. He can be contacted on his page fb/sidsaidso.
PS. Organizers, take note!
1. Despite the fact that the event was marketed as the music launch, the attendees at the event were given a sneak-peek of only one song from the film, 'Jaya Na Jaye Ga' picturised on Iman Ali, Fahad Mustafa and Ally Khan. You must market your event accordingly; this was more of a curtain raiser.
2. Mistreatment of journalists isn't the best way to get off on the right foot. It was noticed that several media representatives were ill treated by the people at Ministry of Events, the event management company. This is not how the media is managed. Cameramen were shoved around and very rude language like "bahir nikalo in sab ko!" (kick them out) was directed at some very senior media reps. Considering the fact that Pakistani films, at this stage, need all the support they can get (and getting foreign publications interested is not easy) this behavior was extremely damaging.
3. And finally, 2pm does not mean 4:30pm by any time zone.