food
When you think of French cuisine, you conjure up images of sitting in a classy Parisian restaurant with fancy food being served in style. The sort of restaurants that you see in films, which have glimmering chandeliers, walls covered with ornate wallpaper and a menu that offers all the exotic dishes. Sounds delightful, doesn't it? When it comes to French cuisine, it reflects a long tradition of treating food and cooking as a fine art. French cooking involves layering, mastering basic techniques and creating a harmonious dish.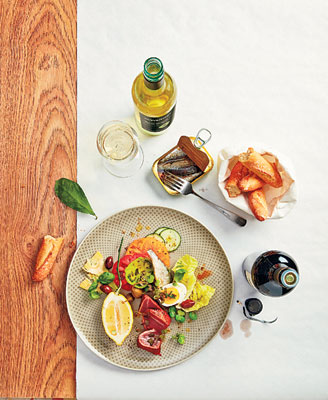 However, nowadays, a new dining movement 'bistronomie' has caught the fancy of Parisians. The word bistronomy is an etymological blend of 'bistro' and 'gastronomy', which is defined as, 'French casual fine dining: casual decor, quality food'. Recently, when we got the invite by the management of Movenpick Hotel, Karachi for 'Bistronomie' at La Mamma restaurant, we were more than excited to see what it had in store for us. The food promotion, which will be on till November 20, 2017, offers seven exclusive dishes that have been created by Chef de cuisine Tanveer.
The event has taken its inspiration from 'Bistronomie', a trend that started in France two decades ago and has now become a global culinary movement. The concept was conceived in the 1990s when young French chefs with haute cuisine training re-interpreted classic dishes and served them in a new breed of casual, less stuffy, bistro-style restaurants.
For the food promotion, best quality ingredients have been chosen which are prepared to perfection. The seven dishes on the new menu include 'Salade Nicoise', 'Plateau de Fruits de Mer' (Seafood platter), 'Moules Marinieres' (Mussels with garlic and sweet cream butter), 'Cabillaud a la Bordelaise' (Cod fillet), 'Pot au Feu a la Bourgeoise' (Beef topside hot pot) and 'Cordon-bleu au Comte' (Veal rump steak).
Moreover, individual preferences and tastes of guests have been taken into consideration and have come up with vegetarian options such as 'Pot au Feu Vegetarien' (Vegetable hot pot). This is not all! A few dishes, for instance the seafood platter can be customized according to one's preferences. And those who have sweet tooth are also in for a treat with the hotel's version of 'Cafe Gourmand' - a French take on the British 'afternoon tea' - where one can enjoy aromatic coffee with 'Reine de Saba' (Queen of Sheba), an irresistible chocolate cake.
According to Mirza Mansoor, General Manager, Movenpick Hotel, "When it comes to gastronomy, our hotel is a pioneer, known for its culinary innovation and ability to create classic dishes with a twist, which is very much akin to the 'Bistronomie' movement."
If you want to try the new culinary experience and enjoy a variety of unique flavours then don't forget to visit the restaurant and indulge in the scrumptious delights.
- M. S