Glamorous formal ensembles are definitely a must have when it comes to any woman's wardrobe. It surely takes a lot of effort to find out what is the latest style, which colour palette to go for, what embellishments to choose and how to go about your makeup. And for that we go through several magazines, browse the internet and roam around the bazaars just to find the perfect design. So, if you want to add an oomph factor to your outfit and have that perfect makeup look just follow these on-trend tips...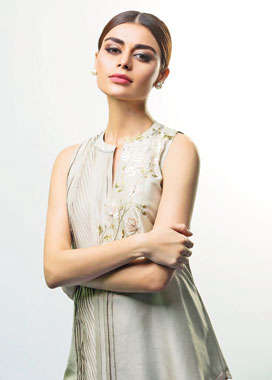 The fabric factor:
Yes, the most tricky bit. The first thing you want to do is pick out a fabric that flatters your body type and has a great fall to it. And when we talk about any formal occasion, the best fabric to choose is either chiffon or pure silk. The natural fall of chiffon looks stunning on women of all shapes and sizes. Moreover, these days net, brocade and organza are quite in vogue.
Colour fiesta:
After you have decided on the fabric, it is time to choose the colour. Choosing appropriate colours according to the season is the most important rule that everyone must follow. This time around pastels and monotones are the way to go. Pastels, also called chalky colours, are a great choice if you wish to add a little colour to an outfit, but in a softer, more subtle manner. Yes, whether you opt for beige, peach, grey, gold or pale green, remember to select a colour that you can easily carry and feel confident in. If you don't feel comfortable wearing a pastel, then go the classy way and choose deep red or maroon especially if a wedding is around the corner. If you want to mix and match then the combination of turquoise with a bright blue would look gorgeous. For a regal yet chic attire, go for all beige with gold embellishments.
Embellish me pretty:
The kind of embroideries you choose for your outfit can make all the difference. Some types of embellishments that you can go for include zari work, resham embroidery, dabka work along with diamantes, pearl embellishments and dazzling sequins. You can mix resham embroidery with pearls and sequins or you can go for zari work only.
Designer calling:
Choosing the right colour combination, style and embellishments can be a difficult task! And this is where our designers step in and save the day. And the good news is that recently, designer Sania Maskatiya has launched her latest luxury collection titled 'Ame-soul', which is inspired by the diversity of life. Using bespoke fabrics such as silk, net, brocade and chiffon, presented in an array of matching separates in conventional and modern cuts, the luxury collection features 21 distinct designs in Sania Maskatiya's signature digital prints and hand and machine embroideries - reflecting a balance between elegance, comfort and practicality. Her designs often take imaginative inspiration from a unique interplay of colours, using imagery inspired by nature and her surroundings.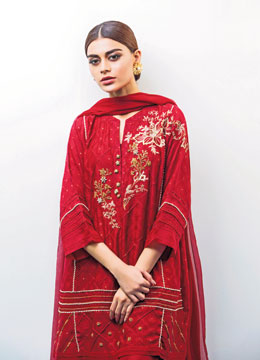 You can also check out Sania Maskatiya's Ame-soul collection online! The beautiful designs are surely festive and can be worn formally be it weddings or fancy events.
Let's makeup:
Now that you have the perfect outfit to flaunt at an upcoming 'shaadi' or formal dinner, it is time for makeup. Of course, no look is complete without it, so here are some tips that will make you look oh-so-chic...
The no-makeup look: This is one trend that is ruling the runways and fashion scene for a couple of years now. Even brides these days are opting for the all natural look. The key is to wear makeup that looks as if you aren't wearing any. Achieving this means you should work on perfecting your skin starting with a good exfoliation to get the ultimate makeup canvas. A good primer and liquid base can help achieve that non-cakey look. These days, girls are opting for BB creams as well. So, focus on your skin care regime and keep your base as natural as possible. And go for a peachy pink blush for a natural glow.
Big brows: Well-defined and thick brows are still very 'in'. All you need is a good eyebrow pencil or kits that are easily available in the market. Take a brow pencil and draw a lot of small, quick strokes to mimic the way your brow hair looks, creating a more naturally full appearance.
Eye spy: This season eyeliner and mascara are in focus. Be it winged, edgy, geometric eyeliners - anything will do! And when it comes to achieving those thick, long lashes, well nothing beats black mascara. Apply a few coats of long-lash mascara to top and bottom eyelashes. Next, using an eyelash brush or comb, evenly separate the bottom eyelashes into small clusters. For a more dramatic look go for false lashes by Huda Beauty or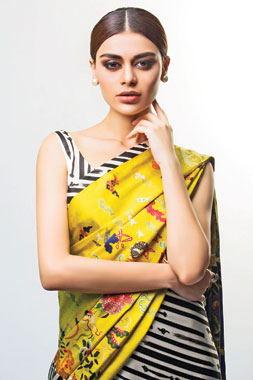 Zhoosh!
Highlight away:
The art of strobing is one of the latest trends that has become a rage. Strobing is the new contouring or you simply refer to it as highlighting. Extra highlighting makes the skin appear dewy, shimmery and more youthful. It adds glow to the skin. So, don't forget to apply your highlighter.
Luscious lips: This festive season is all about peachy lips. If you are not a fan of peach lip colour then you can go for nude lips or a very light pink colour. Of course you can go bright if you want. Deep red or fuchsia pink looks gorgeous with a pastel outfit.
CREDITS
Text: M.Shirazi
Brand: Sania Maskatiya
Collection: Ame-Soul
Photography: Shahbaz Shazi
Model: Sadaf Kanwal
Jewellery: Cannary Cove
Makeup: Shazia Rashid