wardrobe
The sun has started showing off - heralding summer time and what's the best way to beat the heat than to find solace in cool lawn prints?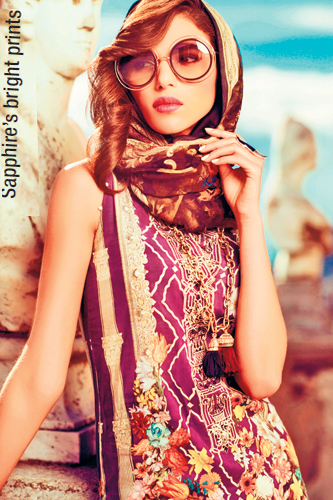 Summer days are here and it's that time of the year when we want to show off as much skin as possible, which means less emphasis on covering up under layers of foundation, concealer and powder and focusing instead on the natural beauty of our skin. Makeup-wise, this summer's emphasis on great skin, softly highlighted cheekbones and subtle lips. However, when it comes to our clothes shopping, it's time to re-do our wardrobes with vibrant lawn prints. Prints look great and capture attention just like a magnet, making them perfect for women who don't mind being the centre of attention. There is no doubt that now lawn prints serve as a key wardrobe staple that will run throughout the season ahead.
The summer 2017 promises to be an interesting year so far as prints are concerned. There are a variety of prints to choose from, and this can allow you to create a variety of new looks every time you wish. This summer, lawn prints signify a feminine, fun and colourful side synonymous with high street fashion. It seems that designers decided to combine a few trends and roll them up into one, as you can find traces of geometric, paint-splattered, and even floral. Aware of the importance of lawn, the talented designers have created a modern take on femininity, full of print and colour which perfectly embodies the spirit of a modern woman. Fans of colour will love this trend, as the full spectrum is at your disposal. Feel free to wear pink and purple prints, red and blue, black and white with anything, coral and green, blue and purple. This week You! takes a look at some of the latest lawn collections:
Eclectic designs
Khaadi has launched its lawn collection worldwide featuring 170 prints. The new collection evokes a range of creative and eclectic designs with a fusion of ethnic, yet modern unstitched garments with inspirations ranging from Eastern Europe, Central Europe, East Asia, and South Asia. The designs depict the colours, patterns and a general sensibility of those regions, marking the signature Khaadi look.
The brand has taken an extra step with its catalogue by including various stitching patterns for its consumers to work with for tailoring other than the photo shoot.
The brand first opened its doors in 1998 in Karachi, offering customers kurtas and loose fabric made from hand-woven fabric. Shamoon Sultan, the chairman and founder, had the intent of reviving the ancient craft of the handloom and popularizing the traditional medium in a contemporary manner.
Bright hues
Recently, Sapphire has launched its un-stitched lawn collection titled 'The Great Escape'. The collection comprises a mix of pure fabrics including chiffon, tencel, silk and bamboo lawn. The anthology of wearable art encapsulates the picturesque Italian summer with its bright hues and eclectic geometric prints, paired with signature floral motifs across the range of 25 prints in two colour ways. Known to be the game changer of the lawn landscape, the brand introduces its two-piece range in the set of shirt and dupatta as well as shirt and pants for the first time ever. The collection is also available in three-piece and four-piece outfits.
Plush prints
Khadijah Shah of Elan has launched her beautiful lawn collection, with the reveal of its first look. The first look of Elan Lawn 2017 is set against the backdrop of beautiful Spain, with international models Gigi Jeon and Albina Kireeva. Indeed, this campaign sets another precedent in the course of Pakistan's lawn evolution as it's the first time ever that a Pakistani Brand will be featuring upcoming Asian model - Gigi Jeon, who has been featured in ubiquitous international campaigns for Zara, Rochas and Body Shop to name a few and walked the ramp for Louis Vuitton and Rochas. The campaign has been beautifully captured by Nadir Firoz Khan with hair by Victoria's Secret hair-stylist Harlem Alexander and make-up by international artist Pia Rudd.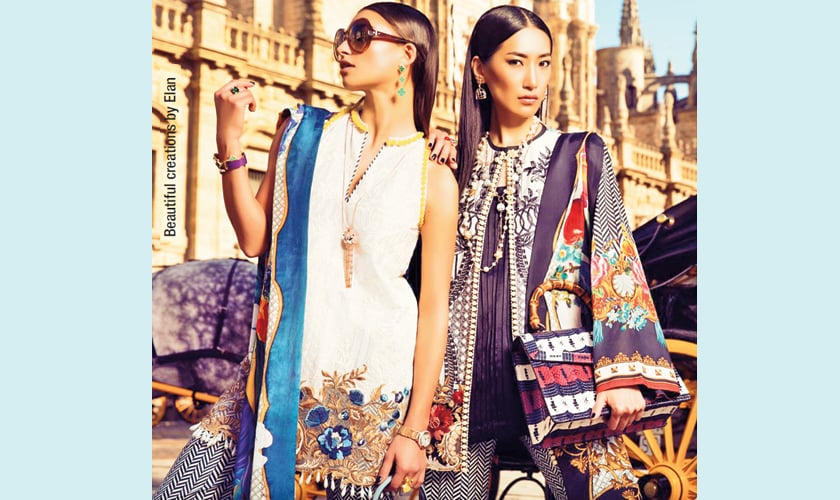 "Since the inception of lawn back in 2012, I have envisioned the quintessential Elan Lawn woman to be a traveller, wandering through exotic places, immersing herself in the cultures of the inhabitants of whatever locality she may be in. This year, the beautiful city of Seville and the historic grandeur of Cordoba presented the perfect backdrop for our lawn. Our prints this year are a beautiful depiction of various civilisations in themselves, and dare I say that our embroideries this year are stand out. We have sourced embellishments, and laces from all over the world so you get a look for the summer that is at par with international trends for S/S 2017," said Khadijah Shah.
The unique embellishments:
This summer, Barae Khanom has also launched their debut S/S Lawn 2017 collection titled 'Rubaiyat'. Drawing from an understated aesthetic, Barae Khanom's lawn endeavours to reintroduce minimalism this summer through its design ethos. Indeed 'Rubaiyat' by Barae Khanom is inspired by raw ethnic beauty found in Pakistani craftsmanship and merges this with a uniquely Western style as modeled across a campaign by international model and actor Kiran Malik.
The brand's debut lawn collection presents 11 distinct designs with 2 designs in 2 colour ways; complementing the collections' pure pima cotton/lawn is the use of fabrics such as chiffons and silks. With a colour palette celebrating both vibrant and muted tones, Rubaiyat includes designs ranging from the more abstract, to animal print, to floral and tribal references.
Speaking about her lawn debut, Alishia Khattak, creative director of Barae Khanom said, "We are delighted to extend Barae Khanom's unique ethnic meets western vibe to our lawn with our debut this Spring/Summer 2017. We are keen to offer a more deconstructed design sense, introducing absolutely new techniques to enhance the unique identity of one's traditional lawn outfit. This includes for instance intricate handcrafted ribbon work for the very first time as an embellishment to one's lawn."