Coming Soon
Out this week
* Albums
Reputation by Taylor Swift: Sixth album by the pop singer; comes after 2014's 1989; includes the songs 'Look What You Made Me Do', '...Ready for It?', 'Gorgeous', and 'Call It What You Want'.
Also out this week: Synthesis, the fourth record by Evanescence; Irish pop group The Corrs' seventh album Jupiter Calling; and pop rock band Walk the Moon's third release, What If Nothing.
* Movies
Three Billboards Outside Ebbing, Missouri (starring Frances McDormand, Woody Harrelson, Sam Rockwell) - comedy; a mother (McDormand) challenges the local authorities to solve her daughter's murder.
Paddington 2 (starring Hugh Bonneville, Sally Hawkins, Brendan Gleeson, Julie Walters, Ben Whishaw) - comedy, sequel to 2014's Paddington; Paddington (Whishaw) and the Browns try to apprehend the thief who stole a pop-up book.
Daddy's Home 2 (starring Will Ferrell, Mark Wahlberg, Mel Gibson, John Lithgow) - comedy, sequel to Daddy's Home (2015); Brad and Dusty (Ferrell and Wahlberg), now co-parenting the latter's kids, have to deal with their fathers (Lithgow and Gibson) visiting for the holidays.
Murder on the Orient Express (starring Kenneth Branagh, Penelope Cruz, Willem Dafoe, Judi Dench, Johnny Depp) - drama, fourth adaptation of the 1934 Agatha Christie novel; when a fellow passenger (Depp) is found stabbed to death on a train, detective Hercule Poirot (Branagh) finds himself looking into a complex case.
Celeb Tweets
Bette Midler (@BetteMidler): I hated that Hocus Pocus wig at the time, but after staring at Trump's hair for 18 months, it honestly looks not that bad.
Josh Groban (@joshgroban): Who needs drugs when you can just wear glasses that aren't your prescription.
Whitney Cummings (@WhitneyCummings): I'm very worried that I'm losing the ability to be shocked.
Star
Taron David Egerton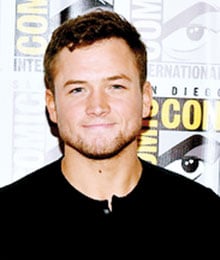 Born on 10th November 1989 in Birkenhead, Merseyside, United Kingdom.
Got his first name after his mother misspelled the Welsh word "Taran" which means thunder.
Was raised in Wales.
Earned a bachelor's degree in acting from the Royal Academy of Dramatic Art in 2012.
Made his acting debut with a small role in the British television series Lewis (2013) before getting a main role in the series The Smoke (2014).
Got his breakthrough with a leading part in Kingsman: The Secret Service (2014) and its subsequent sequel Kingsman: The Golden Circle (2017).
Has also appeared in the films Legend (2015) and Eddie the Eagle (2016).
Upcoming projects include starring roles in the films Billionaire Boys Club (2018) and Robin Hood (2018).
Also born today: Zoey Deutch, Josh Peck, Miranda Lambert, Heather Matarazzo, David Paetkau, Brittany Murphy, Ellen Pompeo, Hugh Bonneville, Neil Gaiman, Mackenzie Phillips
Spotlight
Geostorm
Cast: Gerard Butler, Abbie Cornish, Alexandra Lara, Jim Sturgess, Amr Waked, Ed Harris, Andy Garc'a
Director: Dean Devlin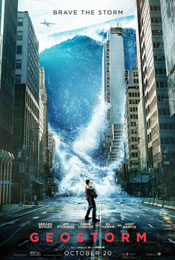 Tagline: Brave the storm.
Sci-fi thriller; a satellite designer (Butler) tries to save the world from a massive storm caused by malfunctioning climate-controlling satellites.
Had a budget of $120 million; has made around $182 million in nearly three weeks.
Has received very negative reviews from critics, who found the film silly and lacklustre.
Is Dean Devlin's feature directorial debut.
Underwent reshoots at a late stage under Jerry Bruckheimer after poor test screenings.
Score composed by Lorne Balfe.