Miniature's magnificence
Miniature painting is a territory unknown to many, but some know it so well that it's almost a part of them. Even the people who are now miniature masters hesitated in the beginning; they thought it would only be sketching and painting typical figures from the Mughal era again and again. "At National College of Arts, I chose painting as my major, and kept myself busy with puppetry, theatre and never considered miniature painting as my cup of tea," Imran Qureshi, one of the top miniaturists of Pakistan, shared candidly. While, Aisha Khalid, an artist with 20 years of training in miniature painting, was not pleased with her teacher who wouldn't allow her to experiment with traditions.
Imran Qureshi and Aisha Khalid came to Aga Khan University to share their wonderful world of miniature painting with the students.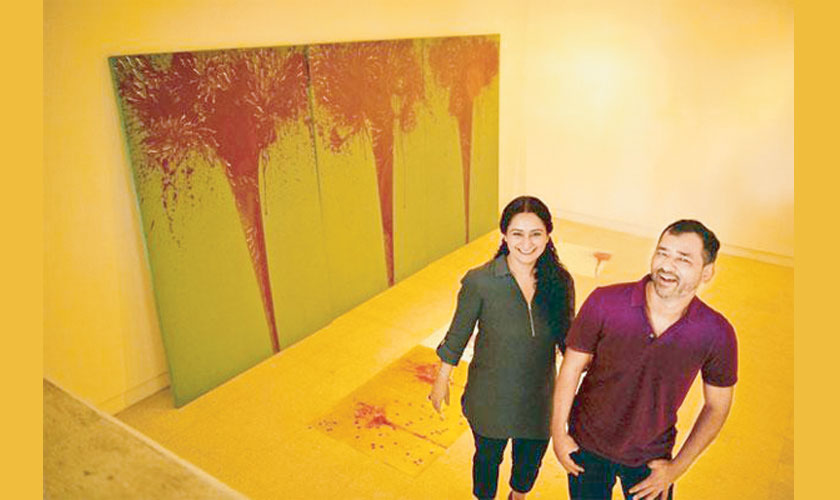 Break free from shackles
"While rehearsing a performance from the '70s, I saw my younger brother standing at the back of the stage waiting for his turn. He looked so cute in a 70s outfit that I thought why not replace the traditional kings and queens in miniature painting with common figures from our daily life. So, I made a portrait called Musavir ka chota bhai (artist's younger brother)," Imran smiled while sharing how ordinary people fascinated him in such queer ways. For Imran, it was like breaking through the traditional boundaries and adding life to his work. This portrait was followed by Hajra loves rain, which was a portrait of a student who religiously put on her grandma's raincoat and stood at a fixed spot every time it poured down at the college. Moderate Enlightenment is another series of portraits of men working out, writing love letters or carelessly looking at dragonflies in a garden.
To be independent is important for an artist. If you are free to do things your way, you grow and inspire others. Aisha assertively talked about her beliefs, "Traditions are not static; they evolve with time so this should reflect in an artist's work!" Her video installation, 360 page book, will leave you awestruck. Besides the heartfelt narrative, the idea of painting 360 pages differently and then filming them into an animation is truly amazing. The pages of a single line notebook are flipped one by one, and she herself tells how Urdu-English tussle affected her and society in general.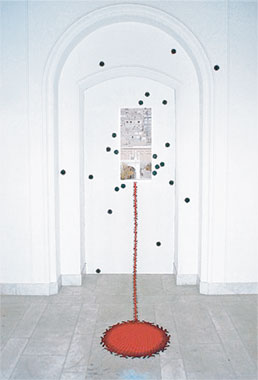 For a miniaturist like Imran, every space is a canvas. In site-specific installation, he utilized open spaces in various galleries around the world to construct monumental structures from thousands of crumpled printed sheets of paper. When looked from distance, these structures look gross; and, only when you go near them, you would discover the delicate ornamentation on the sheets. Not just galleries, Imran installed these structures in a library in Paris and Truro Cathedral in Belgium, which proved as a surreal experience for the visitors.
Not just this: in Kabul, he chose a hall used for serving food as his canvas; in New York, the rooftop of a museum was his site; instead of hanging his work in a fancy gallery, he painted the floor of Lister garden in Bradford to pay homage to the Indian men who died fighting for the British in the World Wars.
One picture worth ten thousand words
"While digging through old books in Anarkeli bazaar in Lahore, I found a tailoring manual dating back to pre-partition time. I knew exactly how to manipulate it; the instructions were written in lyrical Urdu, and the captions were loaded with political sarcasm. I tore off the pages and treated each page as a canvas; then, I carefully added my painted imagery using the same caption as part of my work. Some were like: how to cut a military pantaloon which has more pockets than the civilian one, how to cut an American or an English pantaloon without belt," Imran grinned while showing his work.
"To be in Kabul in 2008 was like standing in a war zone; I didn't feel comfortable," Aisha recalled. All she saw was rubble and bullet impressions. She decided to work around a window in Queen's Palace, Bagh-e-Babur which gave her view of bombarded and shelled buildings. In her powerful installation, Viewpoint, she painted bullet impressions around the window and a big red hole on the floor aligned with the view from the window depicting the agony brought on by the wars in Afghanistan.

By painting the rooftop of the Metropolitan Museum of Art in New York in 2013, Imran highlighted the spread of violence. The blood-like splashes made of lush ornamental leaves and foliage gave a message that this world can regenerate and prosper even after all this violence around us.
'Your way begins on the other side' is Aisha Khalid's six metre long tapestry hanging in Aga Khan Museum, Toronto. It's not an ordinary tapestry designed with threads and embellishment, it's silk and velvet adorned with millions of common pins. One side of the tapestry is gold and red with pins sticking out and the other side has images of animals and garden outlined with pin heads. Such intricacy makes you want to see what is on the other side. Aisha commented, "Sometimes, we are so engrossed in admiring the outer beauty that we almost overlook the painful struggle behind it." The tapestry also shows a lion attacking a deer, depicting how in our society the powerful ones feed on the fears of weaker ones.
Sensitivity is thy strength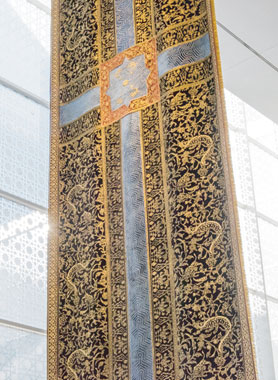 While moving through the streets of Amsterdam, she was struck by a nude women figure in posters pasted everywhere. She didn't understand until her friend translated the Dutch written with it. It said: 'Save energy'. Aisha felt disturbed by the idea of objectifying women's body; 'Covered and Uncovered', a series of paintings, was her reaction to such ads. The artistically drawn dainty tulips, which symbolizes women, would give you a glimpse of the anguish Aisha suffered.
Aisha also responded to APS incident. 'All is grave and dark is washed away' was her work in which she painted flowers and washed them, and then painted them again expressing her grief for the lost ones and promising to work together to protect the little flowers.
Yes, we know that Urdu and English are not pals, but we never bothered thinking about these two languages the way Aisha did. '360 page book' is her video installation, in which she herself speaks out how these languages were looked at when she was in school. Aisha narrates in the video, "I realized that English was considered superior to Urdu. And this superiority was evident in the notebooks we used. The Urdu notebooks had single lines and were printed on rougher paper; the margins were misprinted; pages were not properly cut and had to be separated with the sharper side of the ruler." Painting each of the pages of this book was like keeping a diary for her and the task of making more than three hundred paintings was massive. While elaborating her thoughts, she said, "This is something I understood unconsciously as a child and later I could see how this hierarchy of language divides and rules our society."
Just before his flight to New York, the incident of Boston Marathon bomb blast occurred. The headline 'Finishing line' remained in his mind. He thought why not express this through his installation at Metropolitan Museum in New York. He painted the rooftop of the museum with red flower imagery, and at one point just before the edge of the roof, he finished it abruptly with a sharp line, leaving rest of the area clean and peaceful. When people walked over it, they felt uneasy; it reminded them of the runners who died before they could reach the finishing line.
Painstakingly impressive
Do you have tons of patience and the power of passion to work like Aisha and Imran? They go extra miles to achieve what they want. Imran said working in open spaces is like sitting hunched over a pattern for several hours with a blazing sun above you. Slowly and steadily, Imran keeps painting his intricate designs with a squirrel-head brush, because he knows the end-product is rewarding in every way. Imran cheerfully added, "When people come and interact with my work and I see them reacting to it, I know all my hard work is paid off."

"At Pump House Gallery, London, it was strenuous to tie hundreds of nylon strings 30 feet above the ground with needles hanging on the other side of each string," Aisha recollected. Similarly, 'Your way begins on the other side' took four months of constant labour and millions of steel pins. "When I saw my work hanging in the museum, my senses couldn't believe it; this feeling is my reward!" Aisha blushed while expressing her feelings.