A unique teacher training initiative -
the need of the hour!
The charitable youth organisation, Eternal Hope, is determined to break barriers in order to see Pakistan prosper. Their mission to spread smiles on the faces of less-privileged children within the community is cause enough for these young people to bring together talented and socially-aware individuals for the development of our society.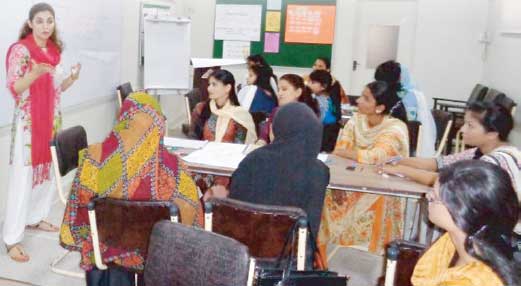 The team's research indicated that great teachers help create great students. In fact, research shows that an inspiring and informed teacher is the most important school-related factor influencing student achievement. So, it is critical to pay close attention to how we train and support both new and experienced educators. Too many children and young people – especially those who are deprived of basic necessities – leave school without learning anything of value. At a global level, there remains an acute shortage of teachers, while the quality of education imparted is not up to the mark either. According to UNESCO Institute of Statistics (UIS), over 1.7 million primary school teachers were needed to achieve universal primary education by 2015; additionally, 5.1 million teachers, expected to leave the profession, were to be replaced. This figure will be much higher if we include the demand for pre-primary and lower-secondary teachers.
In many low-income countries, like Pakistan, where education systems are gradually expanding, teachers themselves may not have sufficient subject knowledge or appropriate skills because of poor quality, or lack of teacher training. Often, this is compounded by reduced qualifications for entering into the teaching profession. This lack of proper qualification or subject knowledge presents teachers with difficulties in understanding and breaking down the curriculum for their students. It limits their confidence, and consequently their teaching and the learning outcomes for children. Sadly, such evidence is rarely considered by governments and development partners when they make education policies and decide resource allocation priorities.
Hence, the team took it upon themselves to initiate a teacher training programme. The good part is that it will now be continued due to its success. Eternal Hope, in collaboration with Ms. Ainee Shehzad, Ms. Shumaila Hussain and Mr. Asif Jameel - facilitators from Karachi Grammar School – conducted a four-day teachers training programme for TY Manghopir School, Adam Goth, Khamiso Goth and Afghan Camp schools at Marie Adelaide Leprosy Centre (MALC)'s training institute recently. These schools are an initiative, under the name of Rah-e-Nijat a sister concern of MALC.
Over 30 teachers participated in the training. The teachers shared that they were keen and eager to implement the newly learnt techniques in their classes. Dr. Ruth Pfau, in her concluding remarks, appreciated the efforts of the facilitators for conducting the training and was of the view that training and capacity building should be a continuous process.
Mr. Sameer Shehzad (Founder Eternal Hope), Mr. Mervyn Lobo (CEO MALC) and Mr. Savio Pereira (Director HR & Admin MALC) were also present at the concluding ceremony of the training.
It is indeed heart-warming to see the hard work of the team. One should follow the example of the teenagers of the country who are already giving back to the community; it shows you are never too young or too old to make such contributions. We hope that their mission moves forward and they continue to impact the lives of their less privileged brothers and sisters.