SpiritualSolace
closes on a rapturous note
The three-day festival, held in Lahore, brought together a diverse group of Sufi singers to celebrate and promote the true spirit of artistic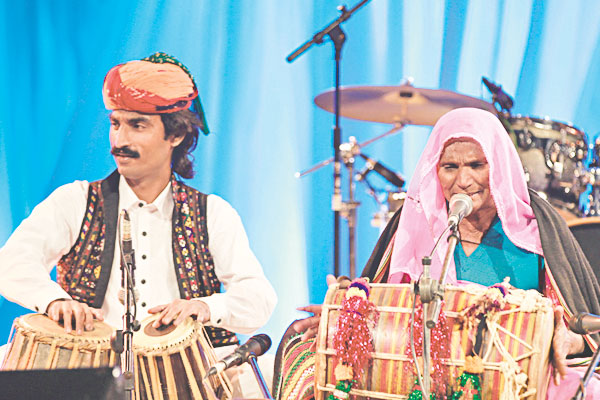 expression in mysticism.
Lahore
The Mystic Music Sufi Festival 2015 by Rafi Peer Theatre Workshop inaugurated on a cool breezy Friday evening at the Alhamra Cultural Complex,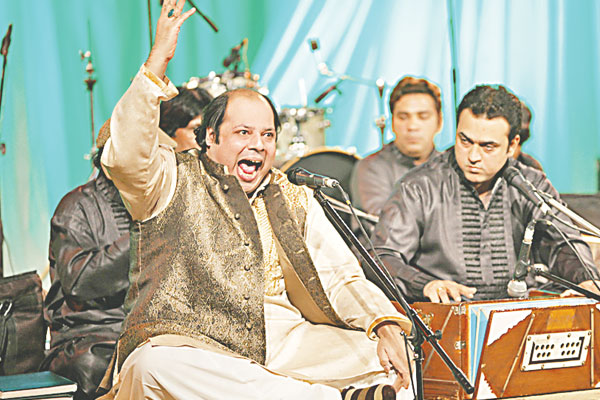 Gaddafi Stadium, Lahore. As the mist began folding up in the air, marking the arrival of the winter season, flocks of Lahorites were seen crowding towards the amphitheater for a fine musical treat.
The Sufi Mystic Music Festival, since its inception in the year 2000, has showcased performers from over 22 Muslim countries. This year's edition, spread over three days, brought together a diverse group of Sufi singers to celebrate and promote the true spirit of artistic expression in mysticism. According to the festival organizers, the idea behind promoting Sufi music and poetry is to extend an understanding of the message of love, peace and universal oneness expressed in the words and phrases of all great Sufi masters. Whether it is Baba Bulleh Shah or Shah Abdul Latif's poetry or Waris Shah's kalams, all embrace humanity as a whole, rising above trivial religious and social divisions.
The Rafi Peer Theatre Workshop believes that Sufi music is an effective medium to influence society as it is through a spiritual quest that one can transcend the rigid structures of religious dogma and biased opinions, enabling the love for mankind without reservations. The festival in a way also meant to create a softer image of Pakistan and provided a truer depiction of peaceful Islamic heritage of the subcontinent.
Dedicated to the loving memory of Faizaan Peerzada, the proceedings commenced with a gripping performance by Akbar Khamiso Khan, a renowned Alghoza player from Sindh. Alghoza, a pair of flutes, is an instrument that requires tremendous expertise and stamina to master.
Lined up next, Kirshan Lal Bheel from Cholistan, presented devotional bhajans in his regional language Marvari and brought out the true ethos of the land. Though the language was unfamiliar to the local crowd, he kept the audience glued to their seats.
Sanam Marvi, one of the most talented artists of our times, enthralled an overwhelming crowd with powerful renditions of Sufi folk songs. She began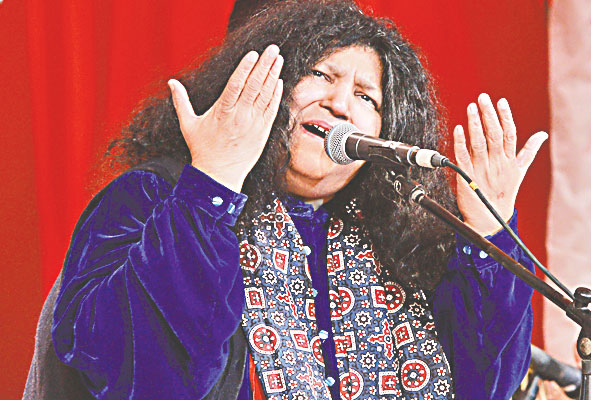 her stirring performance with Shah Hussain's kalam, 'Ghoom Charakhra' and showcased versatility during the alaap, which was marked by finest subtlety and proficiency.
Several folk tunes were beautifully rendered by Mai Dhai, the classical folk singer hailing from Tharparkar, Sindh. Accompanying her on harmonium and dhol were her band members, Jamal Shab and Muhammad Fakir. The trio's comforting execution of notes, added to the night's serene ambiance. Their wide-ranging elaboration testified their grip over compositions as well as instruments.
A fusion by Saeen Zahoor and music group Noori followed shortly. The internationally recognized folk singer Saeen Zahoor's erudite presentation of Aik Tara - the traditional instrument of folk musicians - didn't seem to integrate well with Noori's energetic display of rock though.
The next day, Arieb Azhar rendered a fine concert along with his band mates Akmal Qadri on flute and Kashif Ali Dani on the tabla. In his full throated voice and with an immense focus on lyrical clarity, he showcased a newly written piece titled, 'Hum Sachey Thay Jab Hum Kutey Thay'. He went on to sing several other Sufi items including 'Husn e Haqiqi' and 'Saiful Malook'.
Rizwan and Muazzam Qawwal group's performance of Sufi kalams had the audience asking for more. The group beautifully presented some Nusrat Fateh Ali Khan numbers.
The thrilling evening came to the close with Pappu Sain's dhamaal or trance dance. This presentation also featured music group Overload who simply arrested the audience with a colorful, captivating rendition in their quintessential festive fashion.
The final day saw a packed-to-capacity amphitheater of Alhamra. The lilting melodies kept drawing swarms of people steadily. Imran Khan, an attendee spoke to Instep, expressing his views. "It's a wonderful evening but sadly limited to a very exclusive crowd. Hopefully the organizers will make it accessible in future to all those who love Sufi music but can't pay for the high priced tickets."
The third day featured a combination of memorable performances.
The duo of Wahdat Rameez and Husnain Javed, young traditional Sufi vocalists who don't come from a traditional gharana were brilliant with their recital of the popular qawwali, 'Chaap Tilak'.
Other standout performances came from acts like Sher Miandad, who hails from an illustrious Qawwal family and is the first cousin of the legendary Nusrat Fateh Ali Khan. Not only did he sing some NFAK numbers but he also spoke to the audience and explained the songs and narrated stories associated to them.
The most anticipated performance of the night, starring Abida Parveen, who took to the stage in Lahore after a gap of eight years, lived up to the hype. There was a deafening applause in the hall as Abida Parveen entered. This was followed by a standing ovation from the audience. Her elaborate Sufi pieces were embellished with highly crafted taans. The enchanting and soulful performance felt more like an enlightening experience for those in search of Sufi identity rather than entertainment. A high point in her performance was the recital of 'Tere Ishq Nachaya' which electrified the atmosphere instantly. The exhilarating concert, and the festival, ended in appropriate fashion, that is, with a rendition of the Damadam Mast Qalandar by Abida Parveen.