George Clooney will continue to direct films. Acting, however, is not a priority. "I haven't acted
in almost two years and I am not really sure when the next version of that would be."
Academy-Award winning actor (and director) talks about fatherhood, privacy and his latest film, Suburbicon.
George Clooney is back in the spotlight with a new film and a new role, that of a father. The seasoned actor has appeared on the cover of the September edition of The Hollywood Reporter where he is joined by actors Matt Damon and Julianne Moore, both of whom are starring in his newest film, Suburbicon.
Granting a rare interview at his home in Italy, Clooney spoke at length to Stephen Galloway about reveling in life off-camera, swapping texts with former President Barack Obama and how his privacy was invaded recently when a photographer climbed into his house to get a shot of the actor, his wife and their seven-week old twins.
"Every single day there's some crazy sort of infringement," Clooney told THR. "And you go, 'OK, we'll eat it. That's what we have to do.' But when someone breaks the law, that's beyond what we bargained for, beyond the pact I made: that when you're famous, you're going to be followed. I don't know anyone who wouldn't be furious."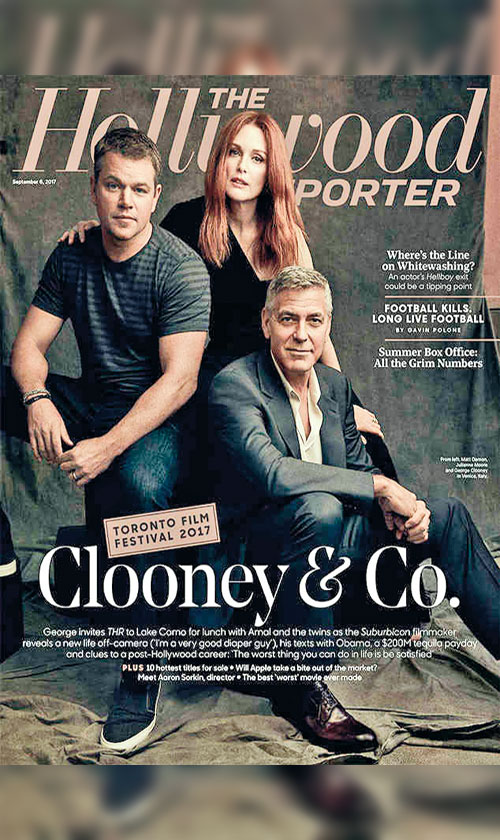 According to Galloway's observation in the piece, Clooney seemed both calmer and content in life. "Fatherhood is both emotional and scary. The first thing you think is, 'I hope I don't screw this up.' I mean, look, we are all responsible for things in life, and Amal and I are responsible for each other in a way — we look out for one another and we care about one another. But you are really responsible for two kids. I want them to be happy. I want them to have a sense of humor. I want them to be interested in things. I want them to be compassionate about other people's plights. Because that's the thing, you know? You have to have some sort of empathy."
Moving away from familial matters, Clooney's films remain close to reality. A case in point is Suburbicon that deals with racism and is set in the late 1950s. Clooney has co-written the film and has also directed it with Matt Damon and Julianne Moore starring in principal roles.
"I wanted it to be violent, I wanted it to be angry, and I think it's a very angry film," he shared with THR about Suburbicon. "We're at a time when we need to address these issues, and unfortunately they're issues that we have never completely exorcised."
He added: "What I found fascinating, growing up in Kentucky, was that whenever you'd see these movies about any form of bigotry, they were always with a Southern accent. Those in the North love to think they had nothing to do with it. They love to wash their hands and say, 'Actually, we were the liberals. We were against slavery and [for] civil rights.' And the truth of the matter is much more complicated. There were a lot of problems, particularly in places like Levittown. They built a fence around the people's homes; they hung confederate flags around it; they named their dog 'Nigger.' They got instruments and played all night, 24 hours a day, just to try to get these people to leave."
Unlike former President Barack Obama with whom Clooney shares a friendship, he is not a fan of the sitting President of the United States, Donald Trump.
"I was sitting down at a restaurant in New York [several years ago] and he came in and we talked for a while," shared the actor about his only meeting with Trump. "I'd had neck surgery, and he said, 'I'll give you the name of a doctor,' and he wrote me a couple of times with the name. Then he went on Larry King Live and told him I was very short. I'm 5-foot-11 — I'm not the tallest actor in the world, but I'm not short. That made me laugh."
While Clooney will continue to direct, he admitted in the interview that acting isn't a priority anymore. "I haven't acted in almost two years and I am not really sure when the next version of that would be. If somebody brought me The Verdict, I'd jump. But I'm not going to do movies just to be in front of the camera. I did that for a long time and I had a good run. And as you get older, the parts aren't as interesting. I'm not a leading man anymore. Nobody wants to see me kiss the girl."
– With information from The Hollywood Reporter