Coming together in harmony: After 'Yaar Mere', Meesha Shafi has lent her voice to a new tune that is meant to celebrate mothers. Joined on the song by several young and talented musicians, with Xulfi serving as producer, it is one of the better collaborations to have emerged in recent memory.
Musicmix
Atif Aslam, Ali Zafar and Meesha Shafi release new music.
The post-revival cinema movement is certainly getting a lot of attention these days but really it is the music industry where truly excellent work is taking place, right next to palatable commercial projects.
Coke Studio, a music TV show that continues to generate all sorts of debate within industry circles and beyond, has gone on floors and will be returning with a tenth season and the same multiple-producers format, with Strings attached.
Similarly, Pepsi Battle of the Bands is also being resurrected this year. Faisal Rafi, a music industry insider for many years who has worked with mainstream as well as eastern folk giants over the course of his long career, has been roped in as music producer. Reports in the media suggest that Fawad Khan, whose band Entity Paradigm (EP) claimed the runner up spot in the inaugural edition of Pepsi Battle of the Bands, is attached to the show in some capacity. The occasion has also brought together Farooq Ahmed-led Aaroh, the group that was crowned champion in the show's debut season many moons ago. They will also play a part in the upcoming revival.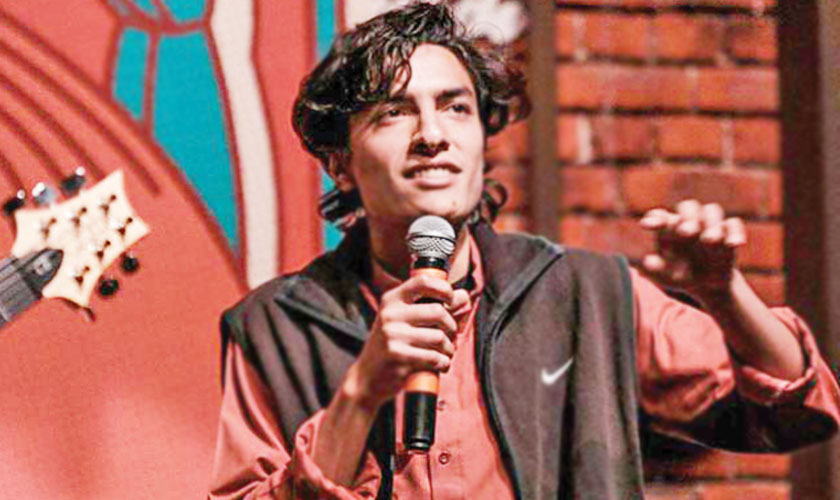 Altamash Sever, the lead vocalist of Keeray Makoray, seen onstage during Lahore Music Meet 2017
With several fantastic bands residing in different parts of the country and struggling for visibility, it will be curious to see how this particular show shapes up and who makes the shortlist. But until then, here's a brief look at what else is happening…
Bigwigs
Mainstream boys, Ali Zafar and Atif Aslam, have released new tracks respectively. Zafar, unwilling to forfeit his musical career despite a thriving film career, is back with the intense, romance-laden ballad, 'Ishq' that is currently available on Patari and was also performed upon by Zafar (with Maya Ali) during the Geo-Lux Style Awards that took place last month in Karachi.
Atif Aslam, who is hard to escape since his Pepsi single, 'Jee Lay Har Pal' made its debut several weeks ago, is back with yet another Bollywood song. Featured on the soundtrack of a Hindi film called Sweetie Weds NRI, the song 'Musafir' is not the most innovative thing Aslam has done but is gaining traction all the same thanks to his loyal and massive fan-base.
As this piece is being written, Ali Zafar is somewhere in Europe shooting for his first official Pakistani film, Teefa in Trouble, while Atif Aslam has announced plans to tour Canada, United States and West Indies later this summer.
Other major artists to have released new music recently include the likes of Jal and Meesha Shafi. In the case of the former, the band is being spearheaded by Goher Mumtaz but in the absence of formidable former vocalist Farhan Saeed, they no longer sound as good as they used to and their newest song, 'Parinda' projects this grim reality pretty clearly.
In the latter's case, it looks like she is on a roll. After winning hearts with the beautiful 'Yaar Mere' that belongs to the second season of Cornetto Pop Rock 2, the miraculous Shafi has also lent her vocals to a poignant Mother's Day special tribute track that is backed by fashion giant Khaadi and produced by Xulfi. Joined on the song by Anna Salman, Rutaba Yaqub, Parizae Azhar, Sameen Qasim, Fareeha Tariq, Sherry Khattak and Hassan Afridi, Shafi sounds fantastic while the song also builds up in terrific fashion.
Other artists who have paid ode to mothers via moving music creations include Natasha Baig, Shamoon Ismail and Mooroo.
Indie music saga
In indie music, after albums from the likes of ESharp and Ali Suhail earlier in the year, there are more new EPs to focus on. Representing Pakistan's most innovative wave of musicians, Nawksh, having released the obscure, experimental and elaborate Mythic Tales of Tomorrow II last year, has just released a new electronic, lo-fi-meets-psychedelic EP. Titled No Need To Hide When Its Dark Outside and available on Bandcamp, it is heart-melting, visceral and completely unexpected.
Other indie acts to check out include Gentle Robot (who have put out an EP called Feel), Keeray Makoray (who are back with a song called 'The Epic'), Janoobi Khargosh (back with a song/music video called 'Super Cat' from their upcoming album, Hum Saray Computer Hain) and Shajie Hassan (whose dense and intimate 'Motorcycle' is addictive). The end.