Children from the Karachi High School choir sang a beautiful rendition of Faiz Ahmed Faiz's 'Umeed e Sahar'… that's what we really need to be talking and thinking about.
The IATC Awards hosted by Engro Pakistan celebrated different 'agents of change' in Pakistan while encouraging every individual to be one.
Karachi: We're at a point in time where life is like a three dimensional picture, you know, the kind that switches between two images when tilted. For most of our days we are tuned in to the depression and oppression that we see surrounding us, the shades of darkness that we see engulfing us as a nation. But every now and then someone will come and tilt our hand, tweak our angle and change our perspective to a colourful vision of pride and glory. Saturday was one of those days when, at the I Am The Change Awards, organized and hosted by Engro Pakistan, we were reminded of everything there is to be proud of being Pakistani and why there is so much to be celebrated. The perspective has to be right to be able to see it.
A conversation between Imran Aslam and Nadia Jamil wove through the event, reminiscing different heroes through 70 years of Pakistan's existence. The narrative touched upon art and literature, music and film, fashion and food and above all, philanthropists that had held the country's hand and led it to successes over time.
"Pakistan is like an Impressionist's painting," Imran Aslam beautifully explained. "Look closely and you'll see a confusing mesh of colours but take one step back and you'll see the entire picture come to life. We need to step back sometimes. Develop the rush prints of history. And the tapestry that is Pakistan will reveal itself in a mad interplay of joy, creativity and colors. These are the fragments of a dream we have to collect and celebrate."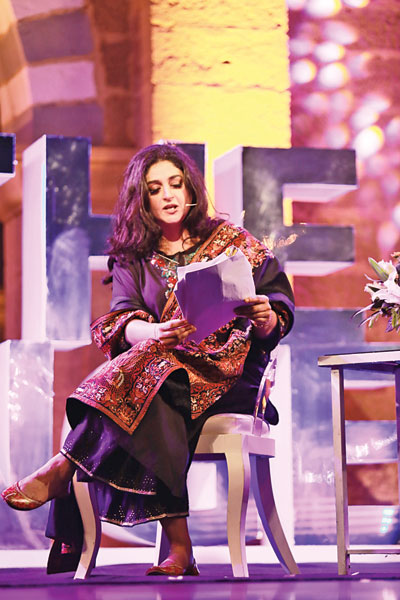 Nadia Jamil was part of a conversation encouraging the youth to be the change to ensure a change.
And celebrate the evening did. IATC was initiated in 2012 as part of Engro Pakistan's CSR division and every year it recognizes individuals and their initiatives working in education, livelihood or health sectors amongst the underprivileged. This year's 'agents of change' were IDSP Community Learning Centers, Afzaal Memorial Thalassemia Foundation (AMTF) and REEDS (Rural Education and Economic Development Society). A Special Award was given to "doctHERS," an up-and-coming digital, healthcare platform that connects female doctors to needy patients in rural areas in real-time while leveraging leading-edge technology. Their stories of struggle and achievement were extremely inspirational. Not only did they fill the heart with pride but also encouraged one to do more for the country we call home.
Two exceptional women - Qurutulain Bakhteari, the Founding Director of the Institute for Development Studies and Practices who has also worked with UNICEF and the Government of Balochistan, spoke about healthcare and the desperate need for education in the rural areas. Ms Bakhteari, it turned out, is filmmaker Jami's mother. Humaira Shaikh, the Director of Peace and Pluralism at Shirkat Gah also talked about human rights issues, particularly for women and minorities in areas marred by social and political turmoil.
The evening wove its way through well documented research and academic presentations but what made it enjoyable was the light hearted and yet poignant narrative between Imran Aslam and Nadia Jamil.
"Folk is alive," they said while remembering folk artists from Mai Bhagi to Mai Dhai. "It must never become a museum piece. It breathes. It evolves, despite being rooted in our soil and soul." There was discussion on culture and its evolution, sports and its regrettable dark side, fashion and the one thing closest to every Pakistani's heart: food.
At the end of the evening, guests, that had perhaps walked in after watching the news and reports of crime and aggression, left a little light hearted. Legends like Nusrat Fateh Ali and Manto may never come back but there should be nothing stopping us from creating new heroes. While the IATC Awards celebrated heroes on a philanthropic level, the evening also encouraged every single person to understand the deeper purpose and 'be' the change to see a change. It was all a matter of belief and perspective.