Mizmaar's current line-up features Asad Rasheed as vocalist, Alfred D' Mello as drummer and Kashan Admani as guitarist and the force behind the band.
MUSICMIX
Kashan Admani, the group's front-man, talks to Instep about his stint on Coke Studio 9 as a guitarist and collaborating with Shubha Mudgal.
Philosophers probably didn't have Mizmaar in mind when they talked about change being the only constant, but the idea sure seems to apply to the Karachi-based pop rock band's line-up.
Only months after making their comeback with a replacement vocalist, the band, once again, found themselves without a singer when newcomer Mashhad Sharyar relocated to the U.S. The group then declared their intention to operate as a "multi-singer venture", but have now re-emerged with a new vocalist, Asad Rasheed. The new line-up of Mizmaar recently released a single, titled 'Jogi' that features Indian songstress Shubha Mudgal. In an interview with Instep, the group's frontman Kashan Admani fills us in on all the recent developments regarding Mizmaar as well as his stint as a guitarist on the latest season of Coke Studio.
Instep: How did you get the chance to collaborate with Shubha Mudgal on your new song 'Jogi'? How was the experience of working with her?
Kashan Admani: The collaboration was made possible through our friends and patrons Palash Sen and Alok Parande of Euphoria. The experience of working with her was phenomenal. We initially thought we would have to take her through the song stepwise and the recording process might take very long, but she blew us away by delivering the vocals in a matter of 25 minutes for the entire song. Every line she sang was so good that it made it very difficult for us to select the final parts. She is an incredible singer and an amazing person!
Instep: This is your second collaboration with an Indian artist, the previous being 'Yeh Dil' with Euphoria's Palash Sen. What has inspired you to pursue these cross-border collaborations?
Kashan: These collaborations were actually a part of a music programme that I had developed in 2012 and recorded the pilot episode of. The show was plagiarized by a very well known platform and so we released them as our band's collaborations.
Instep: Please tell us about 'Jogi' and the creative process behind the song. How was the track written and composed?
Kashan: 'Jogi' is a prayer to seek God and to inspire the thought that we ourselves are responsible for all the negativity around us.
The song was composed based on a guitar riff and a rough melody which got better as we jammed and then turned into a proper verse, pre-chorus, and chorus. I always have some kind of thought behind a melody, and as soon as the creative process started, I knew the lyrics had to be Sufi. We then got Khalish, a very talented new poet who has also done additional lines in 'Afreen Afreen' from Coke Studio season 9, to write the final words for the song based on our dummy words.
Instep: What can you tell us about the 'Jogi' music video?
Kashan: The music video part for Shubha Jee was shot on the same day and in the same recording studio where she did her vocals in Delhi while we shot the band's performance parts in my studio. The post production was also done internally as we have a full fledged video department also.
Instep: You have a new vocalist, Asad Rasheed. How did you find and recruit him? Is there a particular reason he seemed like a good fit for the band? And is he now the new permanent vocalist of Mizmaar?
Kashan: Asad actually messaged [Mizmaar drummer] Alfred [D'mello] and told him that he liked the band and that he also sings. He sent a few voice demos to Alfred also and Alfred was impressed by his singing skills, so we invited him over to gauge his singing abilities and we felt that he has the ability to carry both eastern and western styles of singing which suits Mizmaar's sound, so we offered him to work with us.
Instep: Why did vocalist Mashhad Sharyar not work out for the band? Is the album still going to feature the material you recorded with Mashhad on vocals?
Kashan: Mashhad moved to the U.S. permanently and did not intend to come back, so working as a band with him became impossible. No, the album will not feature songs released in his voice.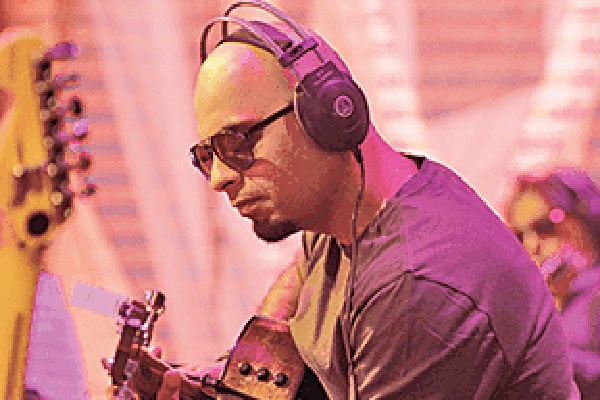 For Kashan Admani, the experience of playing at Coke Studio 9, in his own words turned out to be "a great experience".
Instep: You also worked with vocalist Hamza Tanveer. Why didn't he continue performing with or join the band?
Kashan: He was invited to perform with us for one concert as we had already committed to do the performance and Mashhad was unavailable. At that point we were not thinking of Hamza as a permanent replacement and we were exploring the possibility of working with multiple singers.
Instep: Do you still plan to continue being a "multi-singer venture" and feature a different singer on every single of the album?
Kashan: We will surely collaborate with multiple singers but will feature the permanent line-up of the band in each song.
Instep: You were planning to release your new album last year. Why the delay?
Kashan: We intended to release the album but then realized that it's better to release the album as singles for now, as each single can then be marketed appropriately and given its due push. We do intend to release the album but will do it after we have released a few more singles.
Instep: Kashan, how did the chance to perform on Coke Studio come up? How was the experience of being a part of the show? Any highlights you'd like to share with us?
Kashan: Strings asked me if I'd be interested in doing Coke Studio as a guitar player to which I agreed considering that's part of my skill set and it'd be fun to work with so many great musicians. I have worked with Strings in the past on various occasions and I have always enjoyed working with them.
Coke Studio also turned out to be a great experience and I really enjoyed being a part of it. Strings are doing a superb job at producing the show.
Instep: How do you feel about the reception this season of Coke Studio has received?
Kashan: I feel that having multiple music directors was a great concept. Commercially the show is doing quite well which can be gauged from the views it has on YouTube.
A few critics who don't have any understanding of music and just form opinions based on things they hear from a bunch of so called musicians or producers doesn't really matter. If tomorrow Coke Studio is gone, where will the Pakistani music industry stand? As it is, musicians are suffering because of the media playing only Bollywood content and little or no support for local independent musicians.
Instep: You launched The Spaark music school last year. How is that project going?
Kashan: The Spaark is doing really well and we have a big number of students of different ages learning various instruments at our facility. The registrations are increasing every day which is very encouraging.
Instep: What can we expect from Mizmaar in the coming months?
Kashan: We are working on a lot of new music and plan to release songs very frequently in the coming months.