you & me


Naeem Haq joined the fashion industry over a decade ago. From his barely noticeable appearances

in the famous music videos, 'Na Re Na' (Ali Azmat) and 'Chal Dil Meray' (Ali Zafar), nobody thought that one day Haque would come into the limelight. However his talent, dedication and charming personality landed him various modelling projects and fashion shows. His larger than life ramp appearances include London Fashion Week (LFW), Wills Life Style India, LAKME Fashion Week Mumbai, Bridal Asia India, Fashion Pakistan Week (FPW), Bridal Couture Week (BCW), Pakistan Fashion Design Council (PFDC), Pakistan Fashion Week London, ASIANA Bridal Week London, International Fashion Festival (IFF) Qatar among many others. Naeem Haq is also a qualified Interior Architect who studied from Saint Martin's College of Art & Design, London and National College of Arts, Lahore. After mastering the art of gymnastics in his teens, he went on further to explore his talent in directional set design, brand image consultancy, worldwide promotional participations and runway choreography. This is not all! Haque ventured into acting a few years ago, and it was his role in Geo TV's drama serial, 'Sangdil', in which he made his presence felt. Currently, the actor is working on two of his movies, 'Yalghaar' and 'Maan Jao Naa'. Let's take a look at his likes and dislikes ...
Tell us about your role in Maan Jao Naa?
Oops! It's a secret but I am playing one of the leading roles having a dual personality in the film
What would you say about your leading lady in Maan Jao Na?
She is beautiful and confident; and that's why I said 'Maan Jao Na'. But to know what her answer is, you will have to wait ;)
Is acting a passion or ways of making money?
Acting is definitely my passion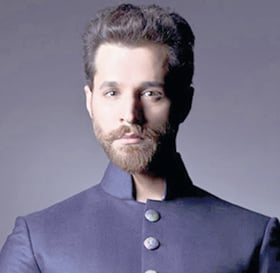 I have high hopes with my films, 'Yalghaar' and 'Maan Jao Na', which will be releasing this year
I like talking to myself
Travelling
Not going to the gym
Do you enjoy being in the limelight?
Yes! Attraction on centre stage is what everyone wants
Are you a social person or a loner?
A loner... but I enjoy family time too
Among your friends, you are known as?
Mr Haque, the 'White Man' (haha)

Non creative, non intellectual gatherings
What do you see in a woman when you first meet?
Her simplicity
Yes only on screens ...in real life I am a very shy person
Any date that became a nightmare?
Still waiting for that day (haha)
Once in love...everyone becomes a poet
Something you would like to forget?
Either good or bad we have to learn from the past experiences. So, nothing as such
Something you would like to remember?
My childhood days
You feel over cloud nine when...
I am appreciated for my work
God always has a better plan for us ...so just believe in it!