ENTREPRENEURSHIP
The internet is full of memes when it comes to millennials, but this doesn't mean they don't have the potential to excel at anything they put their mind and soul into. Inspired from the West, a lot of youngsters have started working while studying. They are giving us major goals at entering the professional world early and becoming independent. Bossger, a newly-opened eatery in Karachi, owned by three young boys is one such example.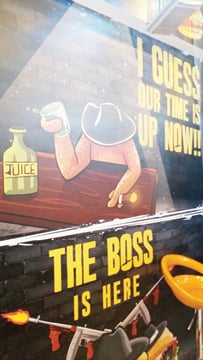 You don't have to be part of this metropolitan to know its craze for food; the last tweet, the last Facebook status, the last Instagram post, the "ab tou treat banti hai" conversations, our lives revolve around it, our minds fixated on the next meal we're going to have. And eating out is no longer reserved for weekends or special occasions; fewer people have the time to cook their own meals day in and day out. Basically, it's a strong market. Ammar Khan, Waseem Zaidi and Syed Aun Raza partnering up for Bossger - a blend of BOSS and BURGER - is a welcome addition. Both children and adults have a strong penchant for fast food; the juiciest burger and the crispiest fries available here can, in fact, go a long way toward ascertaining it.
The trio appears to be well-grounded, confident and mature for someone their age. One wouldn't believe that they are still kids, halfway through their ACCA and B.E qualifications. "It was difficult to convince our parents, but they eventually gave in. They are parents, and were understandably concerned because of the risks involved," Aun tells us. "Instead of waiting for a miracle to happen, we used this time to show them how passionate we were about this whole setup. Of course, we also had to assure them we would continue our studies once we had this up and running."
The place isn't "spacious" as of now and the owners agree. They already have a plan to expand the business across the city in few months. Talk about discounts, deals, and delivery options; they're collaborating with Foodpanda and Vouch360! This is huge and impressive to say the least. While they are situated in a prime location, people can't always Careem or Uber to DHA to satisfy their cravings.
Meanwhile, we don't mind waiting for our burgers at our table (it's the opening day and the guests are yet to arrive to dine-in or for takeaways). The artwork on the wall is done according to the gangster-theme as is the menu card: "Frankenstein", "Little Tony", "Crazy Rico" and their specialty, "Big-B". The conversation turns to the quality of the items they use and we joke about the "secret ingredient" that similar ventures use to sell its products. "We don't use local products; everything is imported. We want the best quality for our customers. We had some recipes of sauces and we decided to use them," shares Aun.
At that time our meal arrived. The servers are friendly, the serving generous and I really liked the idea of our order being neatly tucked inside wicker baskets rather than brought to us on trays. The burger was fresh and tasty and our fries were extra crispy; hands down the best burger we've ever tasted. If you are looking for fast food, this place is amazing.