Black thoughts
People face different kind of battles throughout their lives. Some battle with life threatening diseases likes AIDS, cancer or diabetes; while some struggle against poverty, terrorism, injustice or racism. There is also a category of people who battle with thoughts that are painful and dark.
These people are constantly fighting an enemy which every now and then arises from the depths of the dense and impenetrable forest of vessels, gusting like a dark, rowdy river through the locked room present inside our head. This obscure, wrathful beast murders hope, confidence and self-esteem, burns down castles of happiness and ignites lanterns of grief. Such thoughts feed on our unpleasant memories, guilt, regret, remorse and intense pain. People battling with such horrifying thoughts seem to be lost in their thoughts most of the time and they hardly take interest in anything. They would feel miserable, isolated, worthless and confused. A student who failed to get an admission in a medical school would not think of other career options and just give up. An entrepreneur whose startup didn't generate any profit would vow to never believe in his/her ideas.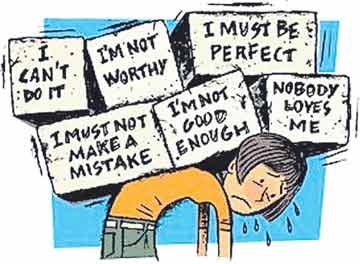 They see no light at the end of the tunnel. Such people desperately want to overcome their thoughts and when they try, they fail.
Sometimes people don't have that inner strength to let go their fear and move on. Introverts suffer the most because they do not trust people when it comes to sharing their piercing thoughts; they talk less and feel more. In some cases, genetic makeup of a person makes him/her vulnerable to these negative feelings.
The question is how to deal with such distressing, painful thoughts. There can be several ways of dealing with it, but the most effective way is to seek counsel. Choose someone who is trustworthy; that person could be your parent, friend or a family doctor. Counseling would give you a chance to vent out and express yourself without being judged on why you feel or think like that. If you keep yourself busy with things you love to do, you will never remain stuck in your intrusive thoughts. Join book clubs, participate in community services, play games and be in the company of optimistic and happy people. Sitting idle and doing nothing would just aggravate the problem.
When I think my thoughts are too personal or silly to be shared, I speak them aloud to myself. It helps me understand my problem in a better way; I can easily figure out what is bothersome and then how to deal with it. After that, I feel relieved! Sometimes, it's painful to listen to yourself say, "I am a jerk", "Why did god create me?", "I am just one hapless creature on earth." But, once I have uttered all these thoughts, I feel as if these thoughts have escaped.
I remember my class teacher used to engage us in a weekly ritual. Every Monday morning, after assembly, she used to make us scribble down our negative thoughts and feelings on a piece of paper and we would quickly fold them so that nobody could read them. Then, the teacher would collect those pieces of paper and dump them in a bin placed outside our class. The lesson remained with me forever: realize the power of your thoughts and never give room to negativity.