Talented team: Alyy Khan, producer Fizza Ali Meerza, Om Puri, director Nabeel Qureshi, Fahad Mustafa and Mehwish Hayat.
Co-writers of hit film Na Maloom Afraad, Fizza Ali Meerza and Nabeel Qureshi announce their upcoming cinematic venture, Actor in Law, featuring veteran Indian actor, Om Puri.
Karachi
After their first film, Na Maloom Afraad, which was a blockbuster at the box office, Fizza Ali Meerza and Nabeel Qureshi are back in action with an upcoming project, Actor in Law, starring our very own Fahad Mustafa, Mehwish Hayat and internationally acclaimed Alyy Khan alongside their biggest coup – roping in Om Puri from across the border. Puri will be seen in a Pakistani film for the first time.
The previously unheard of film was announced in a press meet that took place Saturday evening at the Pearl Continental Hotel in Karachi; Om Puri flew in for the event and obviously stole all the limelight. The cast and crew spoke to media about their film before opening the floor for a quick question-answer session with the press in attendance.
Dressed in white at the event, Mehwish Hayat, who debuted with the same team as Billi in Na Maloom Afraad, was the first one to speak to the audience. "This time, I am there as the main lead. The character that I am doing is very difficult and challenging for me compared to the one I did earlier. I can't reveal much about my character but I have never done anything like this before."
Expressing her excitement on working with Om Puri, she said, "I am a huge fan and I am really excited and happy to share this film with him." About the movie, she revealed, "It is a social comedy about different events. It is a mindless comedy, but a no nonsense movie so there is something for everyone. There is love, there is humor, and there are a lot of surprises." The ambiguity of the film being "a mindless comedy but a no nonsense movie" did confuse us a bit.
Fahad Mustafa, who also made his cinematic debut with Na Maloom Afraad, described his role in the film. "I am the actor in law in the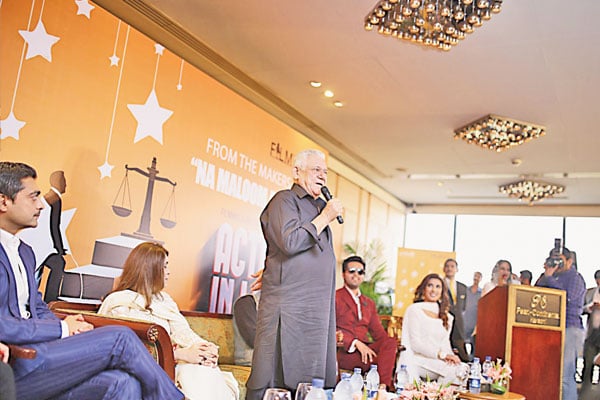 film," he confirmed. "It is a very important film in terms of my career because it is the title character and a very important one. Pakistan has a lot of stories to tell, the world doesn't know the kind of stories we have. It is going to be another new story in which you will see quite a few social issues with a little bit of humour. It is a beautiful comedy. You can come and enjoy the film with your families." He didn't reveal anything about the much-awaited Mah-e-Meer, in which Fahad also plays the lead.
"As far as working with Puri sahab is concerned, I am very nervous actually," he added.
Since this was the film's first affair with the public, not much was revealed about the script and the characters. What we did manage to gather is that the film's story is based in Pakistan and the shooting is about to end.
"We expect to release the film on Eidul Azha this year," the director, Nabeel said. "Everybody is doing very well to make things better this time. When we made Na Maloom Afraad, nobody knew us. Once the film was released, people started getting to know us and this time the expectations are very high."
"It took us a year to complete the script," he added. "Actor in Law is a very different story. I like telling stories as I did in Na Maloon Afraad. I wanted to do something big in my film and it is a privilege for me that this is my second film and I am working with Om Puri."
Man of the hour, Om Puri, who flew in from India for the event, was humbled with the treatment that he received in Pakistan from people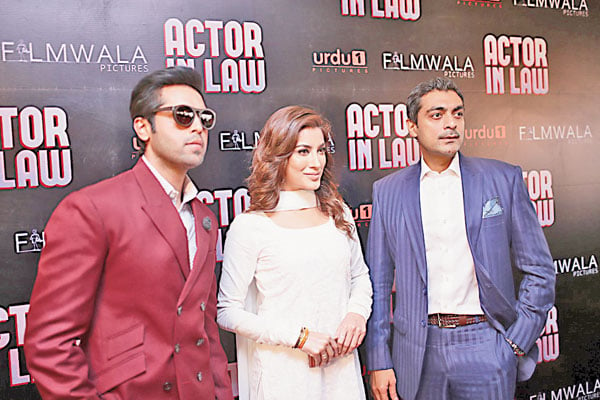 of all backgrounds. And he was generous with his praise.
"This is my first Pakistani film," he spoke to an extremely attentive audience. "Fizza and Nabeel have written a great script. The team is very talented and everybody works in a professional manner."
Praising the Pakistani cinema and the way it is moving forward, he said, "Pakistani movies have improved to a great extent. I have seen Khuda Ke Liye, Bol, and Khamosh Pani and those were quality films. I was not surprised that it has developed into a very fine cinema though the number of films is small. I think that your films should also be released in India as Indian films are released here."
The atmosphere throughout the press-meet was easy-going and the cast and crew had fun talking about their film and sharing anecdotes on their experiences throughout filming. Whether Actor in Law will be a spiritual successor to Na Maloom Afraad is yet to be seen but we do know that Om Puri will be the highlight of the film, just as Naseeruddin Shah was in Zinda Bhaag. ­